Tyler Haynes Commons: Diversity/Inclusivity Resources
Introduction
Tyler Haynes Commons opened in September 1976. Today, it serves as one of the busiest places on campus. Not only does it have a wide variety of important campus resources, it also is home to the bookstore and several dining options. There have been necessary renovations throughout the years as students wanted a place to meet and socialize, as well as an alternative to Greek life. Tyler Haynes Commons is a space seeking to actively engage students and create a sense of belonging.
Images
The construction of the Tyler Haynes Commons in 1976, taken from the University of Richmond Collegian. The building was named after Tyler Haynes as a result of his generous contributions, which he desired to be used to create a central student hub.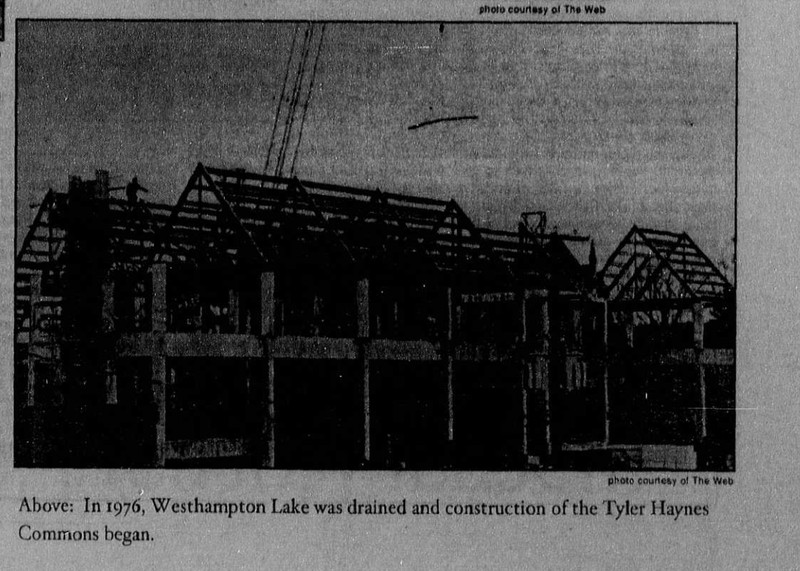 Front view of the Tyler Haynes Commons, overlooking the Westhampton Lake. This building serves as a bridge between the two sides of campus, Westhampton and Richmond College.
Plaque outside of the Common Ground Office in the Tyler Haynes Commons. Common Ground is a student resource intended to promote diversity, inclusion, community, and justice, which they do through hosting events, suggesting campus changes, and more.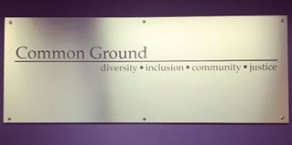 University of Richmond Collegian article from March 2017 in response to a recent panel discussion on campus race and racism. This is one of many examples of events promoting diversity and inclusivity that take place in the Tyler Haynes Commons.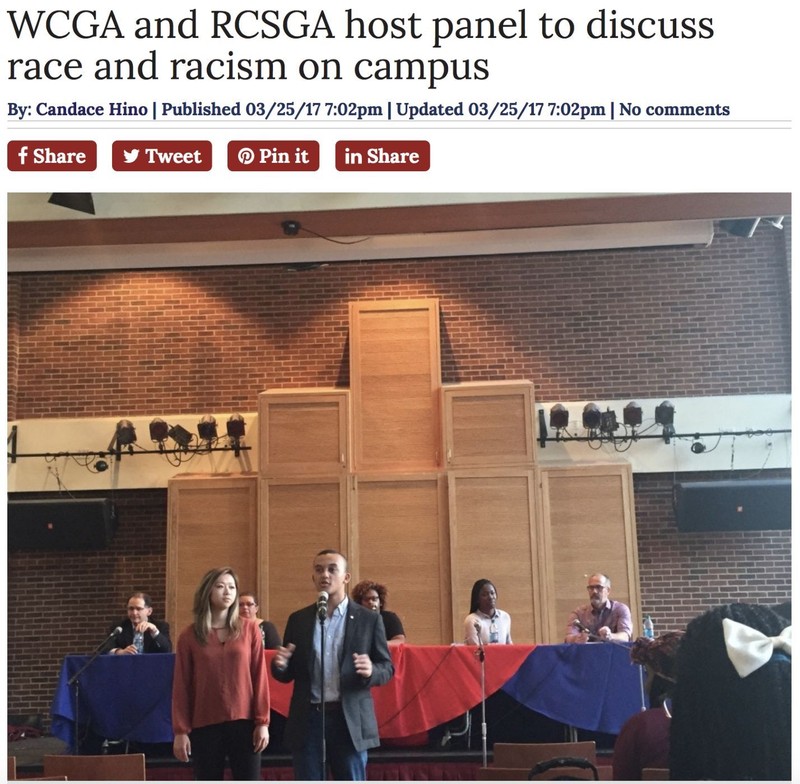 Backstory and Context
Tyler Haynes Commons was built in 1976 and serves to bridge the two sides of campus, as well as a main student hub. It was dedicated to William Tyler Haynes, who graduated from Richmond College in 1922. Haynes was the chairman of the Student Affairs Committee, trustee of the University, and an advocate for student inclusion and collaboration.
There are many resources available in Tyler Haynes Commons, including Common Ground, the LGBTQ Lounge, and the Office of Multicultural Affairs (OMA). These resources were created to help foster diversity and inclusion, as the building's objective is to improve the quality of student life at the university. OMA seeks to celebrate various heritages and develop a sense of community among multicultural students. There are several support groups that are valuable networks for students like Women's Group, Latino Students Network, Black Alumni Network, and more.
Dr. Tinina Cade, Associate Vice President for Student Development and Director of Multicultural Affairs, is in charge of the Oliver Hill Scholars program, named after Oliver White Hill Sr., a civil rights leader from Richmond best known for his role in Brown v. Board of Education. Hill served as counsel in the United States Supreme Court in the Virginia suit that was combined with others where the decision declaring mandatory racial segregation unconstitutional. During the year, Oliver Hill Scholars participate in engaging and culturally stimulating activities, some of which revolve around the African American community. As well as participating in social justice volunteering and activities, students also discuss issues on campus in relation to current events off campus. We sat down with Dr. Cade to ask her some questions about the programs Tyler Haynes Commons has to offer, and their significance within the community.
Dr. Cade said, "sometimes people think the Office of Multicultural Affairs means the `Office of Black Students,' it's just not true, it's whoever walks through the door." When asked if in her thirty years at the University of Richmond she has seen a positive change at the university, she paused to reflect stating, "sometimes, yes sometimes no. Sometimes we take two steps forward and three steps backwards and sometimes we simply take two steps forward and there's no backwards." She ended the conversation with this:
"We have come a good ways since 1987, I've seen a lot of positive indicators of that but we could be in 1987 today... But do we have people saying ignorant offensive things to one another, hateful things, hurtful things, yea we do, we still do. Do we have people who choose not to be bystanders but to actively engage themselves and say no, this is wrong? We have that too. We have students of every race who have decided that that act of ignorance of hatred doesn't speak for them and so they get involved, actively engaged to say, "this is wrong" but we have both."
While Dr. Cade notes that there has been historically little race and class interaction, echoing the findings of a recent Princeton Review report, the campus community is working on ways to become more inclusive. The proposal to create a multicultural center on campus has been brought up in recent discussions, as well as ways for white students to start coming to more multicultural events to learn and understand other cultures.
Tyler Haynes Commons is a place that tries to foreground student voices by providing an opportunity for activism and progress towards a more diverse and inclusive campus. Tyler Haynes Commons is also a place where many student-run organizations and clubs table to spread awareness about their missions, raise money, and interact with the community.
Sources
1 "CommonGround on Instagram: 'We're Common Ground, The University of Richmond's Diversity and Social Justice Initiative. We're the Organization That Brought about..."." Instagram, www.instagram.com/p/BVSKsO6Fn7Q/.

2 Colleges with Little Race Class Interaction. The Princeton Review. . . https://www.princetonreview.com/college-rankings?rankings=little-race-class-interaction.

3 Hino, Candace. "WCGA and RCSGA Host Panel to Discuss Race and Racism on Campus." The Collegian, University of Richmond Collegian, 25 Mar. 2017, www.thecollegianur.com/article/2017/03/wcga-and-rcsga-host-panel-to-discuss-race-and-racism-on-campus.

4 LGBTQ Lounge. Common Ground. . . https://commonground.richmond.edu/lgbtq-life/LGBTQ-Lounge.html.

5 Oliver Hill Scholars. Multicultural Affairs. . . https://multicultural.richmond.edu/oliver-hill/index.html.

6 Oliver W. Hill (1907-1974). PBS. . . https://www.pbs.org/beyondbrown/history/oliverhill.html.

7 Racial Justice Resources. Common Ground. . . https://commonground.richmond.edu/racial-justice/index.html.

8 Support Network. Multicultural Affairs. . . https://multicultural.richmond.edu/student-support/support-network.html.

9 Tinina Cade. Student Development. . . https://studentdevelopment.richmond.edu/about/tcade/.

10 "Tyler Haynes Commons." Wikimapia, wikimapia.org/22005860/Tyler-Haynes-Commons.

Additional Information