Wickliffe City Hall/Coulby Mansion
Introduction
Coulby Mansion is a historic home in Wickliffe, Ohio. Currently, it is home to Wickliffe's City Hall. Construction began in 1913, and the mansion was completed in 1915 for Harry Coulby, a tycoon in the shipping industry. The building was designed by architect Frederick W. Strieberger and included 54 acres of lands that served as Coulby's formal gardens, now known as Coulby Park. Coulby Mansion has served many purposes through the years including Harry Coulby's private residence and an exclusive all-girls school/convent until it was purchased in 1954 by the City of Wickliffe to be used as municipal offices. It was added to the National Register of Historic Places in 1979.
Images
Exterior of Coulby Mansion. Source: City of Wickliffe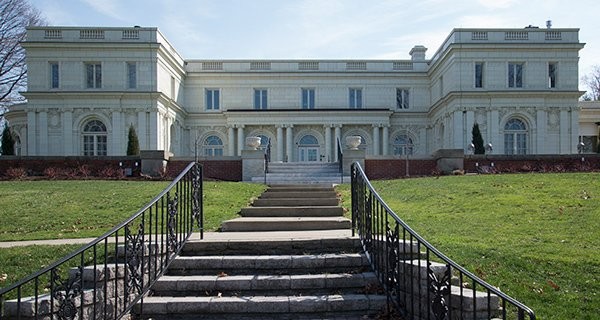 The main hall of Coulby Mansion. Source: KAS Interior Design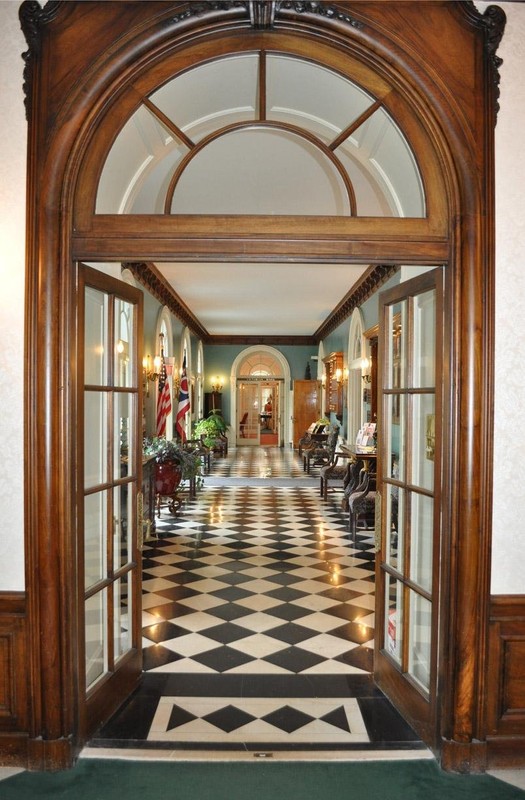 The Mayor's Office. Source: KAS Interior Design.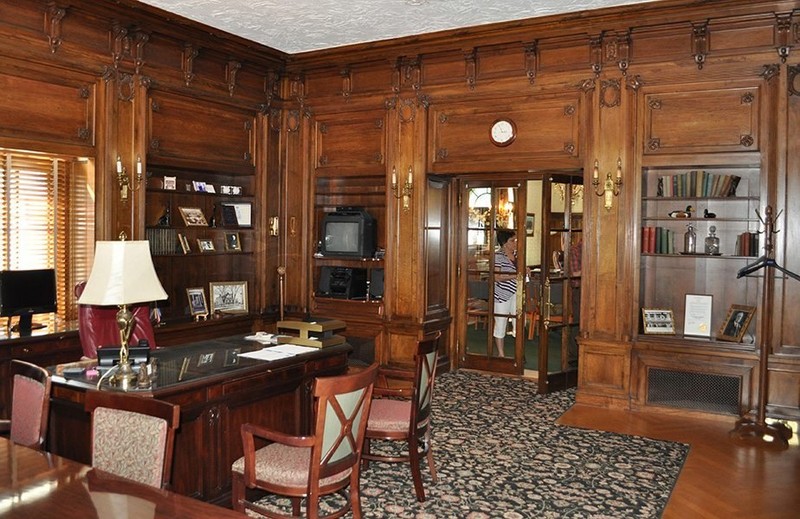 Fireplace in the Mayor's Office. Source: KAS Interior Design.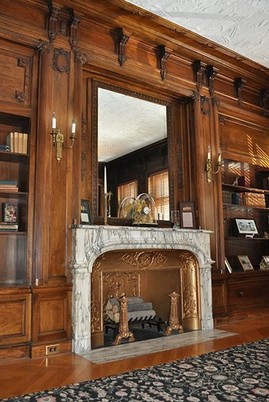 Backstory and Context
Harry Coulby was born on January 1, 1865 in Clayport, England, but left for the United States in 1884. He came from a family of farmers but his dream was to sail the Great Lakes after he read about them. After arriving in New York City, he walked to Cleveland to try to fulfill his dream. In 1886, he was hired by Pickands and Mather Co. – a local shipping company. He started off as a stenographer but throughout his time there, he rose through the ranks. In 1904, Harry Coulby was appointed President of the Pittsburgh Steamship Company by Judge Elbert H. Gary under the conditions that he could still stay with Pickands Mather as a shipping manager and set his own pay. After twenty years, in the business, he was in control of two leading fleets for two companies. He was known for being a very involved and hands-on manager and excellent leader. For this, Coulby earned the nickname "Czar of the Great Lakes."
Harry Coulby knew he wanted to live in a large home, and thus Coulallenby, now known as Coulby Mansion was born. The one million dollar project took its original name from a portmanteau of his last name "Coulby" and that of his wife, May Allen. The mansion was modeled after the Grand Trianon in Versailles, France which was built in 1687. The exterior is white glazed terracotta and the home has two central entrances – one in the front and one in the back. Overall, there were sixteen rooms in Coulby Mansion including five bathrooms and details such as six fireplaces, Tiffany chandeliers, and hand-carved woodwork, much of which are still present today. The 54 acres of formal gardens were built by Italian immigrants and included a reflecting pond.
Coulby himself led the way for Coulby Mansion to become City Hall when he became the first mayor of Wickliffe in 1916. Although he still owned the property at the time, he operated City Hall out of his home. The mansion was purchased by Wickliffe in 1954 to use as its official City Hall and contain its municipal offices. The City Council chambers are located in the West Wing, in what used to be the living room. This same room also served as a visiting room for parents of girls that attended and boarded at the Sisters of Holy Humility of Mary. It was known then as "The Rose Room." From 1954 to 1990, the family breakfast and dining room was used as Wickliffe's police department; however, it has since been restored back to its original appearance. This space includes a hand-carved marble fireplace and canvas wallpaper with a painting. Coulby's library is now the Mayor's office, complete with another fireplace, hand-carved bookshelves, and wooden paneling from Bohemia. This office was restored in 1999 to remove carpeting and expose the original wood floor, detail the woodwork, and add a period-appropriate rug. The receptionist's office is located in what once was Mrs. Coulby's morning room in which she planned her day. Finally, in the mansion's central stairwell, a Tiffany stained-glass skylight was installed and it still remains there today.
Harry Coulby died on January 18, 1929 in London during one of his many visits back to England. He was buried at the Church of St. Peter in his hometown of Claypole. His legacy lived on through his election to the National Maritime Hall of Fame in 1984 and through Wickliffe City Hall.
Sources
City of Wickliffe. "Coulby Mansion." City of Wickliffe. Accessed March 08, 2019. https://www.cityofwickliffe.com/government/coulby-mansion/.

"Harry Coulby." MarineLink. Accessed March 12, 2019. https://www.marinelink.com/history/harry-coulby.

Podolak, Janet. "Historic sites: Coulby Mansion serves as Wickliffe City Hall." The Morning Journal (Lorain, OH). April 17, 2015.

Wicklund, Dick. "'Yes, Mr. Coulby!' Part One." The Lightship. Huron Marine Society. May/June 2009, 8-13.

Wicklund, Dick. "'Yes, Mr. Coulby!' Part Three." The Lightship. Huron Marine Society. September/October 2009, 13-18.

Wicklund, Dick. "'Yes, Mr. Coulby!' Part Two." The Lightship. Huron Marine Society. July/August 2009, 8-11.

Additional Information