Station Road Bridge
Introduction
Station Road Bridge is located near Brecksville, Ohio in the Cuyahoga Valley Recreation Area. It crosses the Cuyahoga River, connecting Cuyahoga County to Summit County. It was built in 1882 by the Massillon Bridge Company, and it is the only remaining example of a double-intersection Pratt truss bridge in the counties. It was listed on the National Register of Historic Places on March 7, 1979.
Images
Station Road Bridge in 2012.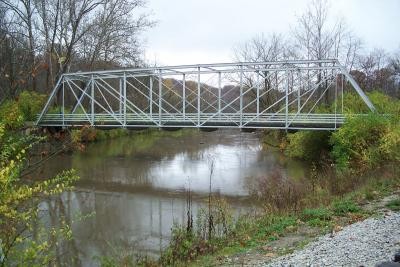 Station Road Bridge in May 1985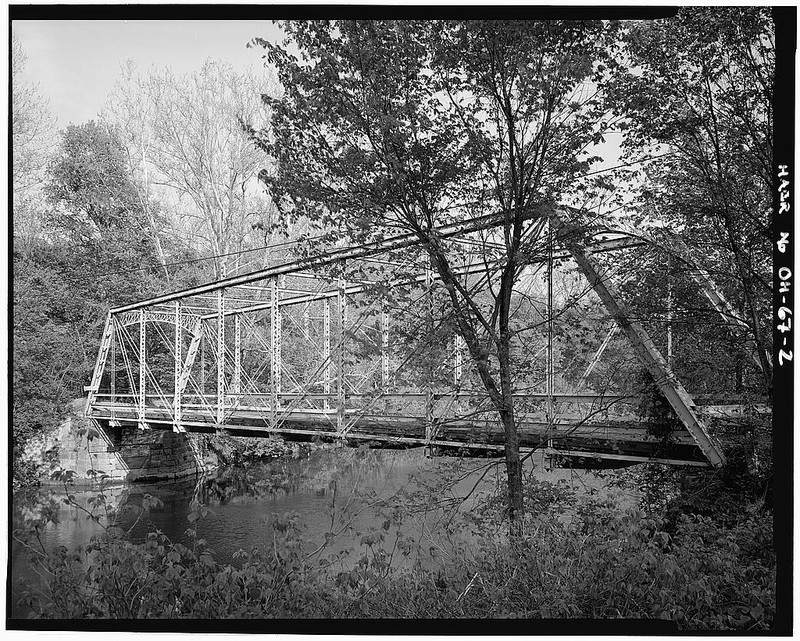 Backstory and Context
The mid- to late-nineteenth century was a time in American history where there was a rise in specialized bridge companies, who were trying to adapt technology from the railroad boom to the modern bridges at the time. On March 31, 1881, commissioners from both Summit and Cuyahoga Counties met to discuss the construction of a bridge over the Cuyahoga River that would connect the two. Civil engineer Alex E. Brown was put in charge of reviewing the contracts submitted by local bridge companies and reporting back to the county boards. In total, six companies submitted for the job and the Massillon Bridge Company was awarded the bid on April 5, 1881. The Massillon Bridge Company had been in business for about a decade by this time. It was founded in 1869 by a group of men from Massillon, Ohio that included Joseph Davenport. They specialized in a number of bridge types including wrought iron, combination, and wood. They would later be incorporated as the Bridge and Structural Company in 1909 before liquidating in 1933 due to the Great Depression.
Construction began soon after. Receipts note that N.J. Colson was paid $151.51 for the original order of materials on August 13, 1881 and paid an additional $3488.00 on September 3rd of that year. Each county paid for half the total cost. Bridge construction during the late 19th century would be done by local labors overseen by a supervisor from the construction company. They would receive the bridge in pieces and build it on site.
The Station Road Bridge is made of iron and described as a "metal through truss of the double-intersection Pratt (Whipple) type" in their application to the National Register of Historic Places. The Pratt truss bridge design was patented in 1844 by Thomas and Caleb Pratt and consists of vertical members acting in compression and diagonals acting in tension. Three years later, in 1847, Squire Whipple expanded on the original Pratt design, allowing it to span farther distances, giving it the "double-intersection Pratt" or "Whipple" name. This particular bridge style is rare in the area as well as the oldest remaining in the Cuyahoga Valley, making it historically significant. After its construction, it served as a vehicle bridge until the Brecksville-Northfield High Level Bridge opened in 1931.
In 1992, the bridge was disassembled and sent to bridge restoration specialists in Elmira, New York for repair. It was reassembled on site and is now open to pedestrians and equestrians only.
Sources
"Historic American Engineering Record. Station Road Bridge, Spanning Cuyahoga River, Brecksville, Cuyahoga County, OH." Library of Congress. Accessed August 27th 2019. https://www.loc.gov/pictures/collection/hh/item/oh1538/.
Huhnke, Christopher. "Station Road Bridge Plaque in Cuyahoga Valley National Park." Cleveland State University. May 17th 2004. Accessed August 29th 2019. http://images.ulib.csuohio.edu/cdm/singleitem/collection/urbanohio/id/135/rec/6
Miller, Carol Poh. "National Register of Historic Places Inventory/Nomination: Station Road Bridge". April 26th 1978. National Park Service. Retrieved June 14, 2018.
https://npgallery.nps.gov/AssetDetail/NRIS/79000312
Image Sources
Janis Ford. "Station Road Bridge in 2012" https://bridgehunter.com/oh/cuyahoga/station-road/

Jet Lowe for the Historic American Engineering Record

Additional Information