YMCA of the Rockies- Ruesch Auditorium
Introduction
Ruesch Auditorium is dedicated to Walter G. Ruesch, who served as the Managing Director from 1950-1980. The original building was dedicated in 1980, and was built to accommodate large groups. From 2008-2010, the building was updated by adding a gallery façade and the outdoor Aspen Dining area. It was also expanded with the addition of the Assembly Hall, a modern conferencing facility for meetings and events serving up to 1300 people. The conference hall serves groups large and small with flexible meeting spaces.
Images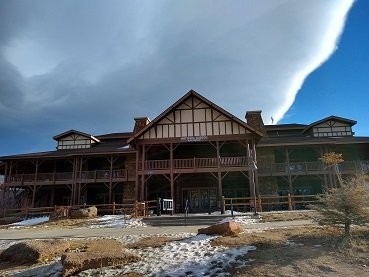 Backstory and Context
 In the mid-1970s the YMCA of the Rockies recognized the need for an auditorium and began making plans to explore the construction of a 300-seat auditorium along with a new conference dining room. Jim Bellatti, the chairman of the YMCA of the Rockies, who was also the president of the YMCA of the USA, extended an invitation to the YMCA World Alliance to host a meeting at the YMCA of the Rockies. This was the impetus the Estes Park camp needed to begin construction on a new auditorium. Walter G. Ruesch, the managing director of the Estes Park camp (1950-1980), began an aggressive fundraising campaign - even asking donors to donate money for a seat. Donor's names were engraved on a brass plaque and affixed to the arm.
Dedicated in 1980 and named after Walter G. Ruesch, the Ruesch Auditorium has hosted many large conferences groups from around the world, including the 8th (1981) and 18th (2014) Meetings of the World Alliance of YMCAs, the 100th Anniversary of YMCA camping, and a 1987 meeting of the World Wilderness Congress.
In 2008-2010, the Ruesch Auditorium underwent major renovations with the addition of the new Assembly Hall and the reconstruction of the north side facade of the building to better match the Western Stick architectural theme of our YMCA.
Sources
Melton, Jack R.. Melton, Lulabeth. YMCA of the Rockies: Reflections, Traditions and Vision. Estes Park, CO. YMCA of the Rockies, 2006.
Additional Information