Clinton Breese: Son, Father, Hero
Introduction
The 1919 home of Clinton Breese conceals the importance of one of Waukesha's most prominent men. Breese was born in 1894 and would become one of the most well known figures 20th Century Waukesha. Breese first gained fame as a pilot during World War One, becoming a local hero in the process. He would later serve as a valuable member of the community, holding a variety of positions and various memberships during the course of his long life. Clinton Breese was a loving father, husband, and an integral part of Waukesha's history. In part because of his legacy, Clinton Breese's home is now a part the Wisconsin State Register of Historic Places.
Images
CLINTON BREESE 1918 2nd Lieutenant Clinton S. Breese pictured here while serving in the U.S. Army Air Corps during the First World War. Posted in the Waukesha Freeman 0n 4-17-1971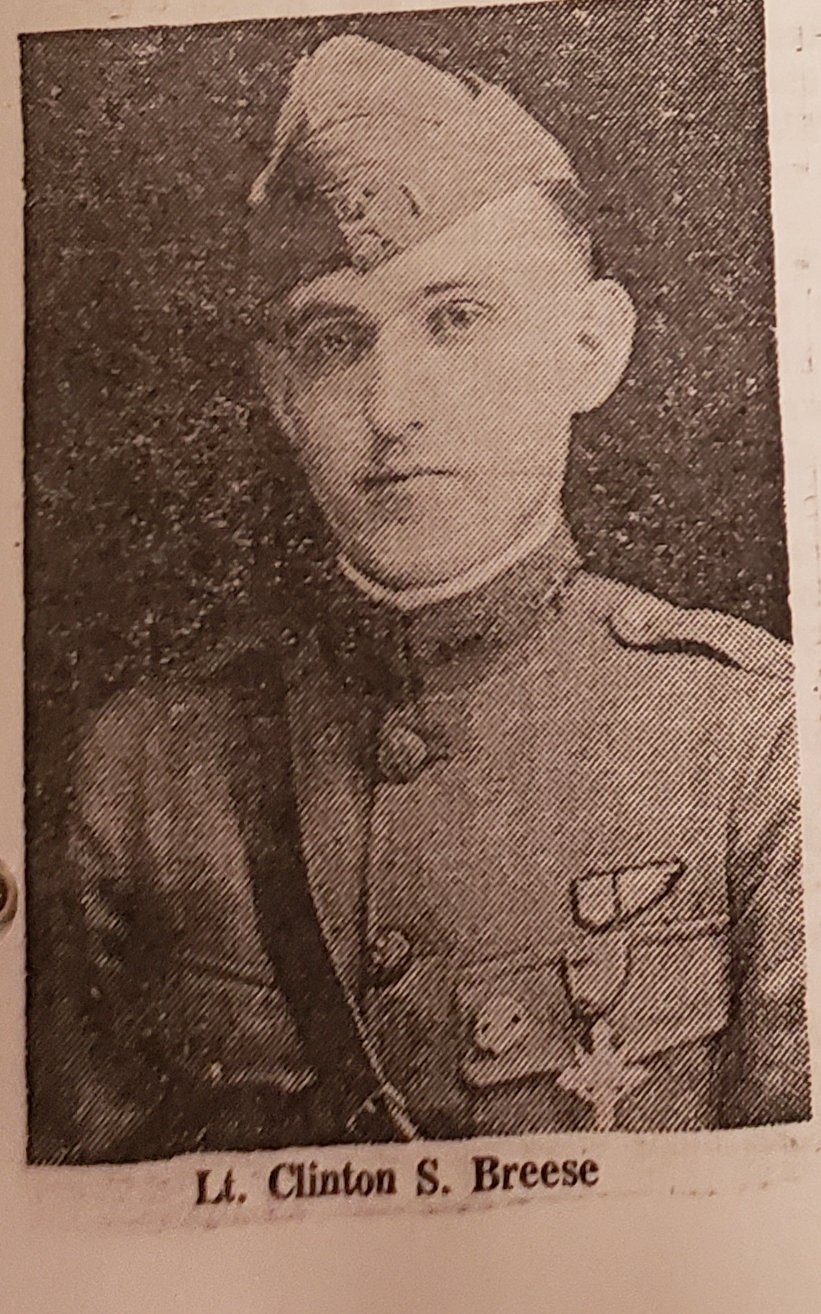 CLINTON BREESE This photograph shows Clinton Breese in his later years during his retirement. Posted in the Waukesha Freeman on 7-8-1972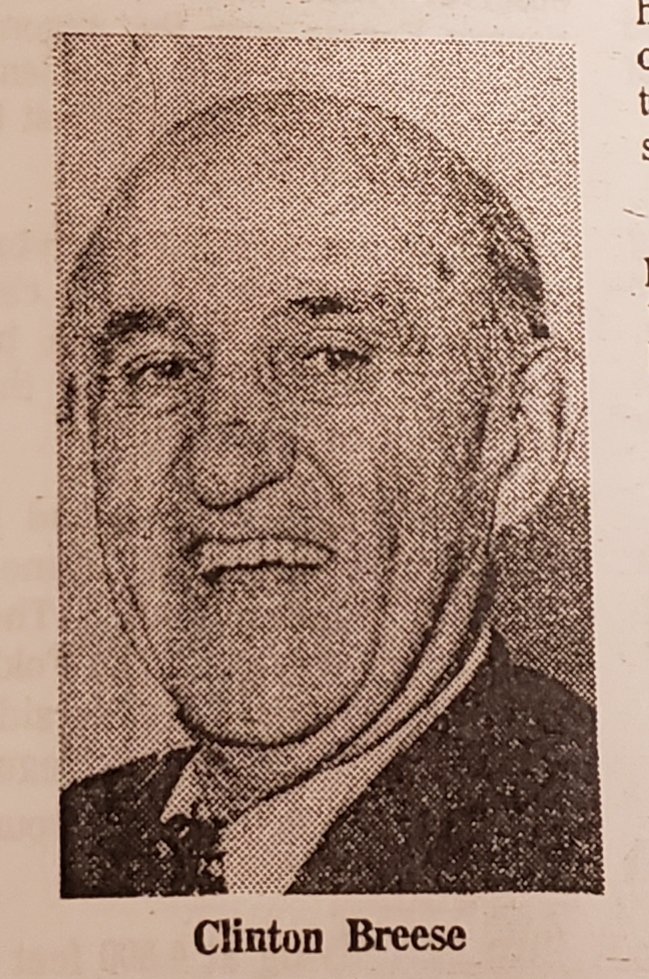 CLINTON BREESE AND FRANK ROBERTS Fellow aviators Clinton Breese(right) and Frank Roberts(left) pictured here at the Experimental Aircraft Museum. Posted in the Waukesha Freeman on 4-17-1971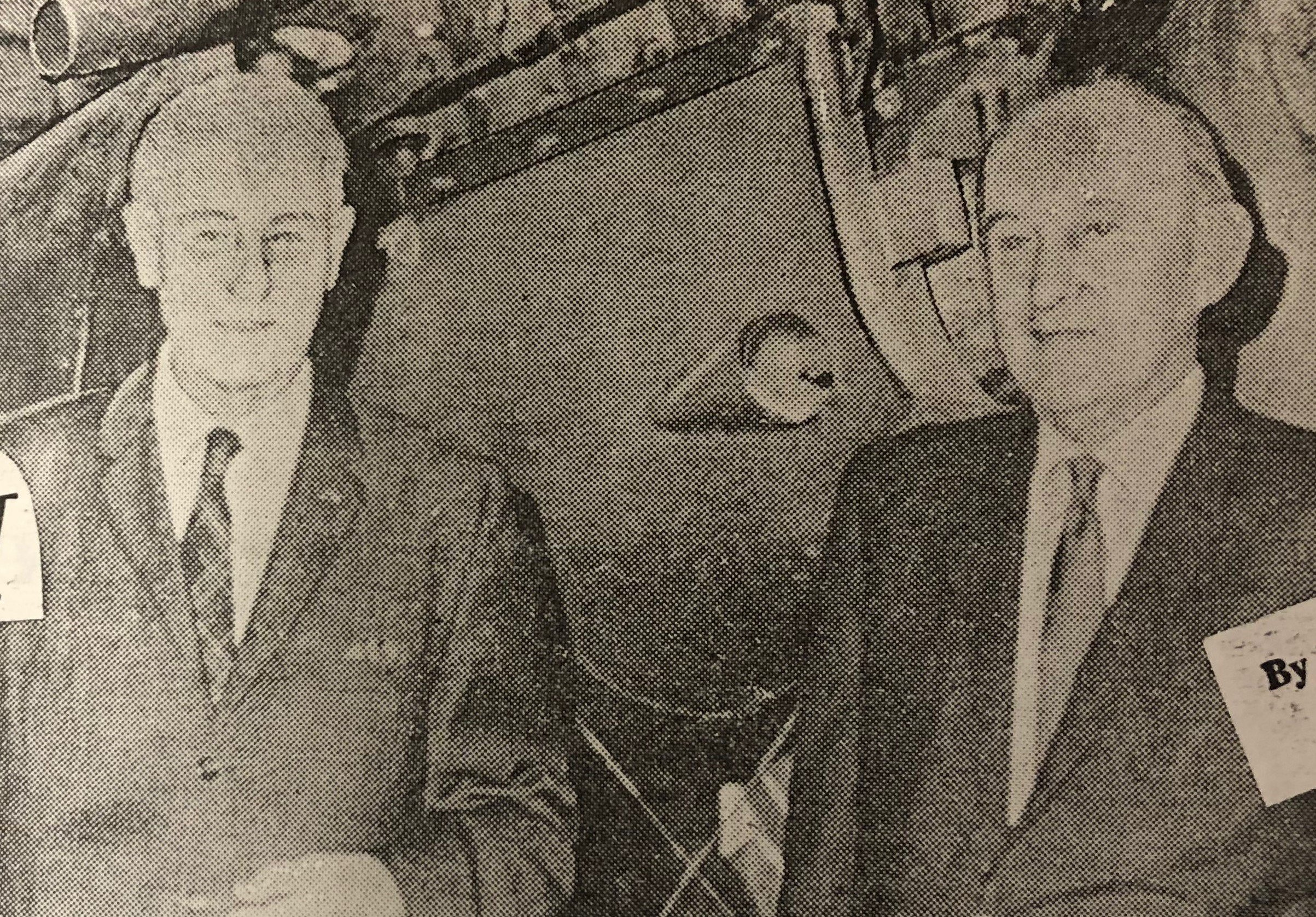 Backstory and Context
Clinton Samuel Breese was born on October 17th, 1894 in Waukesha to Richard and Mabel Breese. He had two siblings, Gertrude and Richard Jr, himself being the oldest of his siblings. As a young child, Breese became a member of Waukesha's Congregational Church in 1907. Breese lived with his parents until he went off to college, attending Carroll College, now called Carroll University. He majored in history and economics, and was very active in extracurricular activities on campus. He was a member of the Beta Phi Epsilon Fraternity, the Glee Club, served as a cabinet member of the Y.M.C.A. and a member of the Hinakaga board that was in charge of the yearbook as well as the Oratorical League, just to name a few. Breese graduated from Carroll in 1915 and subsequently went to the University of Wisconsin Madison for a year. Clinton returned to Waukesha and was working as a cost accountant at a local Waukesha when the United States entered the war in 1917, cutting his career short.
Breese's family had a long history of serving in the nations military in times of war. His great grandfather, Orson Clinton, fought in the Civil War and was present when Jefferson Davis, President of the Confederate States of America was captured. With such a lofty history no doubt in mind, Breese was inducted into the army on May 15th, 1917. After his training, he initially served as a 2nd lieutenant in the artillery battery of the 328th Infantry Regiment. He spent many months serving as a trainer for incoming recruits at Fort Sheridan, Illinois. However, he soon grew bored and desired to get into the action. It just so happened that he was in luck, the newfound Army Air Corps was looking for recruits, and Breese, desiring to get in on the action, joined up as soon as he could. After being trained in the arts of aeronautics, he was sent overseas as part of the 12th Aero Squadron in August of 1918 during the closing months of the war.
Though he was only in combat for two months, Breese made quite the name for himself during his time at the front. He served as a navigator and gunner aboard a reconnaissance plane, tasked with reconnoitering the German front lines and relaying information back to his superiors. It was on November 2nd, 1918, that Breese would acquire his most lasting fame. While flying over German lines reconnoitering their positions, he was set upon by four German aircraft. He was forced to retreat, however he realized the importance of his mission and he turned back to face his pursuers. He managed to shoot down one aircraft and scare the others off. Afterwards he flew for an hour over enemy lines, all the while under fire, before returning to base to deliver his valuable information. For this bravery he would be awarded both the Silver Star and the Distinguished Service Cross. In the closing days of the war he would be shot down while on a reconnaissance mission, but thankfully , he was able to land behind allied lines with no injury to himself.
Breese came back to Waukesha to a hero's welcome. His heroics had been heard by the community and they regarded him as one of Waukesha's most famous veterans from the war. Part of this honor included giving a speech at the dedication of a monument memorializing all of Waukesha's World War I veterans. Following the war, Breese remained in Waukesha and acquired a job at Waukesha Savings and Loans Association, which was ran by his father. He used his knowledge of economics and personal charisma to rise through the ranks, eventually becoming the head of the company. He would subsequently work there for there until his retirement in 1964. 
During his time out of the army, he got married to his first wife Charlotte. He also had multiple children, Charlotte, Robert, John and Margaret. Breese would continue to be a integral part of Waukesha's community, serving as a member of the Kiwanis Club of Waukesha, the Waukesha Masonic Lodge, chairman of Waukesha's Police-Fire Commission and president of the YMCA board. He also served as president of the Wisconsin Savings and Loan League and a director of the Federal Home Loan Bank of Chicago. His first wife Charlotte would pass away in 1966, his 2nd wife, Iniz would pass in 1971 and he eventually married his 3rd wife Helen. Breese would pass away on April 24th, 1975.
Clinton Breese was an interesting man in every sense of the word. He came from a humble background but through his deeds he was able to make his mark on Waukesha. Unlike many born during his time, he was able to not only attend college but he was able to graduate as well. He gained fame by being one of a select few to become an aviator and served with valor and heroism during the First World War. Upon coming back to Waukesha, Breese was able to establish himself in the community through his business ventures and by actively participating in community groups and organizations. Clinton Breese accomplished much during his life, he was a loving son, father and husband, and through his actions and contributions he helped make Waukesha into what it is today.
Sources
Edwards, John Carver. "The Dream of Civilized Warfare: World War I Flying Aces and the American Imagination (Book)." Library Journal 128, no. 19 (November 15, 2003): 81. http://search.ebscohost.com.pioproxy.carrollu.edu/login.aspx?direct=true&AuthType=cookie,ip,cpid&custid=s6222004&db=aph&AN=11427134&site=ehost-live&scope=site.
PERRI, TIMOTHY J. 2013. "The Evolution of Military Conscription in the United States." Independent Review 17 (3): 429–39. http://search.ebscohost.com.pioproxy.carrollu.edu/login.aspx?direct=true&AuthType=cookie,ip,cpid&custid=s6222004&db=aph&AN=84548197&site=ehost-live&scope=site.
A City's New Horizon. Youtube Video, 1:10:24. Posted by "City of Waukesha," 9 Jun. 2015. http://youtube.com/watch?v==S0opUtc_6L8.
Schoenknecht, John. From Prairieville to Waukesha: Columns Published in the Waukesha Freeman 2008-2010. Waukesha, WI: J. Schoenknecht, 2010.
Parrish, Christopher. 2004. "Wingless Eagle: U.S. Army Aviation Through World War I (Book)." H-Net Reviews in the Humanities & Social Sciences, April, 1–3. http://search.ebscohost.com.pioproxy.carrollu.edu/login.aspx?direct=true&AuthType=cookie,ip,cpid&custid=s6222004&db=aph&AN=15081397&site=ehost-live&scope=site.
Additional Information