Historical Marker: The Lewis and Clark Expedition Across Missouri
Introduction
Located in Hermann Riverfront Park, this historical marker commemorates the Lewis and Clark Expedition, which, on May 26, 1804, camped nearby on the southern end of Loutre Island. The following day, the expedition sailed passed present-day Hermann and camped for the night at the mouth of the Gasconade River. In his journal, William Clark noted the location of the first camp and the numerous deer seen on the riverbanks. On the 27th, the expedition encountered several canoes and traders who had recently traded with the Omaha, Pawnee, and Osage Indians. Just to the west of this marker is another one that commemorates the fact that Hermann is the juncture of three pioneer trails: the Lewis and Clark Trai, the Ozark Frontier Trail, and the Old Iron Road.
Images
The marker is located in Hermann Riverfront Park.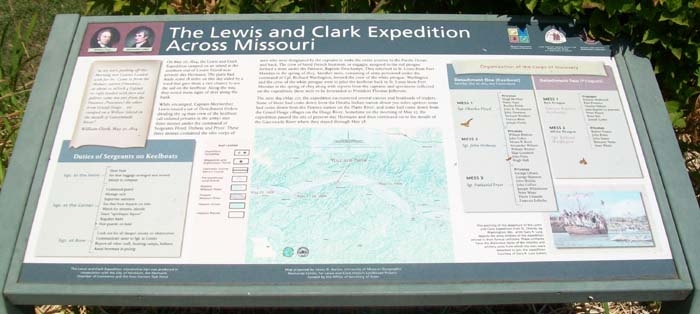 Closeup of the map showing where the expedition camped.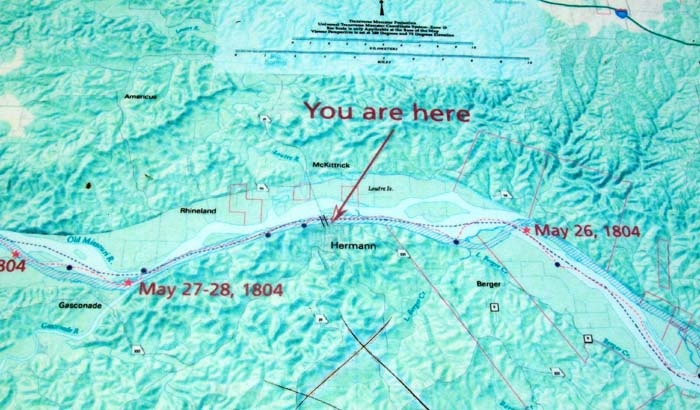 The Pioneer Trails Juncture Marker is located just to the west.
Sources
"The Lewis and Clark Expedition Across Missouri." The Historical Marker Database. Accessed June 5, 2019. https://www.hmdb.org/marker.asp?marker=63210.

"Pioneer Trails Juncture." The Historical Marker Database. Accessed June 5, 2019. https://www.hmdb.org/marker.asp?marker=63207.

Photos: The Historical Marker Database
Additional Information