Pioneer statue (Eugene, Oregon)
Introduction
One of the few monuments erected to a generic pioneer man in the early 20th century, this statue of a white frontiersman dressed in buckskin was dedicated on the University of Oregon campus in 1919. A companion pioneer woman was erected a decade later in the women's quad. A century later, the statue would become broiled in debate for its glorification of white settlement. Protestors removed both statues in June 2020; the statues were placed in storage.
Images
The Pioneer. Photo by Cynthia Prescott
"Destiny Manifested" installation by Peyton Johnson, Shasta Meehan, Chris Weaver, Chad Hawthorne, and Isabela Ospina. April 2018. Holt, Whitney. COLLABORATIVE ART MAKING: A NEW METHOD FOR LANDSCAPE ARCHITECTURE, 2018: 33.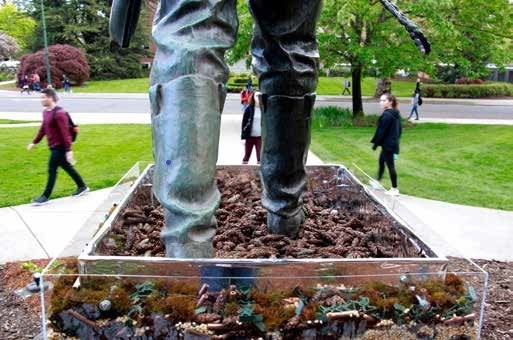 "Destiny Manifested" installation. Holt, Whitney. COLLABORATIVE ART MAKING: A NEW METHOD FOR LANDSCAPE ARCHITECTURE, 2018: 33.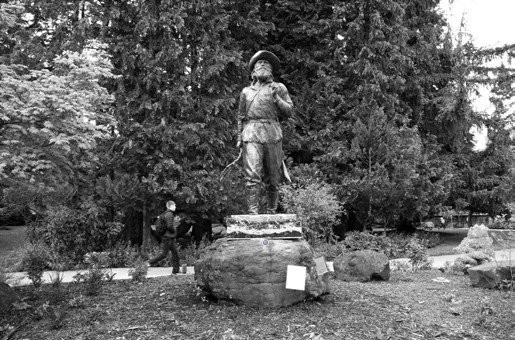 Backstory and Context
In the early 20th century, communities across the United States put up public statues honoring western pioneers. Oregon rancher, attorney, and civic leader Joseph N. Teal sought to celebrate early Oregon settlers by erecting a bronze monument. Teal viewed Oregon settlers as western counterparts to the earliest English settlers in North America. He therefore asked prominent sculptor Alexander Phimister Proctor to create a sculpture modeled on Augustus Saint-Gaudens' famous 1899 bronze tribute to The Puritans. But the Paris-trained artist instead turned to imagery drawn from his own western youth.
Phimister Proctor, as he was known, was born in Ontario, Canada, in 1860. His family gradually migrated south and west via covered wagon until arriving in Denver, Colorado, in 1871. As a young man growing up in the shadow of the Rocky Mountains, Proctor prized hunting and fishing ahead of his art. Even as an older man, he routinely abandoned his eastern studio to embark on large game hunts in the West. He studied living wild animals and dissected dead ones—many of which he shot himself—to reproduce their musculature accurately. For the Oregon pioneer monument, Proctor hired an old trapper named Jess Cravens from near Burns, Oregon, to serve as his model.
Proctor's resulting 1918 statue for the University of Oregon campus features a heroic-sized rugged buckskin-clad frontiersman carrying a rifle and whip, striding purposely into the West and the future. Viewers appreciated that Proctor's Pioneer appeared ready to conquer nature, American Indians, or anything else that might stand in his way. The Oregon Daily Journal praised Proctor's "faithful visualizing and reproduction of the frontier type."1
At the statue's 1919 dedication, Oregon Historical Society president Frederick V. Holman gave a speech praising Proctor's statue and celebrating what he considered white Oregon settlers' racial superiority. He declared that
"There were great numbers of savage Indians to be encountered and forced to respect the rights and property of these immigrants."2
Such justifications for white settlement on Native lands were typical of that era, but would become controversial a century later.
A decade after sculpting The Pioneer, Proctor created a seated Pioneer Mother as a companion to the swashbuckling Pioneer. Pioneer Mother was placed in the center of what was then known as the Women's Quad, facing toward The Pioneer. Today, The Pioneer is an important campus landmark, but few students know that the Pioneer Mother exists.
In recent years, some have begun to challenge the long beloved Pioneer statue. In 2011, students adorned the statue with a rainbow-colored balloon arch to mark National Coming Out Day, which encourages students and others to identify publicly as homosexual, bisexual or transgender. The juxtaposition of virile masculinity and homosexual pride was striking but short-lived. The balloons were removed from the statue within forty-five minutes.
Even more recently, as the nation debated removing Confederate monuments due to their racist origins, students and faculty have drawn attention to the racial underpinnings of the Pioneer's origins. In April 2018, University of Oregon students installed temporary exhibits that responded to the Pioneer and Pioneer Mother. The Pioneer installation was called Destiny Manifested. Students layered objects inside a plexiglass pedestal at the base of The Pioneer to represent the unforeseen consequences of white settlement. The following year, protestors sprayed the statue in red paint, and dozens of students and faculty called for its removal. Meanwhile, the university formed a "presidential working group to review campus monuments, plaques and public art installations and recommend whether any changes need to be made to those features to recognize the diverse histories of our community."3 Then, in June 2020, as people throughout the United States and beyond debated the fate of monuments to Confederate generals and leaders of white expansion, protesters tore down the "Pioneer Father" and Pioneer Mother statues. The University moved them into storage as discussions of how to move forward continued.
Sources
1. "A Great Sculptor." The Oregon Daily Journal May 17, 1919.
2. Holman, Frederick V. "Qualities of the Oregon Pioneer: An Address." The Quarterly of the Oregon Historical Society20, no. 3 (September 1919): 236-37.
3. Begay, Melorie. "UO Students & Faculty Protest 100-Year-Old Pioneer Statue." KLCC. May 22, 2019. https://www.klcc.org/post/uo-students-faculty-protest-100-year-old-pioneer-statue 
Prescott, Cynthia Culver. Pioneer Mother Monuments: Constructing Cultural Memory. Norman, Oklahoma. University of Oklahoma, 2019. 
Sculptor in Buckskin: The Autobiography of Alexander Phimister Proctor. University of Oklahoma Press, 2009.
Hassrick, Peter H. Wildlife and Western Heroes : Alexander Phimister Proctor, Sculptor. Amon Carter Museum, 2003).
Kanik, Hannah. "New research reveals the Pioneer statue's controversial history." Daily Emerald May 20, 2019.  https://www.dailyemerald.com/news/new-research-reveals-the-pioneer-statue-s-controversial-history/article_923248e6-7aa6-11e9-a965-cb24982d96a8.html
Holt, Whitney and Murphy, Brittany. "Collaborative Art: A New Method for Landscape Architecture." Interactions 25, no. 6 (November-December 2018). https://interactions.acm.org/archive/view/november-december-2018/collaborative-art
Holt, Whitney. "Collaborative Art Making: A New Method for Landscape Architecture." University of Oregon, 2018. https://scholarsbank.uoregon.edu/xmlui/bitstream/handle/1794/23668/Holt_Whitney_2018.pdf?
Daily Emerald. "Photos: Coming Out Together — A Community Celebrates," Emerald Media (blog). https://www.dailyemerald.com/multimedia/photos-coming-out-together-a-community-celebrates/article_413c5355-aa0a-5981-83f6-f794f374dda6.html. Accessed June 21, 2019.
University of Oregon. President Denounces Statue Vandalism, Urges Campus Unity, Around the O. June 16th 2020. Accessed June 16th 2020. https://around.uoregon.edu/content/president-denounces-statue-vandalism-urges-campus-unity.
Additional Information