The Rowan County War Marker at The Morehead Visitor's Center
Introduction
This historical dedicated in 1993 at the Morehead Visitor's Center shares the story of the Rowan County War, a feud between two opposing parties that lasted from 1884 to 1887. The feud began when Republican candidate John Martin was shot and wounded after an altercation with Democratic candidate Floyd Tolliver during election day 1884 in the county seat of Morehead. In revenge, Martin fatally shot Tolliver that December. The murder sparked a feud between the families and supporters of the two men that grew to involve the majority of Morehead's male residents. In the years that followed, most Morehead residents took sides in an increasingly violent serious of altercations that reached its climax in the summer of 1887 with a two-hour shootout between sixty men. In response to the shootout, the state militia occupied the city and state and local leaders took steps to prevent further bloodshed. At the end of the feud, twenty men were dead and sixteen had been seriously injured.
Images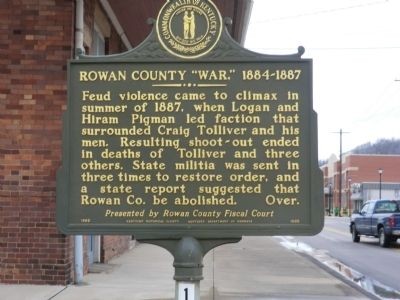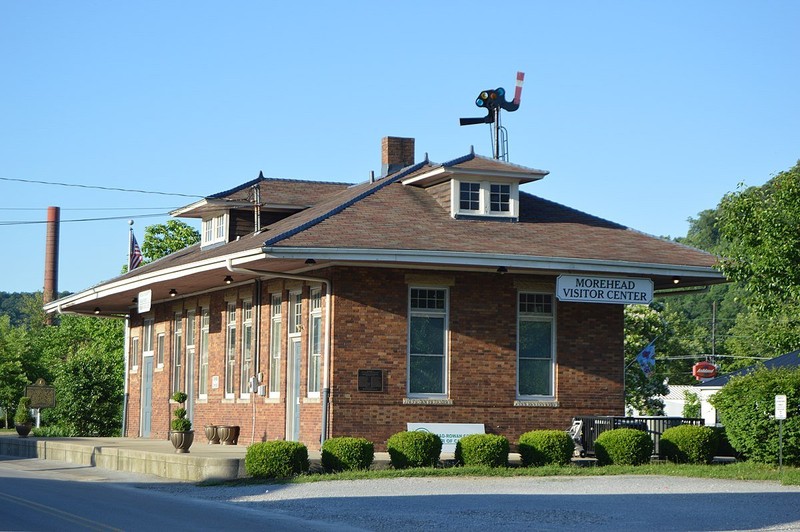 Backstory and Context
The Rowan County War began as a feud between the Underwood and Holbrook families. The feud spanned three years, beginning in 1884 when John Martin, a Republican politician and member of the Underwood family, was shot by his political rival Floyd Tolliver during an altercation on election day.

Martin was merely injured; however, his friend, Solomon Bradley, was shot and killed in the confusion. Tolliver was put on trial for his actions; however, shortly before the final decision regarding his case was to be made in December of that same year, Martin came across Tolliver while out drinking and, seeking revenge, fatally shot the other man. Shortly before he died from his wounds, Tolliver reportedly told his friends "Remember what you swore to do; you said you would kill him; Keep your word."

Martin was immediately arrested and taken to a prison in Winchester, Kentucky. Because he was protected by the facility in which he was imprisoned, Toliver's brother, Craig, retaliated by killing two family members of D.B. Logan, one of Martin's closest friends. Despite this act of violence, Tolliver's friends and family felt that they still had not gotten retribution. Consequently, they, along with Tolliver's former political supporters, forged a document informing the prison in which Martin was held of Martin's transfer to another facility, one located in his hometown of Morehead, Kentucky. Martin was transferred by train and, during his journey back to Morehead, was ambushed by Tolliver's supporters who shot him. The act was carried out next to Martin's wife who helped Martin walk to the Powers Hotel in Morehead, where he explained what happened and then died a few hours later.

Upon Martin's death, residents of both Morehead and surrounding cities in Morgantown soon began to take up sides, with many Republican citizens taking the side of Martin and his family while Democrats sided with Tolliver's friends and family. The two opposing factions argued and engaged in numerous skirmishes in the following years until the summer of 1887, during the war's climax, when a group of Martin's supporters, led by Hiram and Logan Pigman, surrounded and fatally shot Craig Tolliver. Resulting from their act was a widespread shootout between then and a faction of Tolliver's supporters which lasted two hours and, together, involved nearly sixty men. The shootout gained widespread attention, prompting the state militia to intervene and attempt to calm the two opposing groups. Another result of the war's widespread attention was a recommendation by government officials to abolish Rowan County in the hopes of ridding Kentucky of its bloody reputation. The county remained, however, and was soon visited by religious philanthropists who established the Morehead Normal School and worked to educate the residents of Morehead and inspire peace.

Over the course of the three year war, twenty men were killed and sixteen were wounded. In honor of both them and the role the war played in Morehead's development, a historical marker was dedicated along First Street in Morehead, just outside of the Morehead Visitor's Center, memorializing the violent history of the county that eventually led to it becoming known as 'Bloody Rowan." The historical marker was dedicated by the Rowan County Court and erected in 1993 through a joint effort by the Kentucky Historical Society and the Kentucky Department of Highways.

The Morehead Visitor's Center, the site of the marker, is open from 8 a.m. to 5 p.m. each Monday through Friday and offers additional information about the war as well as tourism resources for the city.
Sources
The Rowan County War. American Family History. . Accessed August 07, 2019. https://www.anamericanfamilyhistory.com/Oxley%20Family/The%20Rowan%20County%20War.html.

Rowan County War Marker. WayMarking.com. . Accessed August 07, 2019. https://www.hmdb.org/marker.asp?marker=73849.


Additional Information