Clifton Mansion
Introduction
Author-Uploaded Audio
Clifton Mansion is a Baltimore treasure located in the National Historic District of Clifton Park. The mansion was originally built as a Georgian style home by a captain in the War of 1812, Henry Thompson. Famed philanthropist Johns Hopkins later purchased the mansion and turned it into an Italian villa. The stunning home consists of an eighty-foot tower that offers a view of Baltimore and a wraparound porch covering three sides of the house. Civic Works of Baltimore now uses Clifton Mansion as its headquarters and it is open to tour and rent for events.
Images
The Clifton Mansion today. Photo courtesy of Civic Works.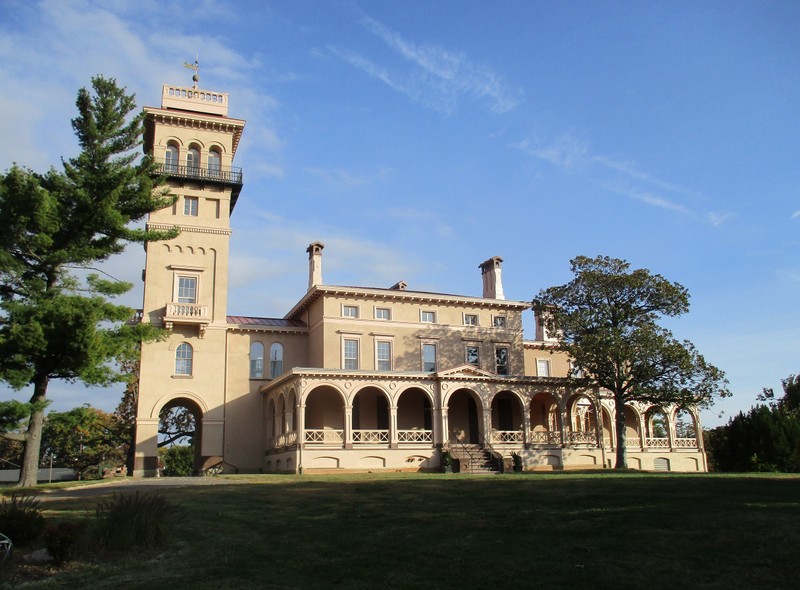 Historic postcard of Johns Hopkins' home, The Clifton Mansion. Photo courtesy of Baltimore Heritage.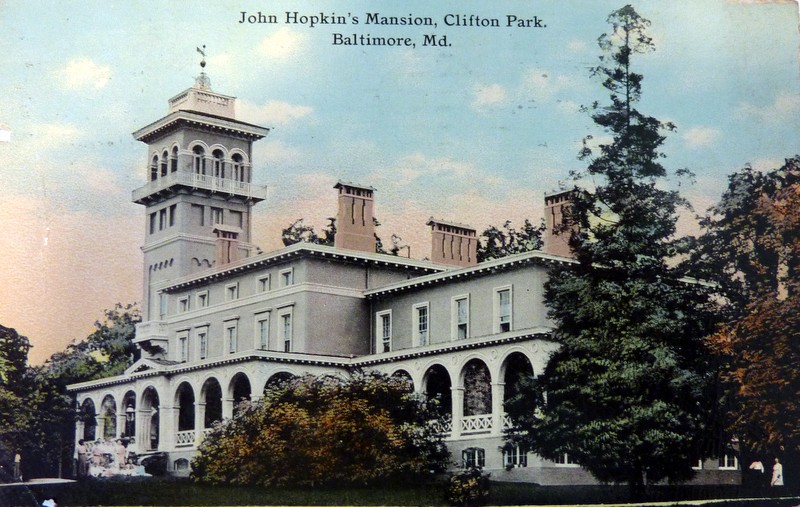 Clifton Mansion as it appeared in the early 1900s. Photo courtesy of the New York Social Diary.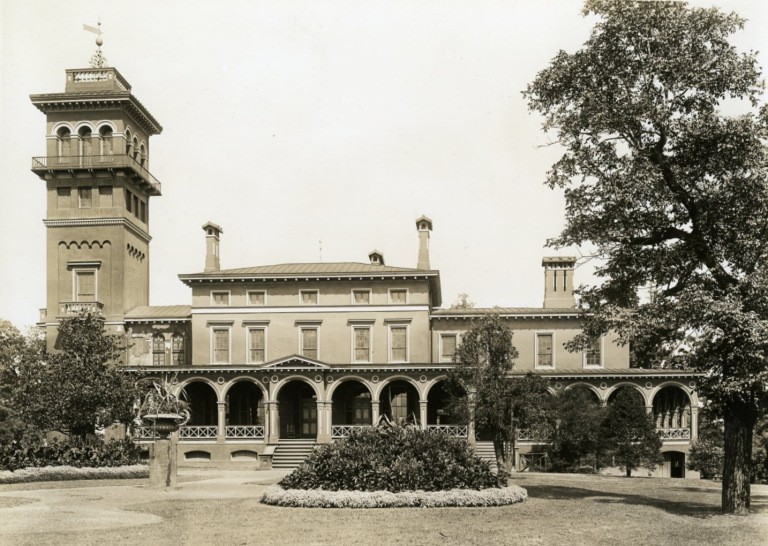 Backstory and Context
Author-Uploaded Audio
This famous Italian-style home that is best known for being the country residence of philanthropist Johns Hopkins (1795-1873) was originally a Georgian style stone home. Baltimore merchant Henry Thompson (1774-1837), who served as a Captain of the First Baltimore Horse Artillery in the War of 1812, built the home in Clifton Park in 1802 and owned the property until 1835.That year, Thompson sold the mansion to a man by the name of Daniel Cobb, who eventually went broke and could no longer afford to make payments. For a short time, Thompson Mansion went back to the Thompson family until they sold it to Johns Hopkins.
For twelve years, Hopkins worked on expanding the Georgian mansion into an Italian-style villa that would serve as his summer residence. This expansion included the now-famous eighty-foot tower that offers a stunning view of the city of Baltimore, a Black walnut grand staircase located in the entrance consisting of marble flooring, and hand-painted walls and ceilings. After Hopkins' death, Clifton Mansion fell into the hands of nearby Johns Hopkins University until the City of Baltimore purchased it in 1895.
Since then, Clifton Mansion has been used by the Department of Recreation and Parks and by a golf course. The various usages took its toll on Clifton Mansion and it slowly fell into a state of disrepair. Today, the Mansion is serving as the headquarters for Civic Works' community service programs. Civic Works is now in charge of the upkeep of the historic home, and they undertook an extensive renovation in partnership with the nonprofit Friends of Clifton Mansion. In addition to being available to tour, Clifton Mansion can be rented for weddings, corporate events, and other special occasions.
Sources
1. Hopkins, Johns. Henry Thompson's Clifton Mansion. Explore Baltimore Heritage. April 03, 2012. Accessed August 11, 2019. https://explore.baltimoreheritage.org/items/show/22.
2. Clifton Mansion & Civic Works. Baltimore Museums. Accessed August 11, 2019. http://www.baltimoremuseums.org/member-list/clifton-mansion-civic-works/.
3. Clifton Mansion. Civic Works. Accessed August 11, 2019. https://civicworks.com/clifton-mansion/.
Additional Information