William H. Davenport House (Davenport-Curtiss House)
Introduction
Author-Uploaded Audio
This beautiful Second Empire style home located on East Michigan Avenue in Saline, Michigan was constructed in 1875 by William Scott for one of the town's more prominent citizens, William H. Davenport. Davenport began his career as a successful merchant and then expanded his expertise by forming his own private bank. This bank is still going strong and is known as the Citizens' Bank. The Davenport House is a Michigan Historic Site and is on the National Register of Historic Places.
Images
The William H. Davenport House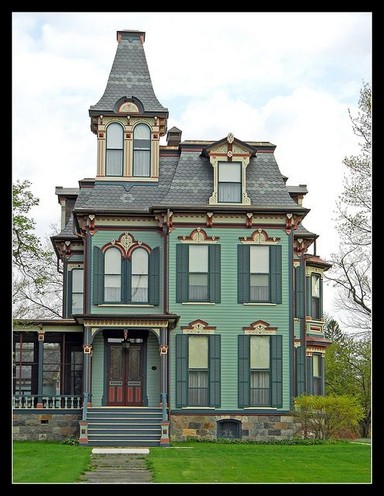 The Michigan Historic Site Marker at the Davenport House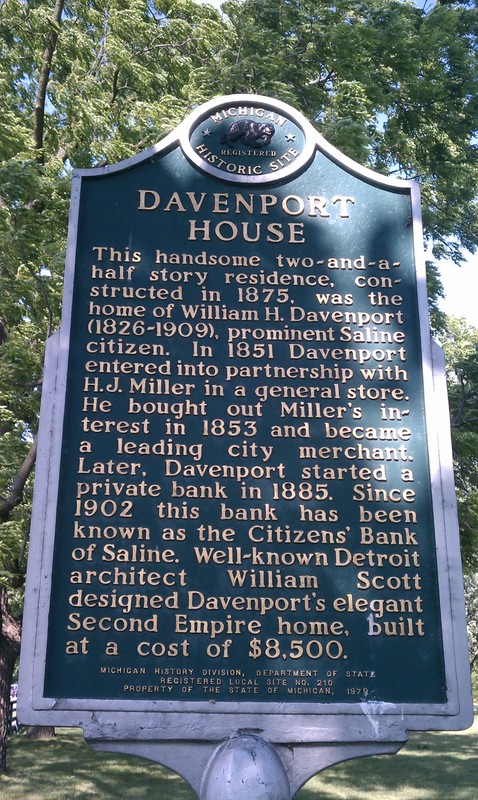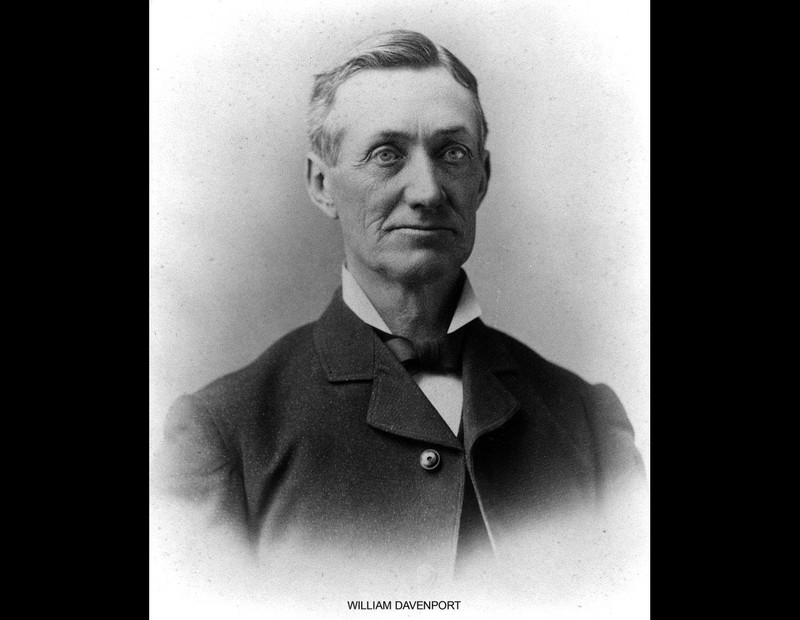 Backstory and Context
Author-Uploaded Audio
The William H. Davenport House (also known as the Davenport-Curtiss House) in Saline, Michigan has a rich history due to its unique style and successful owner. William H. Davenport hired the architect William Scott to build a home across the street from his son Beverly in 1875. The home was built in what was called "Second Empire" style, which originated in France but became popular post Civil War in the States, consisting of numerous strong vertical features and an added tower. Inside are spacious rooms with tall ceilings and windows that run from the floor to the ceiling. The furniture was purchased by the Davenports at the 1876 Centennial Celebration in Philadelphia. The total cost of the house was $8500.
William Davenport (1826-1909) had already built a name for himself in Saline at the time he built this house. Davenport, a New York native whose family moved to Saline when he was an infant, began his career as a clerk. He eventually formed a business on his own in mercantile trade. With his business growing, Davenport built a three-story building that he would occupy for over forty years. The Davenport House was the first in Saline to have a telephone installed, connecting the house and business. In the early 1870s, Davenport formed a bank in Saline, but the Financial Panic of 1873 forced the bank to go bankrupt. After the economy recovered, Davenport formed Citizens' Bank, which is still in operation today.
The Davenport House maintained its original furnishings until it was purchased by the Curtiss family, close friends of the Davenports, in 1930. A few decades later, the Davenport-Curtiss House was listed on the National Register of Historic Places.
Sources
Sonnenberg, Mike. Davenport House - Michigan Historical Marker, Lost In Michigan. April 8th 2014. Accessed August 26th 2019. http://lostinmichigan.net/davenport-house-michigan-historical-marker/.
Lane, Robert W.. Davenport-Curtiss House, Saline Area Historical Society. April 7th 2008. Accessed August 26th 2019. https://www.salinehistory.org/davenport-curtis-house.
Image Sources
Pinterest

Wikimedia Commons

Saline Area Historical Society

Additional Information