Western University (1865-1943)
Introduction
Founded in 1865 in Quindaro, the Freedman's University was the first African-American college west of the Mississippi. Quindaro had a significant African American population due to its history as a stop on the Underground Railroad and a haven for abolitionists. Former slaves who had been denied learning opportunities were able to receive elementary and secondary education at the Freedman's University. The school eventually grew to become Western University, adding higher education classes as well as a vocational school. The university became most known for its acclaimed music program, which produced world-famous alumni and was recognized as the eminent music training school for African Americans in the early 1900s. Today, very little remains of this historic site.
Images
Western University was established as the Quindaro Freedman's School and was the only historically Black college in Kansas.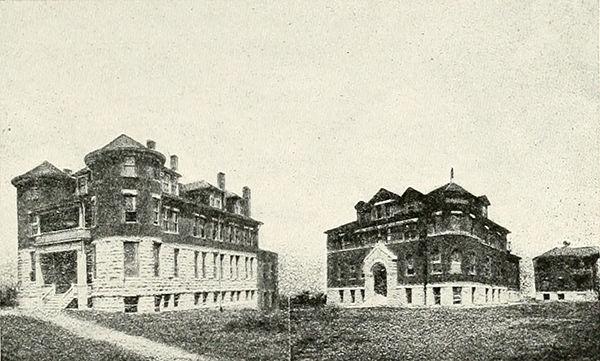 Students at Western University

Various halls, none of which exist today. The only thing that remains today is the John Brown statue in front of Ward Hall.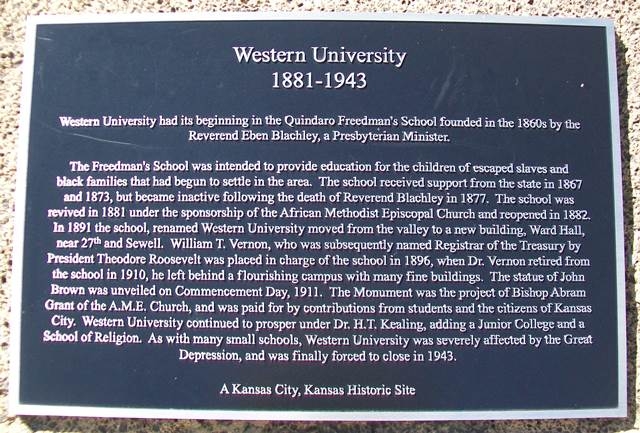 Graduates of Western University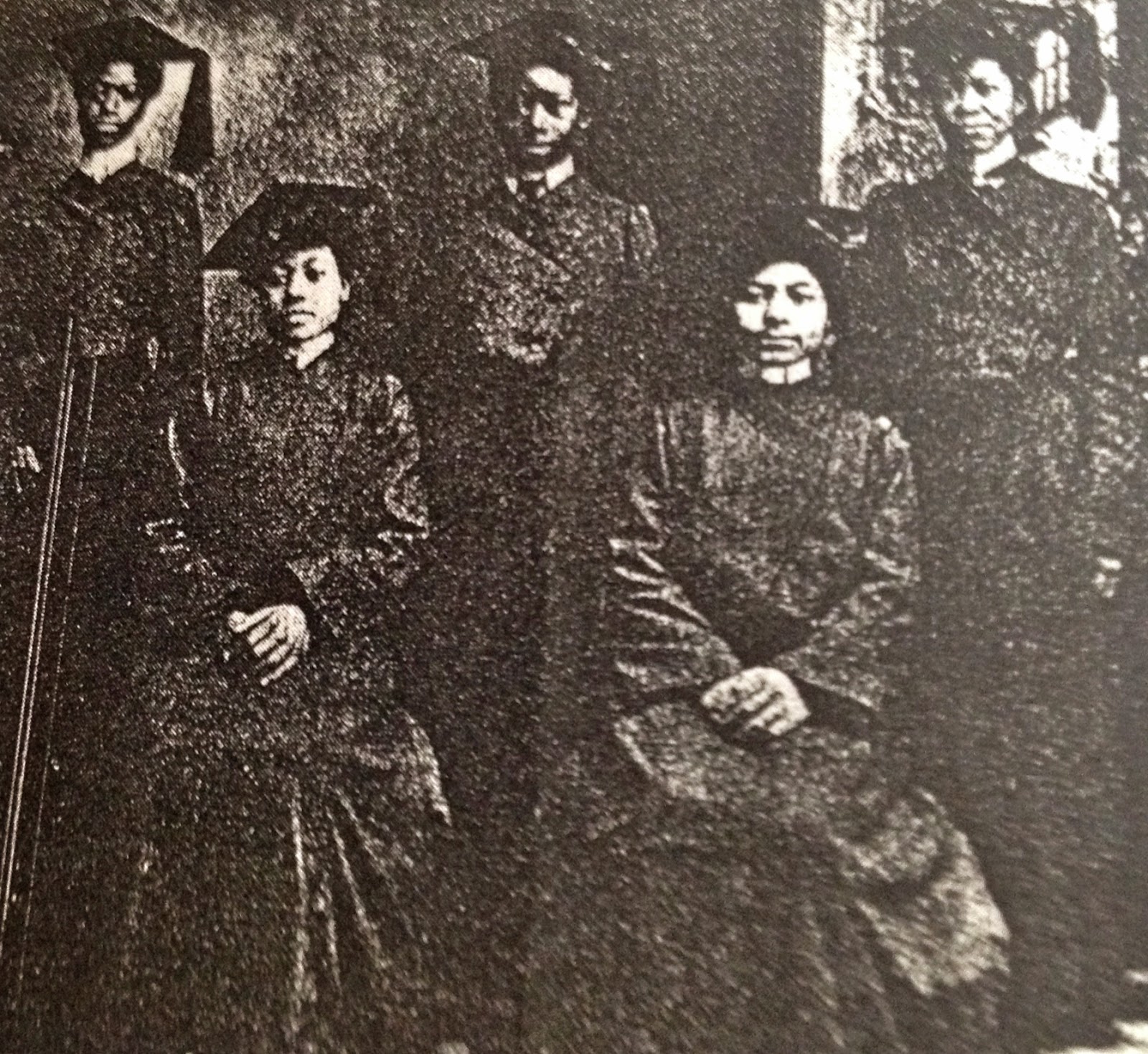 This statue of John Brown at Western University was dedicated in 1911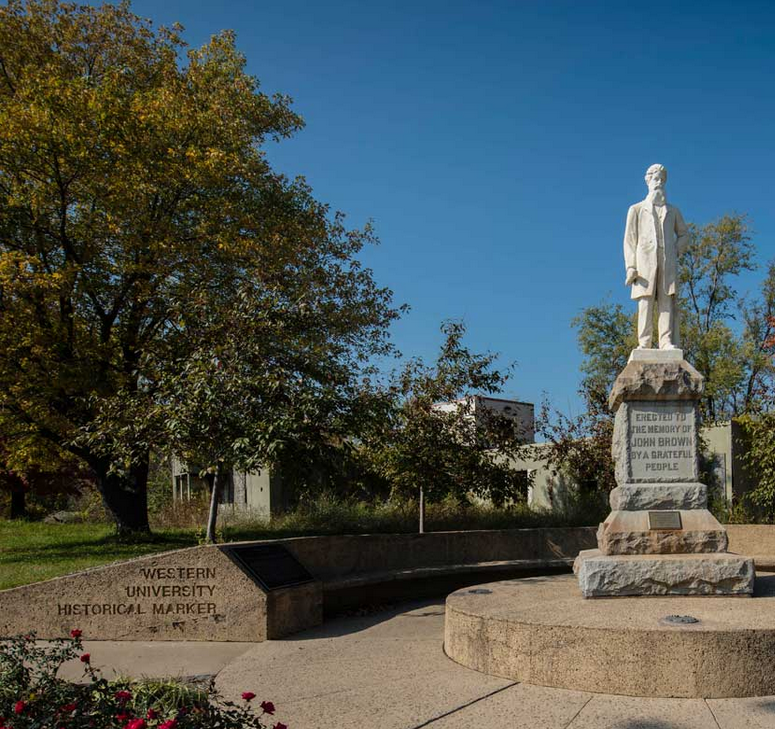 Students of the music department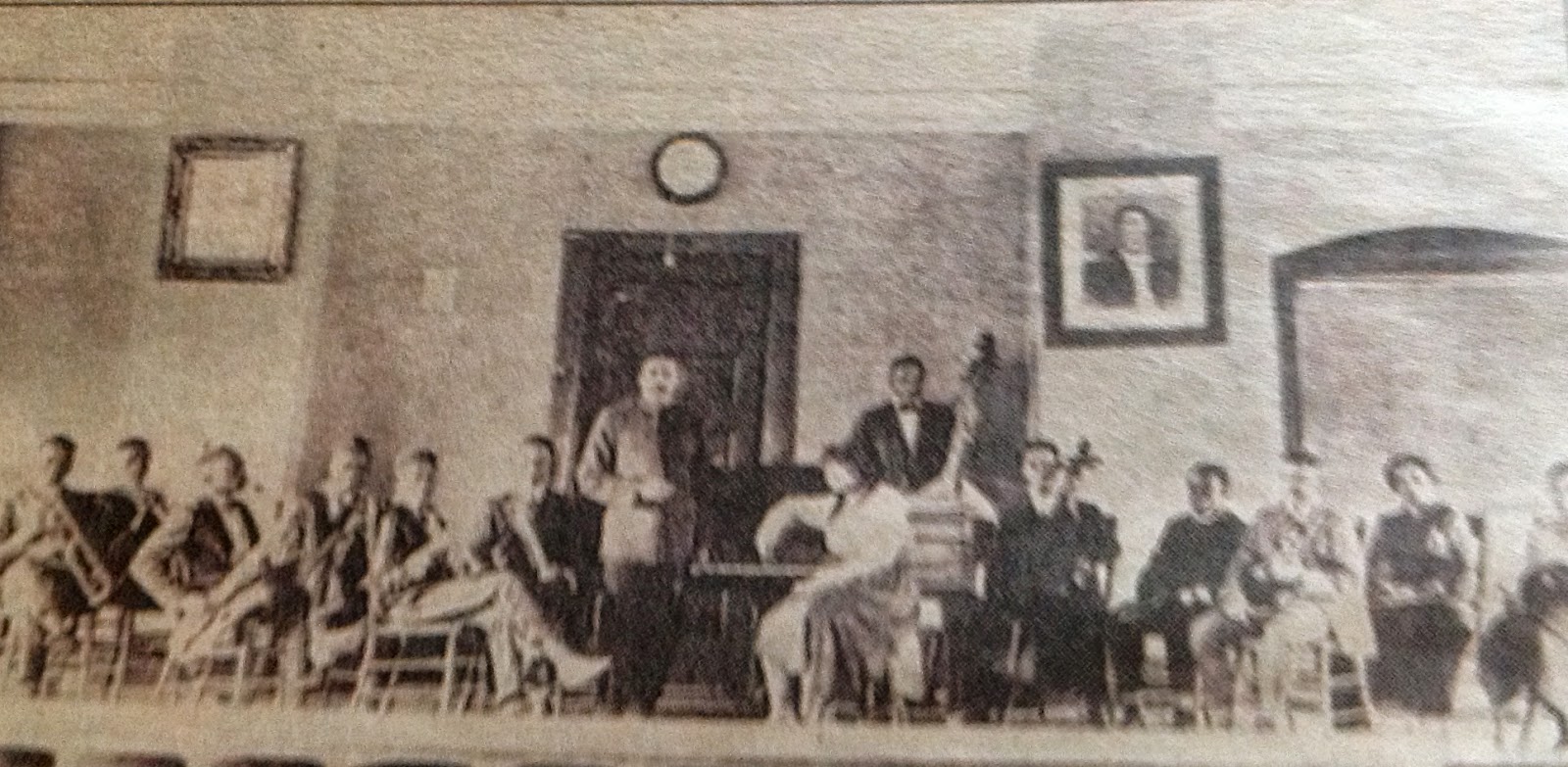 Cornerstone of Ward Hall, one of the only remaining pieces of the campus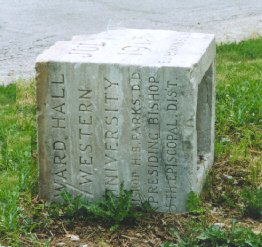 Backstory and Context
The town of Quindaro was the first taste of freedom for many escaped African American slaves. Located across the Missouri River, on the border with slave state Missouri, recently-freed African Americans could begin receiving an education at a school started by local Presbyterian minister Eben Blatchly. After the Civil War, Rev. Blatchly expanded the school and named it Freedman's University.[2] The university grew rapidly and received donated land from the State of Kansas. In 1872, Charles Langston, grandfather to poet Langston Hughes, became the president, and enrollment numbers jumped from six to 50 to 83 over three terms.[3]
Unfortunately, the success of the school waned after state-funded support was withdrawn and with the death of Rev. Blatchly in 1877. In 1881, the African Methodist Episcopal (AME) Church took over, and it was renamed Western University. The university provided elementary and secondary education for Blacks who had been denied learning opportunities under slavery, as well as more advanced college-level courses and vocational training. State funding was again secured in 1899, and students who were previously barred from attending due to financial constraints were able to enroll with discounted tuition. Several new buildings were constructed on the site, and a women's trades school opened in 1905.[4]
Western University became renowned for its musical program, which began in 1903. Robert G. Jackson was the head of the department and started the Jackson Jubilee Singers. The group sang traditional African American spirituals and became wildly popular, touring from 1907 to 1940. A new music building, built in 1907, contained an auditorium and accommodated the school's orchestra and brass band. Enrollment in the department grew exponentially, peaking in 1911 with 153 students (about 43% of the university's total student body). Notable graduates of the university's music program included Eva Jessye (an internationally recognized choral conductor and composer), Nora Douglas Holt (singer, composer, and music critic who became the first Black woman to receive a master's degree), and Etta Moten Barnett (actress known for her role as Bess in the Broadway musical Porgy and Bess).[3]
Despite the reputation of the school as the finest Black music training center in the nation, lack of state funding once again caused financial distress in the 1940s. It was finally forced to close in 1943. The AME church ran a hospital out of one of the school halls until 1978.[5] Over time, all the university's buildings were destroyed by fire, development, or demolition. Today, nothing remains of the campus except some cornerstones and a historical marker next to a statue of the famous abolitionist John Brown. The statue was erected by the university in 1911, and its inscription reads, "Erected to the memory of John Brown, by a grateful people."
Sources
1.      Ziegler, Laura. "Advocates Say Consensus Over Quindaro Ruins May Finally Lead To Preservation." 19 April 2018. Accessed 27 September 2019. https://www.kcur.org/post/advocates-say-consensus-over-quindaro-ruins-may-finally-lead-preservation#stream/0.
2.      Collins, Steve. "Western University (1857-1943)." 18 July 2012. Accessed 27 September 2019. https://www.Blackpast.org/african-american-history/western-university-1857-1943/.
3.      Walker-Hill, Helen. "Western University at Quindaro, Kansas (1865-1943) and Its Legacy of Pioneering Musical Women." Black Music Research Journal, 26, No. 1 (Spring, 2006): 7-37
4.      Kansas Historical Society. "Kansapedia: Western University." June 2010. Accessed 27 September 2019. https://www.kshs.org/index.php?url=kansapedia/western-university/15492.
5.      Kansas Public Library. "Quindaro Virtual Tour." March 2000. Accessed via the WayBackMachine, 27 September 2019. https://web.archive.org/web/20020208170004/http://www.kckpl.lib.ks.us/kscoll/lochist/quindaro/TOUR1.HTM .
Image Sources
http://www.communityvoiceks.com/news/featured_stories/quindaro-freedman-s-school-was-kansas-historically-black-university-hbcu/article_c1c0c896-cf80-11e5-b8af-07f1814790b8.html

https://www.kshs.org/index.php?url=kansapedia/western-university/15492

https://www.kshs.org/index.php?url=km/items/view/312290

https://www.hmdb.org/marker.asp?marker=69459

http://piferpost.blogspot.com/2014/06/tracing-footsteps-of-daringrunaway.html

https://www.visitkansascityks.com/sp/family_heritage_2017/

http://piferpost.blogspot.com/2014/06/tracing-footsteps-of-daringrunaway.html

https://web.archive.org/web/20020208172432/http://www.kckpl.lib.ks.us/kscoll/lochist/quindaro/TOUR6.HTM#S1

Additional Information