Judge Cordell D. Meeks, Sr Plaza
Introduction
In 1972, Judge Cordell D. Meeks, Sr became the first African American District Court judge in Kansas. A plaque with Judge Meeks' portrait and a quote from his autobiography is located at the front of the Wyandotte County Courthouse, where he held this historic position. He had a distinguished career as a lawyer before becoming judge and was an active member of many local organizations.
Images
Close up of Judge Meeks' Historical Marker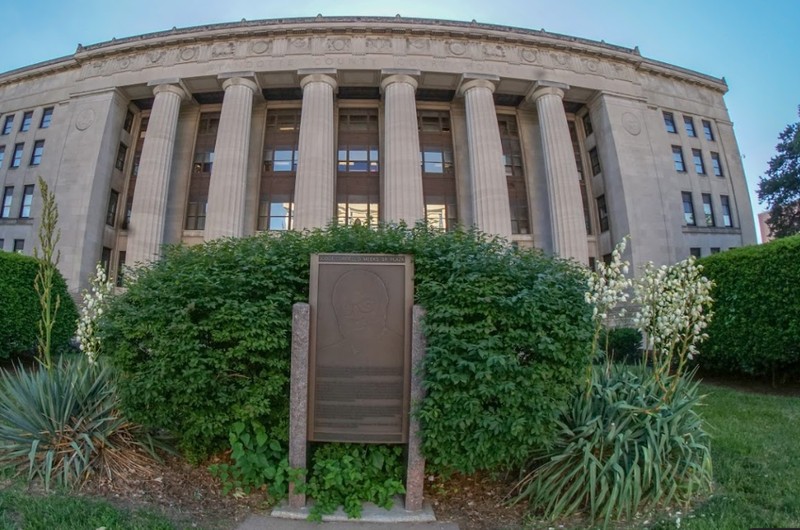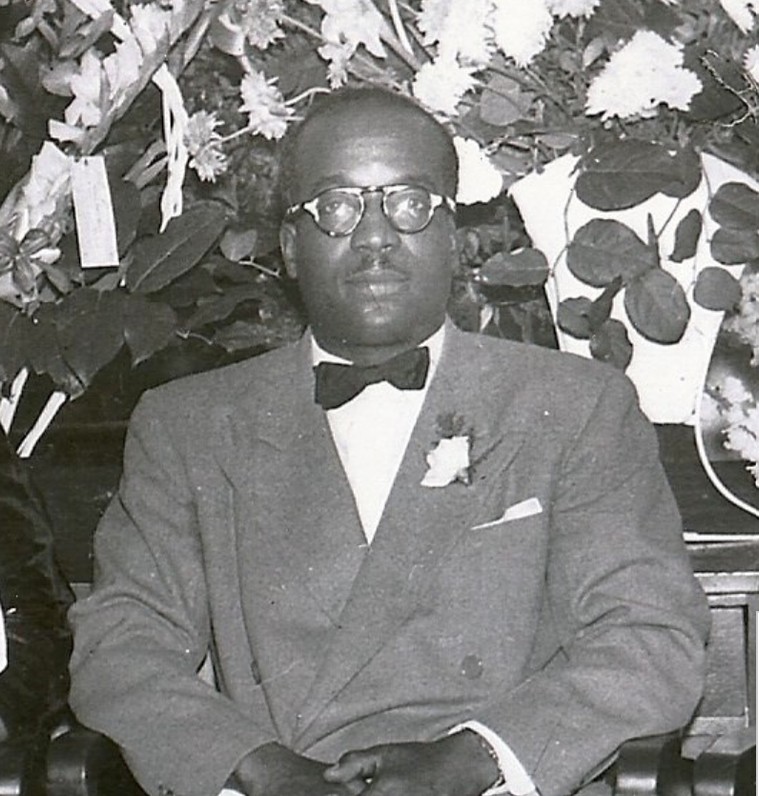 Judge Cordell D. Meeks, Sr Plaza in front of the Wyandotte County Courthouse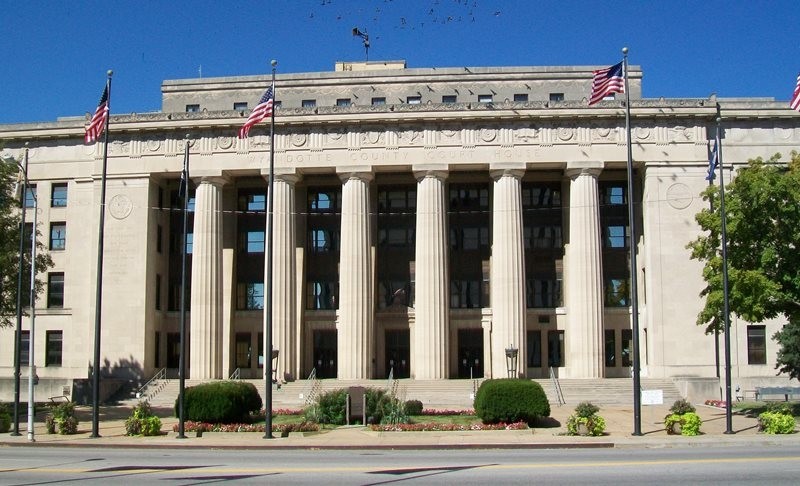 Judge Meeks with his wife Cellastine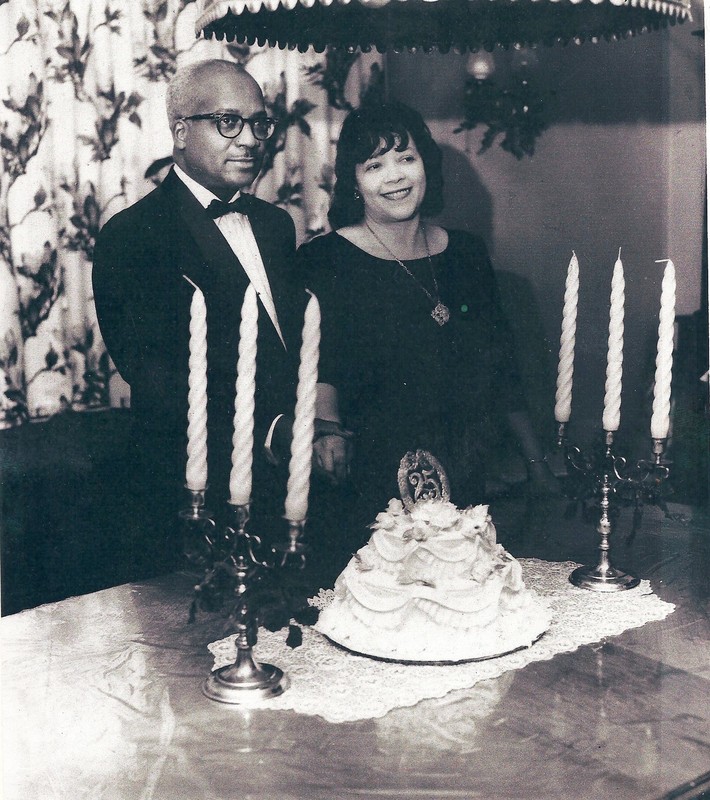 Gathering of political leaders at Judge Meeks' home. He is on the far right.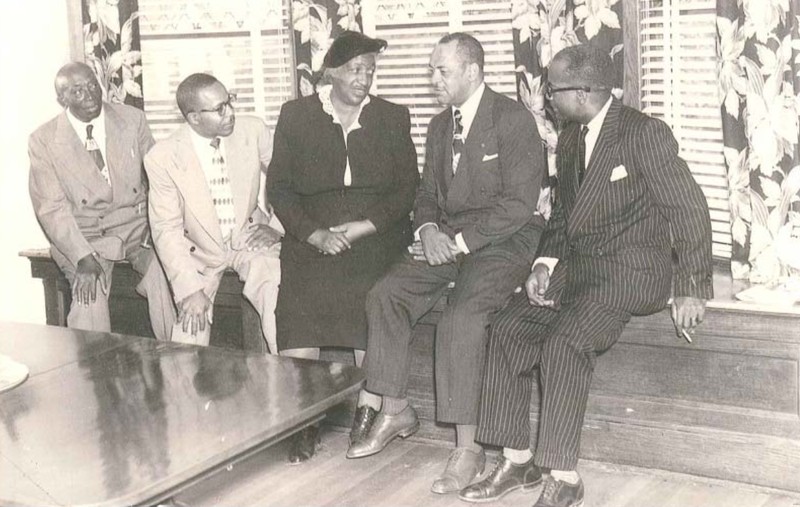 Backstory and Context
Biography
Cordell D. Meeks, Sr, was born September 25, 1914 in Little Rock, Arkansas. [1] His parents, Reverend Charles and Mrs. Mossie Meeks, moved their family to Kansas City, Kansas, in the late 1920s. Meeks graduated from Sumner High School in 1933 as class president. [2] He would go on to attend the University of Kansas in Lawrence, where he experienced racism that was easily dismissed by school authorities and led to his choice to study law: "...the meeting with the Dean of Men convinced me of the fact that if I ever wanted to help change the deplorable unjust and discriminatory conditions which existed at the university and elsewhere, I would have to get inside the system which controlled it. So I decided to get inside. The meeting had not been in vain."[2]
Meeks graduated from the University of Kansas with a BA in political science and then a Juris Doctorate (law degree) in 1940. [1] At the time, the bar association in Wyandotte County was segregated. [2] He opened his own practice in 1941. In 1947, he became an assistant District Attorney and helped found the first Black-owned bank in the city, Douglass State Bank. [3] By 1958, he was a senior partner in his own firm. [1]
Meeks was elected Wyandotte County District Court judge in 1972, making him the first African American elected to a Kansas District Court. [1] He served two terms and retired in 1981. He had also been recommended for the Kansas State Supreme Court. He served 24 years as Wyandotte County Commissioner and then was elected Chairman of the Board in 1965, becoming the first African American to head a county government in the state. [2] Other accomplishments include: Trustee of First A.M.E. Church, member of the NAACP, and National Convention delegate for the Democratic Party. [1]
Meeks and his wife Cellastine Brown had four children. His son Cordell D. Meeks, Jr, would also go on to be a judge. Meeks, Sr wrote his autobiography "To Heaven Through Hell: An Autobiography of the First Black District Court Judge of Kansas" in 1986. He died in 1987 and is buried in Highland Park Cemetery in Kansas City, KS. Judge Meeks' home, located at 600 Oakland Avenue, is also on the National Register of Historic Places (see separate Clio entry).
Sources
1.      "Cordell Meeks, Sr. Family Collection." Kenneth Spencer Research Library, University of Kansas. Accessed October 6, 2019. http://hdl.handle.net/10407/1023890797.
2.      Shelby, Marlene Meeks. "National Register of Historic Places Registration Form: Meeks, Cordell D., Sr., House." Prepared 2012. Accessed October 6, 2019. https://www.kshs.org/resource/national_register/nominationsNRDB/Wyandotte_MeeksCordellSrHouseNR.pdf.
3.      Associated Press. "Cordell D. Meeks Sr., Kansas Judge, 73." New York Times, December 10, 1987. Accessed October 6, 2019. https://www.nytimes.com/1987/12/10/obituaries/cordell-d-meeks-sr-kansas-judge-73.html.
Image Sources
Dave Reno: https://goo.gl/maps/oMHbdhVqxrJQ2wFg8

Cellastine Meeks Family Photo Collection: http://www.cellastinemeeks.com/Photos.html#1

William Fischer, Jr.: https://www.hmdb.org/marker.asp?marker=69396

Cellastine Meeks Family Photo Collection: http://www.cellastinemeeks.com/Photos.html#4

https://www.kshs.org/resource/national_register/nominationsNRDB/Wyandotte_MeeksCordellSrHouseNR.pdf

Additional Information