Matilda Joslyn Gage Home
Introduction
Built in the 1850s, the stately Greek Revival was the center for abolitionist and suffragist Matilda Joslyn Gage. She fought for human rights for more than forty years, between 1854 and 1898. Gage and her husband Henry and their four children lived in that home and were all abolitionists and offered that house as a stop on the Underground Railroad. The house is being restored as a house museum. The museum is open to the public and provides a look into the past. The Gage home was where people came together to discuss issues such as human trafficking, reproductive rights, religious freedom and native sovereignty. At this house, the Underground Railroad, women's rights, treaty rights and separation of church and state were pieced together.
Images
Photograph of Matilda Joslyn Gage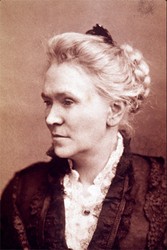 Front Entrance to Matilda Gage's House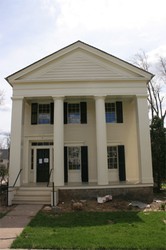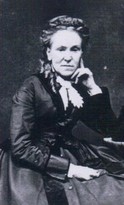 Backstory and Context
Matilda Joslyn was born on March 24, 1826 in Cicero, New York. She was raised in a household dedicated to antislavery. Her father was a nationally known abolitionist. The house she grew up in was a station on the Underground Railroad. Matilda described her early life as, "I think I was born with a hatred of oppression, and, too, in my father's house, I was trained in the anti-slavery ranks, for it was one of the stations on the underground railway, and a home of anti-slavery speakers." As a child, she circulated anti-slavery petitions.
In 1845 she married Henry Hill Gage, and together they had four children. They eventually settled in Fayetteville, New York and their home became a station in the Underground Railroad, just like her parent's home. In 1850, Gage signed a petition stating that she would rather face six months in prison with a $2,000 fine rather than obey the newly enacted Fugitive Slave Law, which made criminals our of anyone assisting slaves to freedom. It wasn't until her children were grown and her family responsibilities lessened that she focused on women's rights. In 1852, Gage first spoke out about women's rights at the National Woman's Rights Convention. 
Gage worked closely with Elizabeth Cady Stanton and Susan B. Anthony, who were frequent visitors to her home. She joined Elizabeth Cady Stanton's National Women's Suffrage Association in 1869 and contributed to its newspaper, the Revolution. Gage was a talented writer and contributed by writing several articles and pamphlets to advance women's right to vote. In 1871 Gage was one of the many women nationwide who unsuccessfully tried to test the law by attempting to vote. When Susan B Anthony was arrested in 1872 for successfully voting, Gage went to her aid and supported her during the trial. She joined Susan B. Anthony and Elizabeth Cady Stanton in producing the multivolume work History of Woman Suffrage. The first volume was published in 1881.
During the 1870s, Gage spoke out against the brutal treatment of Native Americans. She was adopted into the Wolf Clan of the Mohawk nation and given the name Ka-ron-ien-ha-wi, which means Sky Carrier.
In 1890, Gage turned her attention to maintaining the separation of church and state in government. She left the National Woman's Rights Suffrage Association and created the Woman's National Liberal Union to advance this cause. She expressed her position on the issue in her 1893 work, Woman, Church, and State.
Gage's daughter Maud married L. Frank Baum, author of the Wonderful Wizard of Oz. Gage became one of his intellectual mentors, urging him to write down his stories. Matilda Joslyn Gage died on March 18, 1898. As a tribute to her life's work, her gravestone reads: "There is a word sweeter than Mother, Home, or Heaven; that word is Liberty."
Sources
http://www.nps.gov/nr/travel/pwwmh/womlist1.htm http://www.matildajoslyngage.org/ http://pacny.net/freedom_trail/Gage.htm
Image Sources
"Matilda Joslyn Gage." National Women's Hall of Fame. Accessed January 5, 2022. https://www.womenofthehall.org/inductee/matilda-joslyn-gage/.

Additional Information