Almira Porter Barnes
Introduction
Almira Porter Barnes, born in Hartford, Connecticut lived from 1786-1858. She married and raised her six children in New York where she became very involved in movements such as abolitionist, women's rights, temperance, moral reform and universal education. Porter Barnes spent many summers at Oberlin College in Ohio where she attended theology classes and continued to develop her reformist views. It was during this time that she made connections with Harriet Beecher Stowe's husband and brother, was a prominent voice in The Liberty Party and met Antoinette Brown. She later mentored Antoinette Brown to become the first woman ordained as a ministerin the US, providing her with opportunities to preach and advocating for her and her rights in an era that made little room for women in the public sphere. For all of these reasons, Porter Barnes was an influential part of our history. However, although she was an important historical figure it is nearly impossible to find any information about her beyond a few fragments. By placing her "on the map" in this class project on women's activism, it is hoped that her contributions and role will be remembered.
Images
This photo is of Antoinette Brown, a young woman who Almira Porter Barnes influenced greatly. The photo is taken from the Oberlin College archives. The college is where these two prominent strong women first met and had a large impact on their legacies.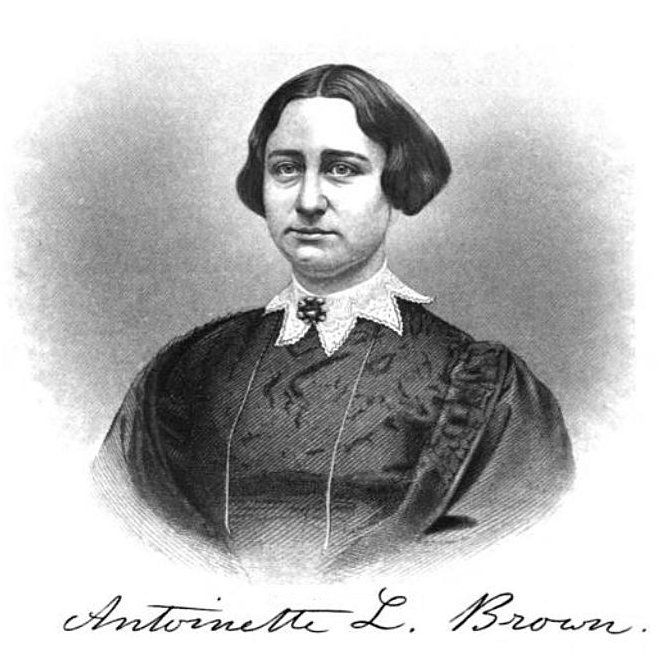 Reverend Charles G. Finney was Almira Porter Barnes' theology professor at Oberlin College. He had a profound impact on her time in Oberlin and also taught Porter Barnes' nephews.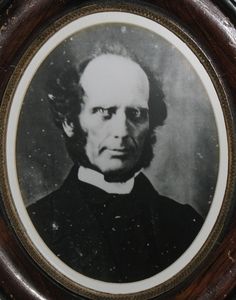 This image captures Henry E. Peck, nephew of Almira Porter Barnes, who attended Oberlin College. Porter Barnes took a strong interest in her nephews education. He later became a professor at the college.
This letter is written between Almira Porter Barnes and her daughter that is kept in the Oberlin College archives. It was transcribed by students at Huron University College for a project after a visit to the archives.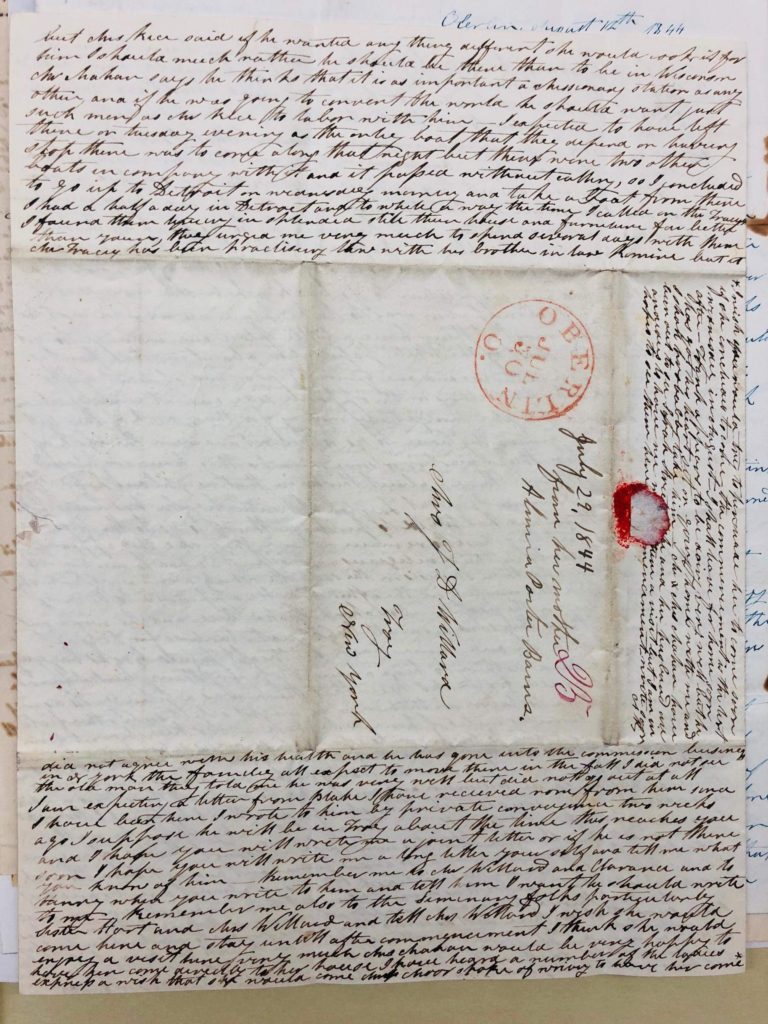 This photo is a promotional image of The Liberty Party, a minor political party in the United States in the 1840s that Almira Porter Barnes was a part of. Porter Barnes' participation in the party spoke to her ambition and desire for change, no matter her gender, during this time period.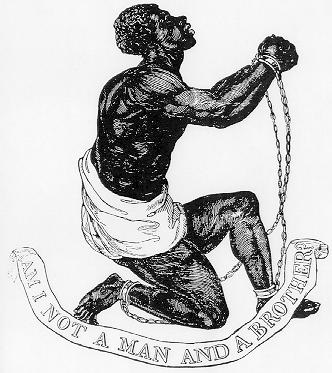 This photo is of the collegiate buildings at Oberlin College in Ohio. The school that Almira Porter Barnes attended and a hub for anti-slavery movements.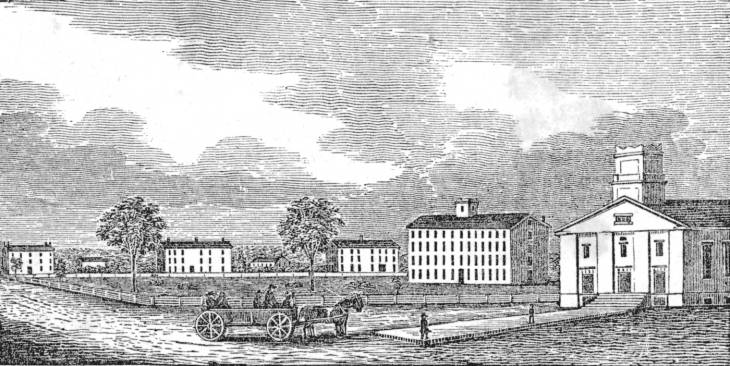 Backstory and Context
Almira Porter Barnes was born on March 2, 1786 in Berlin, Hartford, Connecticut. She married Blakeslee Barnes in 1807, a tinsmith, and passed away on March 29, 1858 at the age of seventy-two, quite a remarkable lifespan for that period of time. Porter Barnes and her husband lived their lives in Troy, New York with their six children and lived a comfortable lifestyle. Her husband passed away in 1823 and she never remarried. Porter Barnes lived during a time of the economic depression and many anti-societal movements. Throughout her lifetime she made large impacts on the people and society around her. Porter Barnes later became connected with other influential names in the anti-slavery movements such as Henry Peck, Charles Finney, Professor Calvin Stowe and William Beecher. She spent time in Oberlin, Ohio at Oberlin College and was a member of The Liberty Party, Almira Porter Barnes was a strong independent woman and looked past the obstacles that stood in front of her to the goals and desires she had beyond them.
Porter Barnes lived in a time of change and unrest. Throughout society there were multiple changes in different minority groups happening. From The Indian Removal Act of 1830 to William Lloyd Garrison publishing the abolitionist paper, The Liberator, in Boston, Massachusetts in 1831. Society in the United States was changing in multiple ways for the better and the worse. Almira Porter Barnes did not hesitate to jump in on the action. From the economic depression to anti-slavery movements she lived in a time of trial. Porter Barnes was a prominent abolitionist and activist and gave back to her community in multiple different ways. Porter Barnes survived the economic depression of 1837 well with enough wealth to donate to worthy causes such as Oberlin College, the Oberlin Board of Education and the Ladies' Education Society of Oberlin. Besides monetarily, Porter Barnes contributed to multiple movements of her times. She advocated abolitionism, women's rights, universal education, temperance, and general moral reform.
Porter Barnes was a strong woman who believed in speaking out for what she believed in and aligning herself with those who had similar values and ethics. Although she grew up in Connecticut and raised her kids in New York, she had a strong connection with Oberlin as did many of the prominent women throughout the abolitionist movement. Porter Barnes became connected with Oberlin through her friendship with the Shipherd family and spent summers there attending theology classes from Reverend Charles Finney. Porter Barnes never officially enrolled in the college or resided in Oberlin, but her impact was lasting.
Porter Barnes Professor, Reverend Finney was an outspoken abolitionist and is best known for his contribution to the Second Great Awakening. He continued to be a part of social reforms throughout his lifetime and encouraged women to actively participate in his services, unique for this time period. He eventually became an influential theologian and published many of his sermons. After this he was hired as a theology professor at Oberlin College where Barnes became his student. Reverend Finney was a renowned revivalist pastor and Porter Barnes continued to take his classes into her 60s. He is a great demonstration of someone who influenced Porter Barnes and where some of her ideals came from. His classes influenced her love of learning and demonstrated the type of professors she respected and valued, all playing into who she was as a person and her own personal inspirations.
There are many letters in the archives today, between Porter Barnes and her daughter, at the college that prove Porter Barnes dedication to Oberlin and to the many important reform movements of her time. She traveled influencing and encouraging these movements and inspired many. Porter Barnes is an extraordinary woman in our history and pushed the envelope of gender roles her whole life. While in Oberlin she became actively involved in her nephews, Henry E. Peck, education at the college. Peck would go one to become a Professor at Oberlin College and an avid activist in Ohio. He participated in the Oberlin-Wellington Rescue of John Price, a fugitive slave who was captured in Oberlin, Ohio in 1858. Peck was one of the rescuers of Price and was arrested and jailed for a month along with 21 other men for his role in the rescue. Peck continued to fight back by acting as a spokesman for the rescuers during their trial in Cleveland. His passions and will to fight for others rights were likely influenced by his aunt, Porter Barnes. Another example of how her actions reached even beyond her lifetime.
It is clear that Almira Porter Barnes is an important role model for her time and influenced even important men due to her status and charisma. She is known for her dedication to helping young student and friend Antoinette Brown whom she met in class at Oberlin College in 1847 when Porter Barnes was 61 and Brown was only 22. Porter Barnes encouraged Brown's passions and strength by providing her with opportunities to preach, advocating for her and her rights in an era that made little room for women in the public sphere. Porter Barnes taught Brown that to achieve such a goal she would have to begin her preaching in charities and the slums but that she would eventually be able to work her way up to where she wanted to be. Porter Barnes was able to support Brown with a salary through her own missionary work in New York all contributing t to Brown becoming the first female ordained minister, by a recognized denomination. This was a large feat in a time of great resistance against female independence. Brown went on to be a prominent figure in the women's rights movement and befriends those such as Lucy Stone. Together, the two women founded the National American Woman Suffrage Association and were lifelong activists in multiple movements. It is evident that Porter Barnes had a prominent effect on many lives and Brown's experience shows how she shaped and inspired multiple parts of history, such as in religion.
Throughout her lifetime Porter Barnes was a lifelong learner and contributed to many important milestones in our history such as attending anti-slavery conventions in Rochester and being a part of The Liberty Party, a minor political party in the 1800s that was formed for the purpose of outlawing slavery without taking apart the American constitution. Her active voice within the male dominated party once again proves her courage and influence during her lifetime. Not to mention her connections with Harriet Beecher Stowe's husband, Professor Calvin Stowe, and brother, William Beecher. Almira Porter Barnes contribution to the women's and anti-slavery movements and the effects that she had on those she met during her time at Oberlin College will forever be remembered and has marked her as one of our important historical figures. Her sphere of influence may have begun in New England, but it traveled throughout the United States as she did, leaving hope and courage in those that she met. Although, Porter Barnes was not a well-known leader of an organization or a radical abolitionist her contributions to the progress made in the movements she was heavily involved in should not be discounted or forgotten. She is a perfect example of the many women and men it took to force the United States out of its ways and encourage the next generation to continue their fight. Almira Porter Barnes will be remembered for her courage, passion and lifelong love of learning. The legacy she left behind lived on in the generations that came after her and should always be remembered.  
Sources
Lange, Ph.D., Allison. Women's Rights Movement Emerges from the Abolitionist Movement, National Women's History Museum. September 1st 2015. Accessed November 22nd 2019. http://www.crusadeforthevote.org/abolition.
McNamara, Robert. World History Timeline From 1830 to 1840, ThoughtCo.. June 23rd 2019. Accessed November 20th 2019. https://www.thoughtco.com/timeline-from-1830-to-1840-1774037.
Nboros. Almira Barnes, December 5th 2018. Accessed November 20th 2019. http://www.huronresearch.ca/almira-barnes/.
Oberlin College Archives. Henry E. Peck , Ohio History Connection . Accessed November 20th 2019. https://ohiomemory.org/digital/collection/p267401coll36/id/10862/.
Oberlin Heritage Center Blog. The weary feet and willing shoulders of Almira Porter Barnes, March 22nd 2016. Accessed November 11th 2019. http://www.oberlinheritagecenter.org/blog/tag/almira-porter-barnes/.
Ohio History Central. Charles G Finney, Accessed October 21, 2019. https://ohiohistorycentral.org/w/Charles_Finney..
Ohio History Central. Liberty Party. - Accessed October 21, 2019. https://ohiohistorycentral.org/w/Liberty_Party.
Winning the Vote. Antoinette Brown Blackwell. Accessed October 21, 2019. https://rrlc.org/winningthevote/biographies/antoinette-brown-Blackwell/.
Image Sources
http://www.oberlinheritagecenter.org/blog/tag/almira-porter-barnes/

http://www.oberlinheritagecenter.org/blog/tag/almira-porter-barnes/

http://www.oberlinheritagecenter.org/blog/tag/almira-porter-barnes/

http://www.huronresearch.ca/almira-barnes/letters-and-transcriptions/

https://study.com/academy/lesson/the-liberty-party-of-1840.html

https://ohiomemory.org/digital/collection/p267401coll32/id/11266/

Additional Information