Historic Stranahan House Museum
Introduction
Built in 1901, the Stranahan House is one of the most historic landmarks in Fort Lauderdale. It is significant for its association with the husband and wife who lived here, Frank and Ivy Stranahan, and its architecture. Frank and Ivy were influential figures in the the early 20th century. Frank was the first permanent non-native settler in what would become Fort Lauderdale. He became a successful businessman and landowner, and for ten years he served as a member of the city council and four years as its president. Ivy was a teacher and became known for teaching Seminole Indian children. In fact, she and Frank are perhaps best known for helping the Seminole Indians to assimilate into modern life during these years. In terms of design, the two-story house is a good example of design adapted for Florida climate. Notable features include wraparound porches on both floors and a steeply pitched roof. Visitors can take guided tours and attend special events at the house
Images
The Stranahan House was built in 1901 and was home to Frank and Ivy Stranahan, two of the most influential figures in the city during the early 20th century.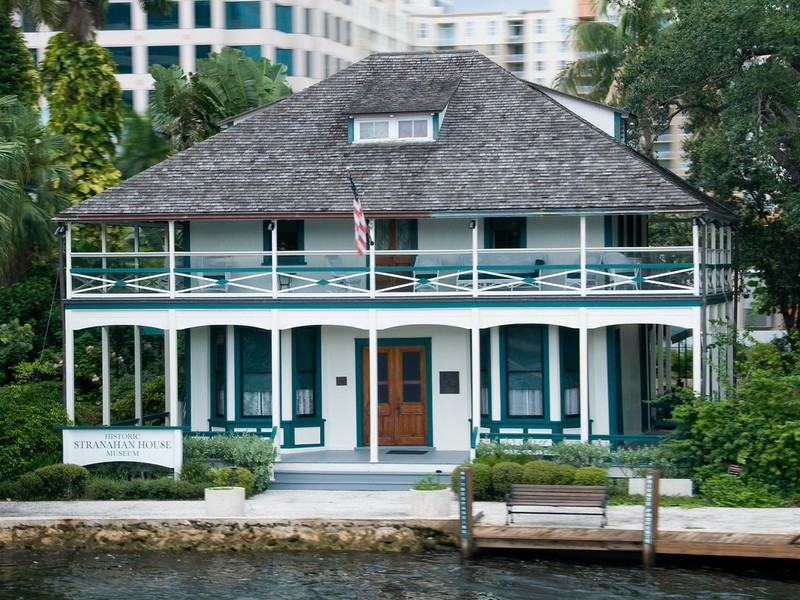 Backstory and Context
In January 1893, Frank Stranahan moved to the area now known as Fort Lauderdale. He oversaw his cousin's camp and ferry business which soon turned into a thriving trading business with the Seminole Indians. He became known to them as a "fair businessman" and from there the Seminoles came over in the dozens, camping at the trading post for days at a time. In 1894 Frank acquired ten acres of his own land to move and expand the trading post down along the New River making it the focal point of the tiny New River Settlement. As this settlement grew so did the need for a teacher. Ivy Cromartie, who was 18 at the time, filled this role in the one-room schoolhouse built on the settlement for her and her nine students. On August 16, 1900, she and Frank got married and in 1901 Frank built the present day Stranahan House. Initially, they did not live there; the lower floor served as a trading post and the upper floor as a community hall. Over time the settlement grew. Soon enough the area was named Fort Lauderdale and Frank and Ivy took on leadership roles in the social and civic life of their developing city.
In 1926 the Florida Land Boom came to end and during the next few years two hurricanes hit the state hard. As a result, Frank's financial situation declined significantly and he became very depressed. His health suffered as well. These years took its toll, leading him to commit suicide in 1929 as a consequence. For her part, Ivy carried on. She leased the first floor of the house to restaurants and rented some of the rooms in the house. She also remained active in the community for the rest of her life. Among her accomplishments, she became a member of the city's planning and zoning committee, founded the Friends of the Seminoles, and established the Broward County chapter of the Red Cross. She passed away in 1971.
The Seventh Day Adventist Church acquired the house (Ivy was a lifelong member of the church) before selling it to the Fort Lauderdale Historical Society in 1975. The house opened as a museum in 1984 after several years of restoration.
Sources
"History." Stranahanhouse Museum. Accessed February 27th 2020. https://stranahanhouse.org/about/history.
"Historic Stranahan House Museum." Museums - The World Museums Network. Accessed February 27th 2020. museu.ms/museum/details/11666/historic-stranahan-house-museum.
"The Stranahan House." The Historical Marker Database. Accessed May 11, 2020. https://www.hmdb.org/m.asp?m=100541.
Thurston, William N. "Stranahan House." National Park Service - National Register of Historic Places Nomination Form. October 2, 1973. https://npgallery.nps.gov/GetAsset/8bbda9ad-2c71-42e9-b3d9-b73150ce8d28.
Image Sources
Historic Stranahan House Museum

Additional Information