Booker T. Washington Theatre
Introduction
The Booker T. Washington Theatre was one of the first theaters in the United States operated by African-Americans for African-Americans. In its operating years between 1912 and 1930, audiences came to see vaudeville performances, motion pictures, and musical acts. Charles Udell Turpin, the theater's owner and manager, was the first African-American St. Louisan elected to a political office in 1910. The theater was host to many prominent African-American artists throughout its history. Ethel Waters and Bill Robinson were among the stars featured at Booker T. Washington Theatre. As a child, entertainer Josephine Baker performed outside the theater with other neighborhood children hoping to get noticed.
Images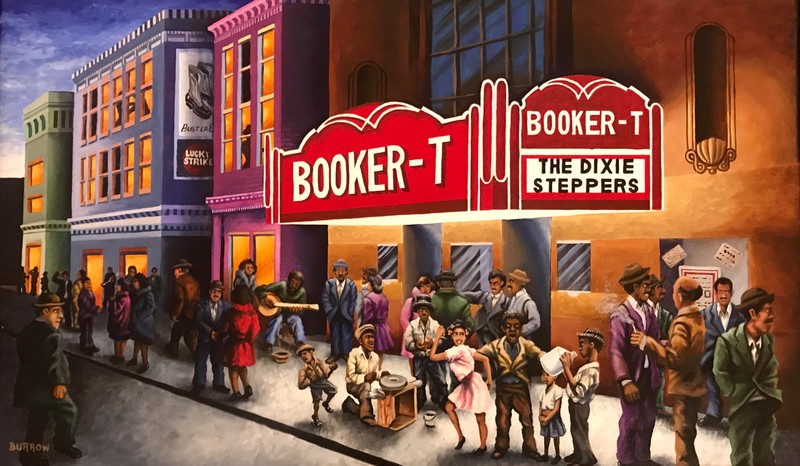 A Midnight Audience at the Booker T Washington Theater in St Louis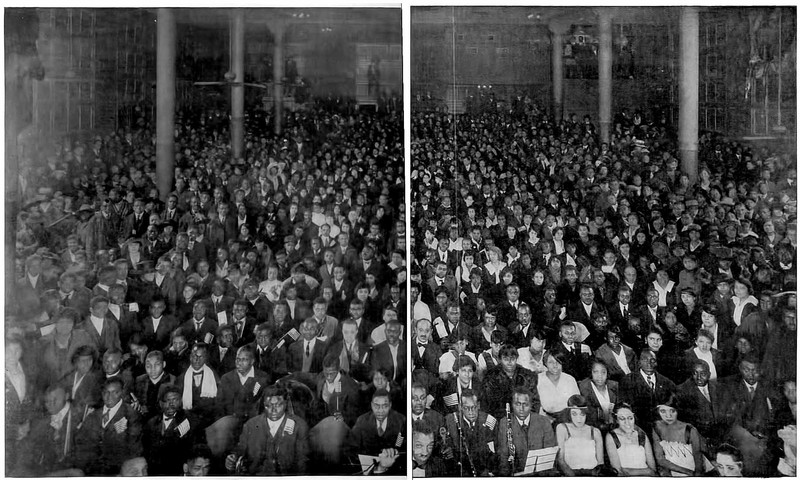 Backstory and Context
The Booker T. Washington Theatre first opened in 1912 and operated until 1930. Named for Booker T. Washington, many locals referred to the theater as "Bookers." It had a seating capacity of one thousand and was one of the first theaters operated by and for African Americans in the United States. The theater was located in Mill Creek Valley area, a majority African-American neighborhood in St. Louis city. St. Louis has long been a segregated city, first officially due to race-restrictive covenants and redlining, and now unofficially due to the long-lasting effects of old segregation laws.
Theater owner Charles Udell Turpin was a businessman, politician, and motion picture pioneer. In 1910, Charles was the first African American in St. Louis to be elected to a local political office. He made a point to hire fellow African Americans at his business. His brother, Tom Turpin, had his own ragtime band and ran the Rosebud Cafe (sometimes referred to as Rosebud Saloon) next door at 2220-22 Market.
Performances at the theater featured vaudeville, motion pictures, and musical acts. The theater was a member of the African-American vaudeville circuit, the Theatre Owners' Booking Association. This membership helped bring in stars such as Ethel Waters, Bessie Smith, and Ma Rainey. The theater showed motion pictures with a different theme each week, such as African, cowboy, or Egyptian.
The theater served as an important venue in the history of St. Louis music. In the early years, Tom Turpin held piano contests that drew in popular ragtime musicians of the day such as George Coins, Charles Thompson, Owen Marshall, and Raymond Hines. As trends in music changed, these contests did as well. Ragtime slowly evolved into different music traditions as the 1920s approached. By 1915, a blues piano contest was held at the theater, and the final ragtime piano contest took place in 1916. One of the most popular musical evolutions that took hold in the 1920s was jazz.
Elijah Shaw, a jazz musician who played on the Mississippi riverboats, remembered seeing all the "top Negro entertainers" play at the theater. In 1927, Shaw played with Bill Robinson around the time that a tornado came through the city. In an interview with the State Historical Society of Missouri, he recalled, "I played there and I incidentally, played once right during the tornado when Bill Robinson was playing. He came out and did his act at the Booker Washington Theater for the benefit of the tornado suffers. And I got a chance to play for Bill Robinson."
The theater was a popular gathering place for children as well. Between the ages of 12 and 13, Josephine Baker was one of many children who performed outside the Booker T Washington Theatre, hoping to get noticed by the theater's patrons. Baker went on to become a popular entertainer in France. Baker was not the only young musician to find inspiration at the theater. Henry Townsend, a St. Louis-based blues guitarist, decided to pursue his career after hearing Lonnie Johnson play guitar at the Booker T. Washington Theater when he was young. Places like the Booker T. Washington Theater played an important role for young African Americans seeking representation in a time of widespread race division.
Sources
"Booker T." McCaughen & Burr Fine Arts. Accessed 18 February 2020. https://www.mccaughenandburr.com/project/booker-t/.
Cultural Resources Office. "A Preservation Plan for St. Louis Part I: Historic Contexts: The African-American Experience." Accessed 18 February 2020. https://www.stlouis-mo.gov/government/departments/planning/cultural-resources/preservation-plan/Part-I-African-American-Experience.cfm.
"Henry Townsend, 96, Blues Guitarist." New York Times. 29 September 2006.
Johnson, Eddie, Elijah Shaw, Chick Finney, and Eddie Randle. Interviewed by Irene Corinovis. State Historical Society of Missouri. 20 August 1971.
McKinney, E. A. Interviewed by Patricia Ann Immekus and Irene Cortinovis. State Historical Society of Missouri. 15 March 1974.
Owsley, Dennis. City of Gabriels: The History of Jazz in St. Louis, 1895-1973. St. Louis, MO: Reedy Press, L.L.C. and the Sheldon Art Galleries, 2006.
Sweets, Nathaniel. Interviewed by Dr. Richard Resh. State Historical Society of Missouri. 20 July 1970.
Wright, John A. Discovering African American St. Louis: A Guide to Historic Sites. St. Louis, MO: Missouri Historical Society Press, 2002.
Image Sources
https://www.mccaughenandburr.com/project/booker-t/

Crisis Magazine, May 1918, https://www.flickr.com/photos/vieilles_annonces/4734461940/in/photostream/