Rachel Carson House and Rachel Carson Landmark Alliance
Introduction
This home is where the famed ecologist, naturalist, and author Rachel Carson wrote the influential book "Silent Spring." The book was published in 1962 and helped to spread the modern environmentalist movement. Designed by Carson herself, the unassuming ranch-style house was her home from 1956 until her death in 1964. The house and surrounding landscape have been little altered since Carson's death and it currently houses the headquarters and library of the Rachel Carson Landmark Alliance (RCLA). This nonprofit organization is dedicated to promoting Carson's values and legacy. The RCLA occasionally opens the house and grounds for tours and special events. The Rachel Carson House was designated a National Historic Landmark in 1991 for its association with Carson and "Silent Spring."
Images
The humble home that Carson designed and wrote one of the most influential environmental works there. Image by Eli Pousson, Wikimedia Commons (CC BY-SA 3.0)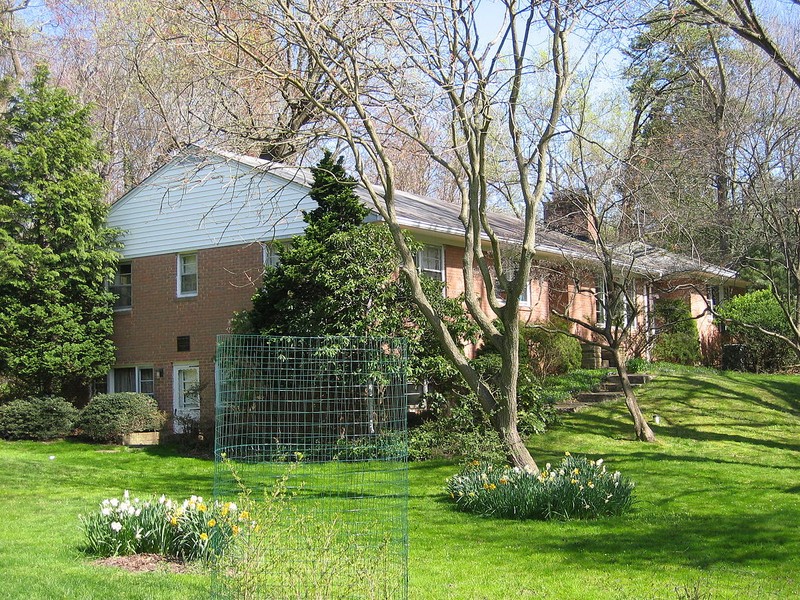 Carson's study has been recreated with original and replacement pieces. Image courtesy of Rachel Carson Landmark Alliance (reproduced under Fair Use)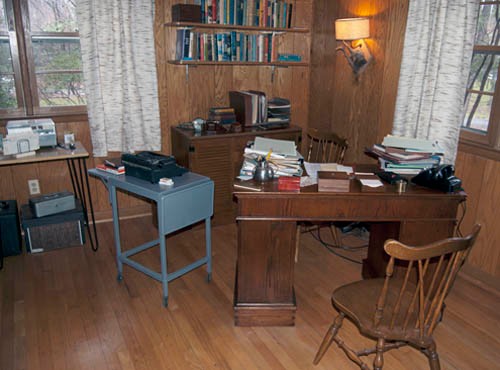 Carson was at home in the field as she was in her home.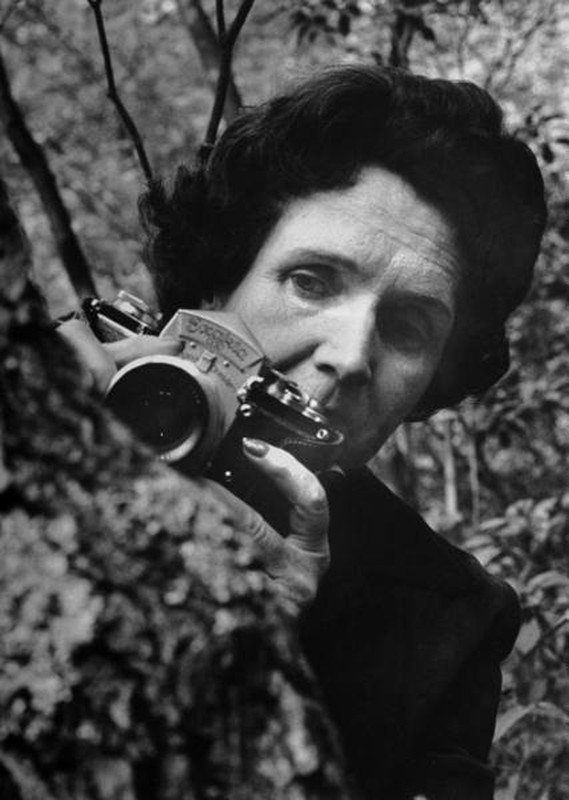 Carson with one of the cats she shared her home with.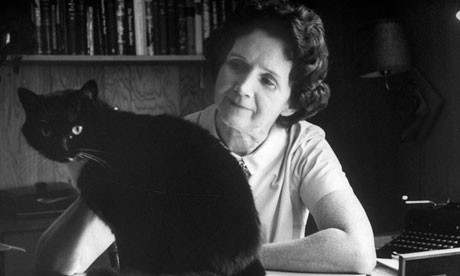 An history and nature series held in the Carson House and sponsored by the RCLA in 2018.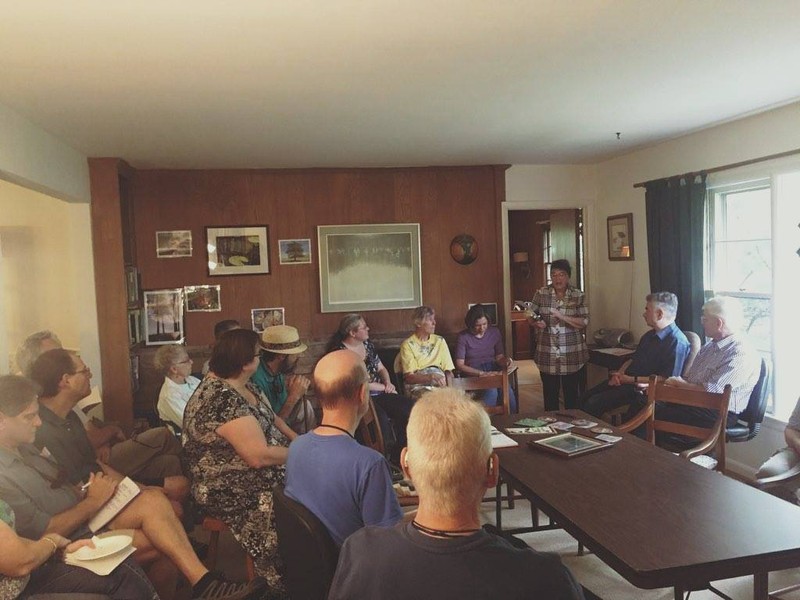 Backstory and Context
Rachel Carson was born in Springdale, Pennsylvania, about 20 miles northeast of Pittsburgh, in 1907. Her birthplace, the Rachel Carson Homestead, was listed on the National Register of Historic Places in 1976. She attended the Pennsylvania College for Women (now Chatham University) initially as an English major but changed to biology in 1928 and graduated the next year. She then went on to graduate school at Johns Hopkins and earned a Master of Science degree in genetics and zoology. She taught at Johns Hopkins and the University of Maryland after graduating. 
In 1936, Carson began working for the Bureau of Fisheries, which became part of the Fish and Wildlife Service in 1940. Because of her background in English, she was tasked with writing scientific pamphlets for the public and gradually began to work her way up the bureau's hierarchy. By 1944 she was the editor-in-chief of all department publications. Carson began her writing career while employed by the Bureau when she completed the first two volumes of her three-volume natural history of the ocean. Carson completed "Under the Sea-Wind" in 1941 and "The Sea Around Us" in 1951. The next year, she retired from government service and bought a seaside cottage in Southport, Maine. While there, she conducted original research into tidal pool ecologies for her third book, "The Edge of the Sea," published in 1955.
In 1956, Carson decided to move to Silver Spring, Maryland and designed her own modest home on the land she purchased. The typical, brick ranch-style home was sheltered by a low-pitched gable roof with asphalt shingles. The home's living room, kitchen, dining room, bedrooms and Carson's study were all located on the dwelling's single floor. The basement was partially finished and contained an additional bedroom, bath and multi-purpose room. Carson landscaped the area around her home with what she termed a "woody section" that contained evergreens, spruce, hemlock and white pine. She also added azaleas and daffodils for color.
While at the Bureau of Fisheries, Carson came into contact with reports on the new synthetic pesticides and their use during and after World War II, to include DDT, an organochlorine insecticide. Swiss chemist Paul Müller won the Noble Prize in 1948 for discovering DDT's efficacy as an insecticide. By the end of World War II, DDT and other pesticides were available to consumers and were used indiscriminately by the Agricultural Department, farmers, and homeowners. Synthetic pesticides and herbicides were used in aerial spraying and not only killed weeds and insects, but the animals who ate those insects and plants, especially birds, working its way up the food chain. In the years reading those Fisheries' reports, Carson came to realize the magnitude of the problem. This was her impetus to write "Silent Spring."
In 1958, in this nondescript house, Carson began researching for and writing "Silent Spring." In it, she described how the overuse of pesticides and herbicides affected other creatures. "Silent Spring" was published in 1962, first in serial form in The New Yorker, then as a book later that year. After publication, chemical companies, such as DuPont, sought to discredit her and threatened lawsuits. She was referred to as a "…hysterical woman who wanted to turn the earth over to the insects." Despite this, "Silent Spring" went on to influence and promote modern environmentalism. President Kennedy created the Presidential Science Advisory Committee to investigate Carson's claims. The committee verified all her claims. "Silent Spring" went on to sell over 600,000 copies in 1962 alone and was a catalyst for the creation of the Environmental Protection Agency in 1970.
Rachel Carson died of cancer in 1964, just two years after the publication of "Silent Spring." Her home in Silver Spring was sold to a private owner and was eventually acquired by the Rachel Carson Landmark Alliance which is "dedicated to developing educational information and intergenerational initiatives for public participation that reflect Rachel Carson's ecological legacy and her courageous life in conjunction with the house where she wrote "Silent Spring." The RCLA occasionally opens the house for tours and special events. Please call or visit their website for date and times.              
Sources
Miller, Page, Putnam; Jill Topolski and Vernon Horn. "National Historic Landmark Nomination Page: Rachel Carson House." United States Department of the Interior/National Park Service. June 7, 1991. Accessed March 3, 2020. https://npgallery.nps.gov/NRHP/GetAsset/NHLS/91002058_text
"Place: Rachel Carson House." National Park Service. Accessed March 3, 2020. https://www.nps.gov/places/rachel-carson-house.htm
Post, Dianna and Munro Meyersburg. "Rachel Carson and the House Where She Wrote Silent Spring." RCLA. May 28, 2018. Accessed March 3, 2020. http://rachelcarsonlandmarkalliance.org/rachel-carson-and-the-house-where-she-wrote-silent-spring/
Lepore, Jill. "The Right Way to Remember Rachel Carson." The New Yorker. March 18, 2018. Accessed March 3, 2020. https://www.newyorker.com/magazine/2018/03/26/the-right-way-to-remember-rachel-carson
Image Sources
https://en.wikipedia.org/wiki/Rachel_Carson_House_(Colesville,_Maryland)#/media/File:Rachel_carson_house_md.jpg

http://rachelcarsonlandmarkalliance.org/rachel-carson-and-the-house-where-she-wrote-silent-spring/

Additional Information