Thornton Building (10 Pryor Street, 10 Park Place)
Introduction
The Thornton building, constructed from 1930 to 1932, is one of Atlanta's last commercial buildings erected before the slowdown caused by the Great Depression. The building is located on land that was owned by the Thornton family, who arrived in Atlanta during the 1870s. The structure included many modern features of its age, such as its movable office walls, gear-less elevators, and ice cold drinking water for each floor. At the same time, the lack of ornate detailing that typified buildings constructed just a few years prior speaks to the ways that building designed changed following the financial crisis that shook the banking sector in 1929. In the 1930s, the Ultra Modern style of Art Deco architecture became the standard in the construction of federal and office buildings and featured efficient design with minimal ornamentation.
Images
Thornton Building (10 Park Place) Atlanta, GA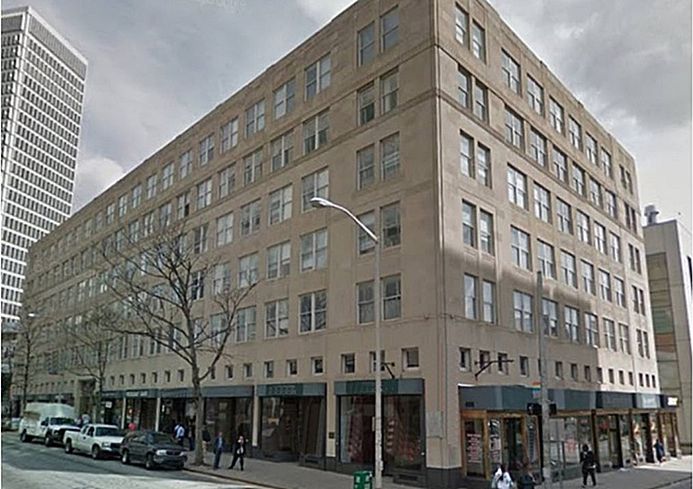 Backstory and Context
Construction of the Thornton Building, also known as 10 Pryor Street Building and 10 Park Place, occurred from 1930 to 1932. The building was one of the last commercial structures built before both the Great Depression and World War II all but ended commercial building activity in Atlanta. The building exemplifies the Ultra Modern style of architecture, a variation of the Art Deco, and exhibits straight forward lines and details.  
Atlanta architect Anthony Ten Eyck Brown designed the Thornton building, one of many commercial and government projects he headed in the city and throughout the Southeast. Brown was born in Albany and was the son of a prominent architect. Brown studied at the Academy of Design in New York and then went on to work in Washington, D.C., New York, and Nashville before moving to Atlanta, where he worked as an architect from the early 1900s until he died in 1940. His best-known works include several city courthouses, Atlanta Municipal Market, and several schools.
The Thorton building still features an elaborate entrance, adorned by marble and bronze details. However, the building's overall lack of ornate features speaks to the changes in building design inspired by the banking collapse and the Great Depression. The building's exterior appears efficient and modern, and the interior reflects this with advances that included movable interior walls to accommodate changing office needs, circulating ice water on each floor, and high-speed, gear-less elevators. 
The Thornton name reflects the owner of the land and its first owner, Albert E. Thornton (1885-1953), whose family was one of Atlanta's pioneer families. Albert had the building constructed on land owned by the Thornton family for several generations, replacing a block of buildings put there by Albert's grandfather during the 1870s. 
Sources
Craig, Robert M. Atlanta Architecture: Art Deco to Modern Classic, 1929-1959. Gretna, Louisiana: Pelican Publishing, 1995.
"The Ten Park Place Building (Thornton Building)." City of Atlanta, Historic Preservation. atlantaga.gov. Accessed Mar 5, 2020. https://www.atlantaga.gov/government/departments/city-planning/office-of-design/urban-design-commission/the-ten-park-place-building-thornton-building
Thomas, Kenneth H. "10 Pryor Street Building (Thornton Building)." National Register of Historic Places. nps.gov. January 21, 1984. https://npgallery.nps.gov/GetAsset/1b69965d-81da-443c-a2cd-8be840c0fd6f
Image Sources
https://www.bisnow.com/atlanta/news/office/alan-joel-jim-cumming-dion-meltzer-jim-borders-score-two-deals-at-historic-atlanta-building-69341

Additional Information