Tarrytown Music Hall
Introduction
Tarrytown Music Hall first opened in 1901 as a multi-purpose entertainment center. As the town of Tarrytown slowly became more affluent in the 1880s, local chocolate manufacturer, William L. Wallace, commissioned architect Philip Edmunds with designing a multipurpose building that would contain stores, offices and apartments, as well as a large auditorium with a stage. The architectural style of its exterior is in the Queen Anne style. It continues to serve the community as an entertainment center today.
Images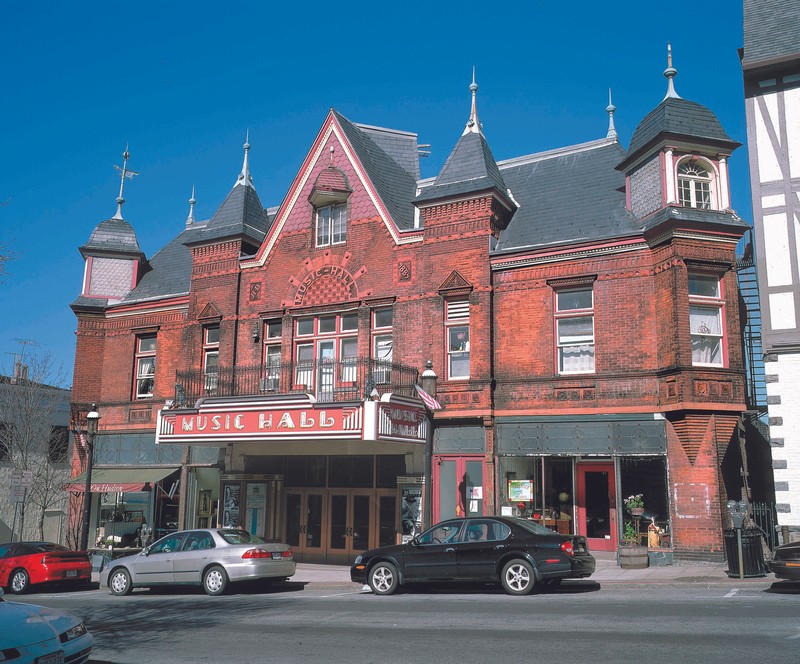 Tarrytown Music Hall in 1978.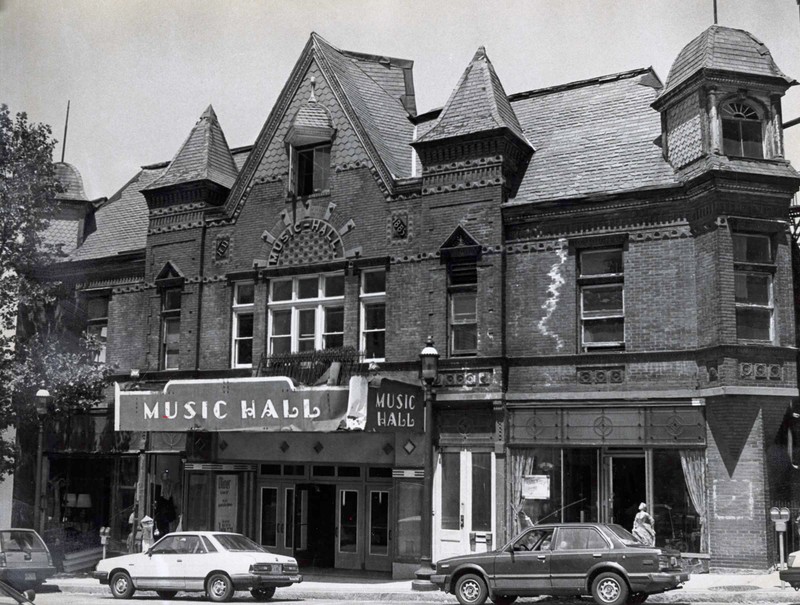 Backstory and Context
As Tarrytown slowly became a more affluent community in the 1880s, local chocolate manufacturer, William, L. Wallace, decided that Main Street would be a promising location to build a brand new entertainment center. He commissioned Philip Edmunds to design a multipurpose building. Edmunds designed the building to contain stores, offices and apartments, as well as a large auditorium with a stage. It is in the Queen Anne architectural style.
Edmunds was able to design a building that was perfect as an entertainment facility. The original auditorium had a flat floor and movable seating, so that could be used not only for concerts, lectures, vaudeville and eventually movies, but also for many other activities, such as roller skating, dances, flower shows and fairs. It served as a major community center for several decades. 1 (Williams, 254) Its exterior is characterized by its turrets and towers, executed with brickwork, terra cotta and slate. Terra-cotta panels are used to announce the name "Music Hall" and the era and year of its construction "AD 1885". 2 (Williams, 254)
The theater was known for being an affordable alternative to more expensive Broadway shows. Local residents can dine at home or local restaurants and then have a relatively short trip to reach the theater. American actresses Mae West and Theda Bara once performed there; Theodore Roosevelt once campaigned there. It has the location for the filming of several films, documentaries and television programs.
In 1915, a major change to the exterior of the building took place when the auditorium entrance was moved from Kaldenberg Place to a more visible location on Main Street and a new marquee was mounted over it. The interior has been remodeled several times in different styles. The most important modification to the theater occurred in 1922, when a sloped floor was installed along with permanent seating remaining that way until 1977.
A local school of music and ballet called the Friends of the Mozartina Musical Arts Conservatory purchased the building in 1980. Since its purchase the school has operated the Music Hall, it is used for a variety of performances, particularly of music, due to its excellent acoustics.
Sources
Williams, Gray . Picturing Our Past: National Register Sites in Westchester County. Elmsford, NY. Westchester County Historical Society, 2003.
Riffel, Phyllis. "Lively arts live again in county's oldest theater." Yonkers Herald Statesman: Lifestyle (Tarrytown) July 23rd 1976.
Image Sources
Westchester County Historical Society. Photo by Gray Williams.

Westchester County Historical Society.

Additional Information