Conrad-Starbuck House
Introduction
Constructed in 1882, the Conrad-Starbuck House offers a fine example of the Italianate style within one of Winston-Salem's most prestigious neighborhoods of the19th century. Built by the prominent farmer and civic leader John Calvin Conrad, the house was sold Henry Starbuck in 1904. Starbuck ran a local law practice for decades and also served as a judge for the Forsyth County Court and the North Carolina Superior Court. The house eventually passed to Dr. Isabel Bittinger who used the house for her practice and residence, an apartment, and rental offices. The historic home was added to the National Register of Historic Places in 1990.
Images
Conrad-Starbuck House, 2007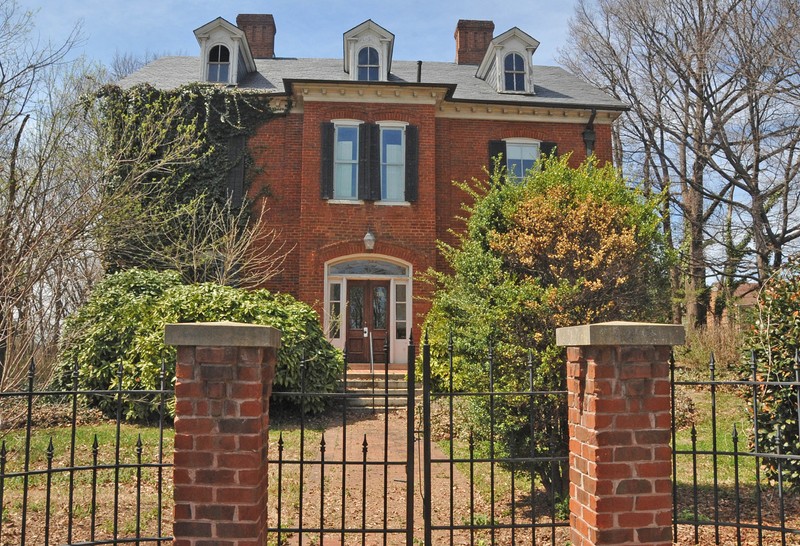 Backstory and Context
John Calvin Conrad was born near East Bend, North Carolina, in 1840, to major landholder Isaac Conrad and his wife Antoinette. He attended the University of North Carolina before serving in the Confederate Army during the Civil War. He deserted in January 1865 and was imprisoned in Washington, D.C., for several months. After he was pardoned, he returned to operate his family's general store and tobacco and wheat farm. He married Mary Knight Connor—who lived in Galveston, Texas, but was attending the Salem Female Academy—in 1873. In 1882, Conrad purchased a large lot along Salem's South Cherry Street, in what was then a fashionable neighborhood. Construction of a house on this lot was completed by September 1882, when Conrad, his wife, and their three daughters occupied their new dwelling.
The house was built in the Italianate style, which was popular from the 1840s to the early 1890s. Its exterior brickwork and arched windows exemplify the style, as do its interior mantels, plasterwork, tiles, and molding. Most of this detailing, including the original hardwood floors and fourteen-foot-high ceilings, survive. While this style was not rare in this part of North Carolina, the Conrad-Starbuck house is now the only remaining brick example in Winston-Salem. Originally, the house was constructed with an entrance ell that bordered Cherry Street; this ell connected to a three-story cupola located at the center bay of the house. The entrance ell was replaced by a full-width porch by 1907, and then, in 1924, by a new, two-story porch that was supported by Doric columns. The cupola was reduced to two stories sometime after 1957 and can still be seen on the front of the house. The porch was eventually reduced to an uncovered single story. An exterior kitchen was originally located behind the house, but was connected by enclosing a rear porch in 1907. Several more additions were built onto this rear ell between 1912 and the mid-1950s. A carriage house was constructed on the back of the property in 1910, and is one of the few remaining such structures in the city. 
Conrad's oldest daughter, Lucy, died not long after the move. His wife, Mary, died in childbirth in 1886. A local newspaper, the Union Republican, described her as a, "worthy Christian lady…possessed of a mild and sweet disposition, esteemed and loved by numerous friends and acquaintances."[1] Conrad was twice elected to be a City Commissioner, and he ran a dairy in east Winston. He also operated his family's 650-acre farm. In 1901, he gave a plot of Winston-Salem land to his daughter, Mary, and her husband, John Coleman, on which they built a house. In 1904, he sold his house to Henry R. Starbuck and went to live with the Colemans. He died in their house on July 4th, 1909.
The house's new owner, Henry R. Starbuck, was the son of Darius H. Starbuck, a prominent area judge. The younger Starbuck would follow in his father's footsteps, becoming the youngest judge ever elected (at the time) to the North Carolina Superior Court in 1894. He was later elected to be a State Senator in 1909 and 1911, and served as a judge on the Forsyth County Court for several terms. His successful political career is made more remarkable by the fact that he was a lifelong Republican, whereas both Winston-Salem and North Carolina as a whole were controlled by Democrats. Starbuck also worked as a lawyer for six decades. His 1958 obituary in the Twin City Sentinel reported that, "His white hair, wing collar, and Black bow tie made him a familiar figure to many Twin Citians."[1]
The house eventually passed to Dr. Isabel Bittinger, an orthopedic surgeon. She used the lower story of the house for her practice and residence and an apartment, and the upper story for rental offices. She owned the house when it was added to the National Register of Historic Places in 1990. It has been recently restored and is currently being used for offices.
Sources
1) The 1882 Conrad-Starbuck house…a grand survivor…, Forsyth County Public Library: North Carolina Collection. September 11th 2019. Accessed April 15th 2020. https://northcarolinaroom.wordpress.com/2019/09/11/the-1882-conrad-starbuck-house-a-grand-survivor/.
2) "Death of Mr. J.C. Conrad; Funeral Service Today." The Western Sentinel (Winston-Salem, North Carolina) July 6th 1909. Page 7. Clipped by marikatt816, July 8th 2019. Newspapers.com by Ancestry. Accessed April 15th 2020. https://www.newspapers.com/clip/33655187/john-calvin-conrads-funeral-notice/.
3) Forsyth County Historic Resources Commission. 068 - Conrad-Starbuck House and Carriage House; Local Historic Landmark Program; Historic Resources Commission; Planning & Development Services Department, City of Winston-Salem, NC. Accessed April 15th 2020. https://www.cityofws.org/DocumentCenter/View/3854/068---Conrad-Starbuck-House-and-Carriage-House-PDF.
4) Rothman, Margaret. Conrad-Starbuck House, National Register of Historic Places Registration Form, North Carolina Historic Preservation Office. April 19th 1990. Accessed April 15th 2020. https://files.nc.gov/ncdcr/nr/FY1417.pdf.
Image Sources
Wikipedia (https://commons.wikimedia.org/wiki/File:CONRAD-STARBUCK_HOUSE,_FORSYTH_COUNTY.jpg) - CC BY-SA 3.0 (https://creativecommons.org/licenses/by-sa/3.0/deed.en)

Additional Information