Colonel James Clinton Blood House
Introduction
Colonel James Blood (1819–1894) was a businessman and attorney and the first mayor of Lawrence. His home is one of the oldest in the city and historically significant due to his involvement in the Free State militias and Bleeding Kansas. It was added to the National Register of Historic Places in 1972. It is a private residence but can easily be viewed from the street.
Images
The Colonel James Clinton Blood House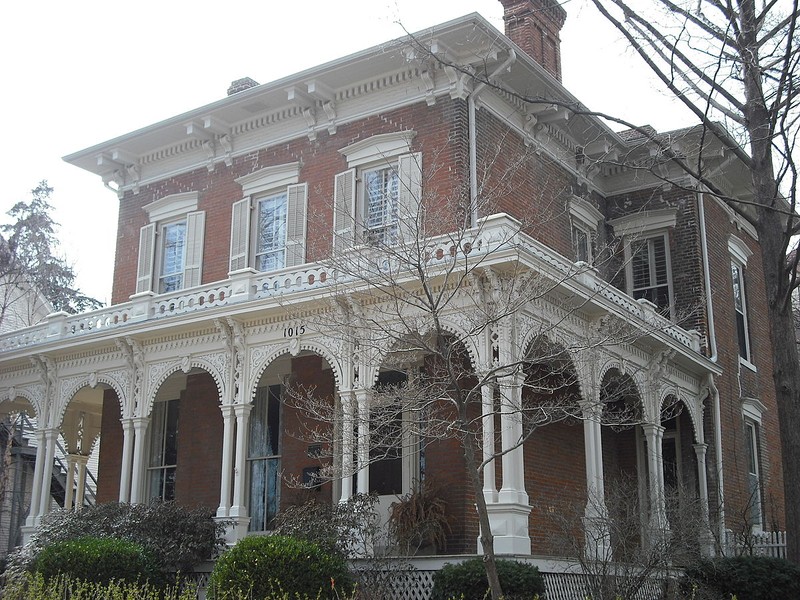 Backstory and Context
Col. James Blood, who was the first to occupy the house at 1015 Tennessee in Lawrence, Kansas, came to Kansas Territory in 1854 as an agent for Amos A. Lawrence, treasurer of the New England Emigrant Aid Co. Lawrence wanted Blood, along with Charles Branscomb, to explore eastern Kansas and select a suitable place for Free State parties sponsored by the company to settle. The two men chose a site, went to Kansas City to meet the arriving emigrants, and guided them to the present location of Lawrence on August 1, 1854.

Col. Blood made his home in Lawrence, living for a time in the house on Tennessee St., which was built about 1870. (Apparently the names of the architect and the builder were not recorded; Blood was listed in the 1876 Lawrence City Directory as a bricklayer, so he may have done some of the work himself.) The 1879 Lawrence City Directory shows Blood was still a resident there at that time, but in the 1880s the house was purchased by J. B. Shearer.

Colonel Blood, a businessman and lawyer, was elected the city's first mayor on July 13, 1857. He served as a delegate to the Wyandotte Constitutional Convention in 1859 and was selected as a member of the board of trustees of "The Lawrence University" in 1859. The school's name was changed to "The Lawrence University of Kansas" in 1861, and Blood was a member of this board of trustees as well. The school eventually became the University of Kansas. Blood was Douglas county treasurer from 1864 to 1868 and was elected to the state legislature in 1869. He also served as a commander in the Free-State Cavalry during early Kansas territorial conflicts. Colonel Blood died in Lawrence on February 4, 1891.
Sources
Hall, Charles. "Colonel James Clinton Blood House." National Park Service - National Register of Historic Places Nomination Form.
February 23, 1972.
http://www.kshs.org/resource/national_register/nominationsNRDB/Douglas_BloodColJamesHouseNR.pdf.