Carter's Grove
Introduction
This exemplar of Virginia plantation architecture dates back to the 1750s. Richard Taliaferro designed and David Minitree built the house for Carter Burwell, grandson of prominent landowner Richard Carter. The house retains its original woodwork, created by English craftsman Richard Bayliss. The Carter family owned the home for almost one hundred years, until the 1830s; for nearly another century, the house's structure and design remained intact. In the late 1920s, an exterior renovation sought to give the manor a grander appearance, which altered the original Georgian structure. The house was formerly owned by the Colonial Williamsburg Foundation, and is now in private hands and under conservation easement.
Images
Carter's Grove, courtesy of Virginia Department of Historic Resources (reproduced under Fair Use)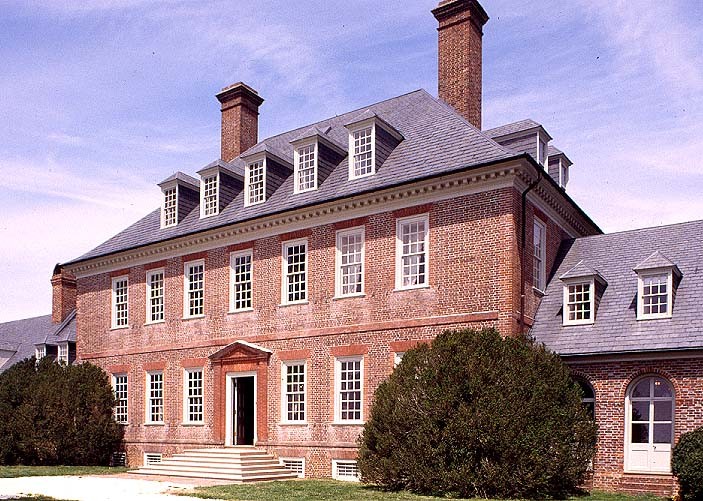 Backstory and Context
The brick mansion sits on the parcel of land known as Martin's Hundred, settled in the early seventeenth century. The original estate encompassed 1400 acres, a portion of the 300,000 acres owned by prominent landowner Robert "King" Carter, Burwell's grandfather. Richard Talieferro designed the mansion, taking inspiration from William Salmon's 1734 publication Palladio Londonensis (The London Art of Building). David Minitree of conducted the building of the home. Burwell paid for the passage to Virginia for Richard Bayliss, an English joiner, who created the woodwork which is still present in the home. The estate includes a terraced garden, overlooking low fields sloping down to the James River. The symmetrical garden design had cross-walkways that created smaller gardens.
The Carter family retained ownership of Carter's Grove until 1830. The estate changed ownership nine times over the next 90 years, though it was not significantly altered until a major renovation in 1927-1928 by the McCreas family. These renovations included the addition of dormers and architectural "hyphens" joining various parts of the house. The Historic American Buildings Survey first documented the mansion in 1939.
The Colonial Williamsburg Foundation acquired the property in 1968. The National Register of Historic Places recognized it in 1969, and it is also a National Historic Landmark. The Virginia Department of Historic Resources has placed a roadside marker near the access road to Carter's Grove. Undergoing financial difficulties, the Colonial Williamsburg Foundation sold the property in 2007, with the house and 400 acres of the property placed under conservation easement. The property changed hands several more times before being purchased by Carters Grove Associates LLC of Chicago.
Sources
Historic American Buildings Survey. Carter's Grove, Pocahontas Trail/U.S. Route 60, Grove, James City County, VA, Library of Congress. 2017. Accessed April 12th 2020. https://www.loc.gov/pictures/collection/hh/item/va2290/.
Virginia Historic Landmarks Commission. Carter's Grove, National Register of Historic Places Nomination Form. July 28th 1969. Accessed April 12th 2020. https://www.dhr.virginia.gov/wp-content/uploads/2018/04/047-0001_Carters_Grove_1969_Final_Nomination.pdf.
Walker, Kathy. Carter's Grove, Historical Marker Database. December 25th 2019. Accessed April 12th 2020. https://www.hmdb.org/m.asp?m=9503.
Image Sources
https://www.dhr.virginia.gov/historic-registers/047-0001/