Shoney's Monument/Museum (site of first Shoney's Restaurant)
Introduction
This is a monument to the first Shoney's Restaurant, originally opened in 1947 as Parkette Drive In by founder Alex Schoenbaum, adjacent to his father's bowling alley. As the chain grew and opened additional restaurants, Schoenbaum franchised with Big Boy restaurant chain, only to drop the affiliation two years later and rebrand as "Shoney's." Currently, a monument/museum commemorates the historic site of the first restaurant.
Images
Photo by Kathy West and edited by Billy Joe Peyton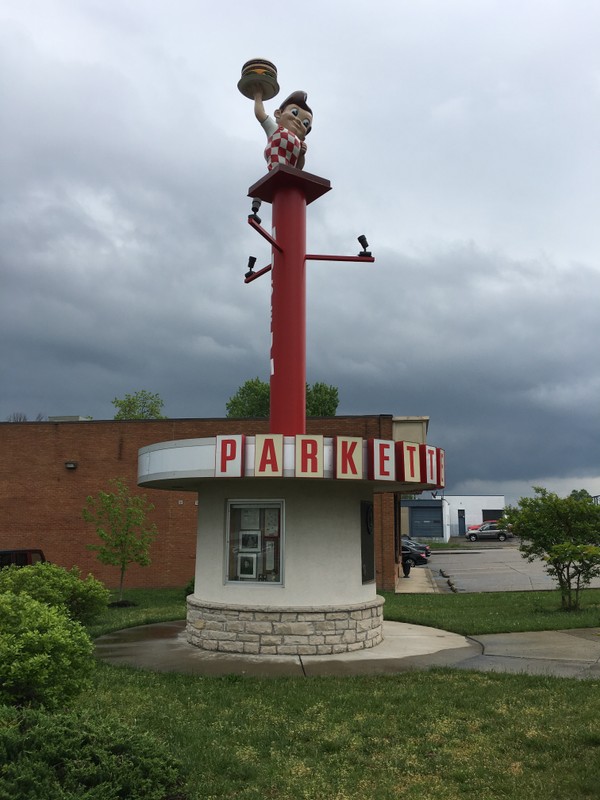 Backstory and Context
At the west end of Kanawha Blvd., as it curves near the Patrick Street Bridge, is a lone structure commemorating the location of the very first Shoney's restaurant. The forgotten Big Boy mascot stands at the top of a pedestal, forever holding up his famous Big Boy burger. The sign directing visitors labels the site a museum, but it is more accurately an interpretive kiosk with a few items of memorabilia inside and a plaque detailing the history of the restaurant and its founder, Alex Schoenbaum.
Schoenbaum grew up in West Virginia, where as a boy he worked in his father's bowling establishments in Charleston and Huntington. Alex played football at Ohio State University from 1936-1938 , and later created a chain of restaurants called Shoney's Big Boy starting at this site in 1947. The original restaurant, called Parkette Drive-in, was later demolished in favor of a larger Shoney's; it, too, was torn down in 1974 and the museum has occupied the site for several years.
Additional Information