Harshbarger Corner
Introduction
The survey of the township of Milton began here in 1872. The township's founder, David Harshbarger, later built his residence on this lot of land. Named for Milton Reese, a large landowner as well as the town's first postmaster, Milton became an incorporated town in 1876 with Captain J.R. Burke as its first mayor.
Images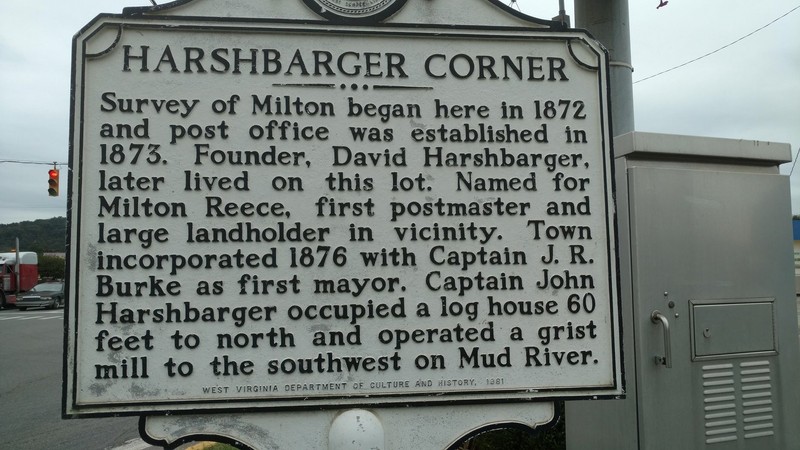 Backstory and Context
The town of Milton was incorporated on the 16th of September, 1876. It was originally named for a wealthy landowner and the town's first postmaster, a Mr. Milton Reese. Milton is home to the Mud River Covered Bridge Local landmark.

In the early twentieth century, natural gas and oil were discovered in the area. This discovery led to the creation of Blenko Glass in 1921. The decision to create the business in this area was in order to capitalize on these natural resources. The company is still in business and creates a product that is known throughout the area and beyond.

One landmark of the township of Milton was the "Morris Memorial Hospital for Crippled Children." This was originally built in 1936 on land owned by Walter Morris. He deeded the land to the Huntington Orthopedic Hospital. The hospital served not only the state, but also the United States and even Canada, treating close to 10,000 patients before it closed its doors in 1960. From 1961 until 2009 the building served as the Morris Memorial Nursing Home. It is currently being converted into a one-hundred room hotel. This hotel's facility will include a golf course, amphitheater, horse trails, a wedding chapel with seating for 250, a gym, and soccer fields.
Sources
Milton. E-WV: The West Virginia Encyclopedia. October 20, 2010. Accessed September 19, 2018. http://www.wvencyclopedia.org/articles/1796.

Struck, Taylor. Historic Hospital in Milton Transforming into a 'grand hotel'. The Herald Dispatch. October 17, 2017. Accessed September 20, 2018. http://www.herald-dispatch.com/news/historic-hospital-in-milton-transforming-into-a-grand-hotel/article_2bd3f3b1-91bf-5afd-ab9c-ba1759739993.html.