Blue Sulphur Hotel (1885-1920s)
Introduction
Situated at the current junction of US Rt. 60 and Blue Sulphur Road in Cabell County, West Virginia, the Blue Sulphur Hotel was a late comer to the age of health spring resorts and the only such resort in Cabell County.
Images
Blue Sulphur Springs Hotel in its prime.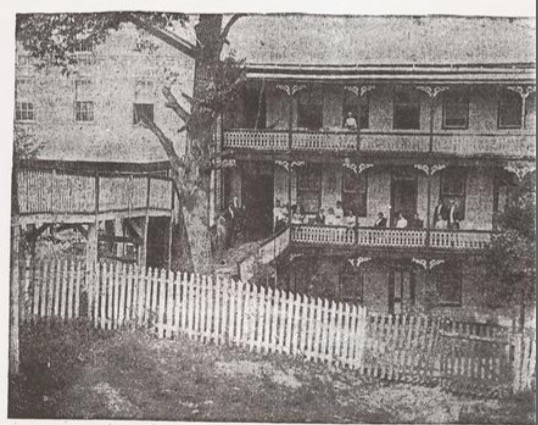 Looking down on where the Blue Sulphur Hotel used to stand.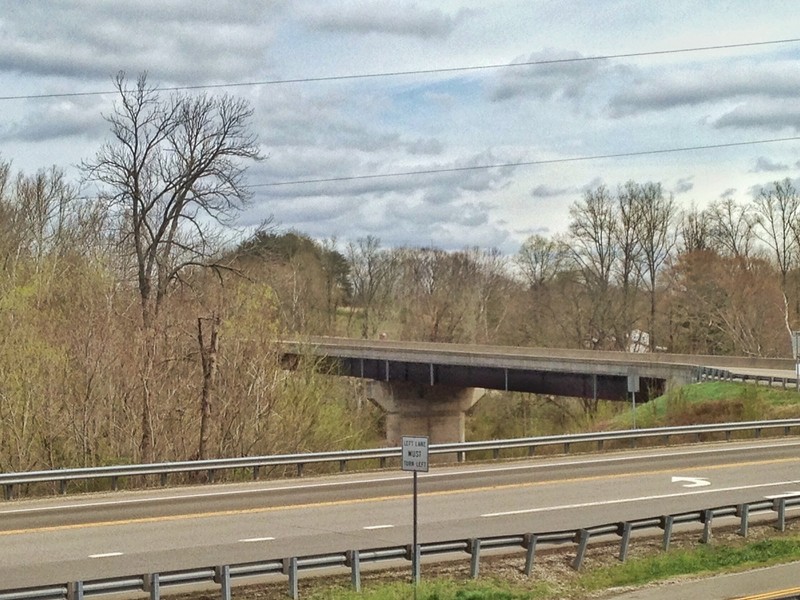 This small portion of the stone foundation is all that remains of the hotel.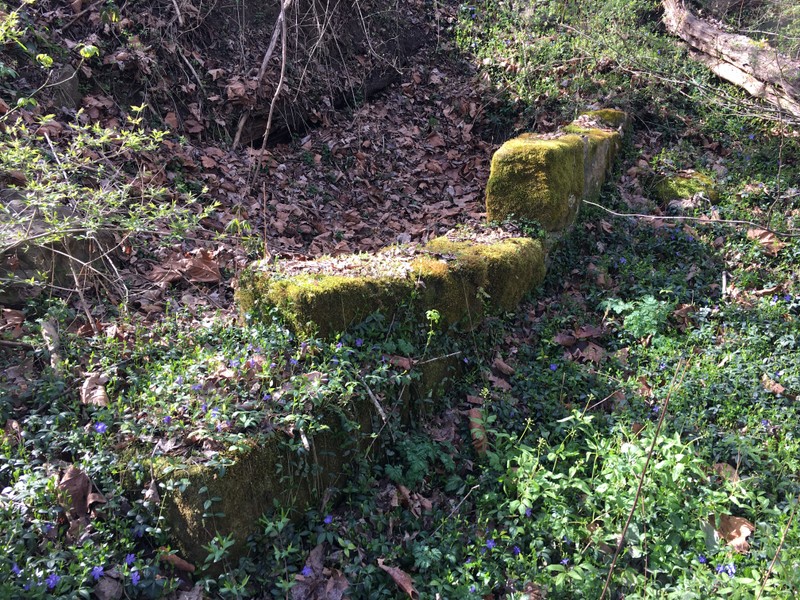 Backstory and Context
The property was owned by George Adam Flodding who recognized the business potential of the natural mineral springs. The most voluminous of which was right at the river's level. This posed as a problem during high water periods, so a well was drilled and a pump was installed that would allow the water directly into the hotel. The hotel was originally known as Flodding Springs, but it is believed for marketing purposes, the name was soon changed to Blue Sulphur Springs and on July 4th, 1885, with great fanfare, Mr. Flodding had a grand opening.
Not long after the opening of the hotel, the Chesapeake and Ohio Railroad established a station to accommodate the guests that were coming as far West as Cincinnati, Ohio and as far East as Clifton Forge, Virginia. The railroad ran where the current US 60 is located and a wooden bridge was built that ran from the station to the second floor of the hotel. As the popularity of the hotel grew, Mr. Flodding saw the need to add a third floor to the hotel bringing the total number of rooms to 35.
By 1909 the railroad had relocated its main tracks to the back of the hotel on the opposite side of the river. Almost immediately the hotel began to feel the effects of losing this direct connection with the railroad. Bookings and interest in the hotel began to dramatically decline and sometime in the early teens the hotel closed its doors.
There was an attempt to reopen the hotel in the 1920s but it never regained the popularity that it had back in the day. It was said by some locals that in the 1950s, one could enter the old building and still find the old registers with the visitor's names. In 2000, the site of the hotel and the spring was filled in as a new bridge was constructed connecting US 60 and County Route 17. The bridge was named in Mr. Flodding's honor.
Sources
Newspaper; Herald Advertiser, The Sunday Advertiser
Additional Information