Marshall University Recreation Center/Twentieth Street Baptist Church (1926-2006)
Introduction
The Marshall University Recreation Center opened in 2009. Built as part of a redevelopment plan for the eastern part of campus, the center stands at the site of the former Twentieth Street Baptist Church. The church was established in 1892; its final sanctuary on the property was built in 1926 and lasted until 2006 when Marshall purchased and razed it. The Recreation Center is equipped with a swimming pool, a 1/7 mile running track, a racquetball area, and a wall climbing area. Prior to the establishment of this rec center in 2009, Marshall University students exercised in parts of of Gullickson Hall and the Cam Henderson Center.
Images
The Marshall University Rec Center opened in 2009 and features a variety of activities for the Marshall community.

Twentieth Street Baptist Church was located here between 1926 and 2006, when the building and land was purchased by Marshall University.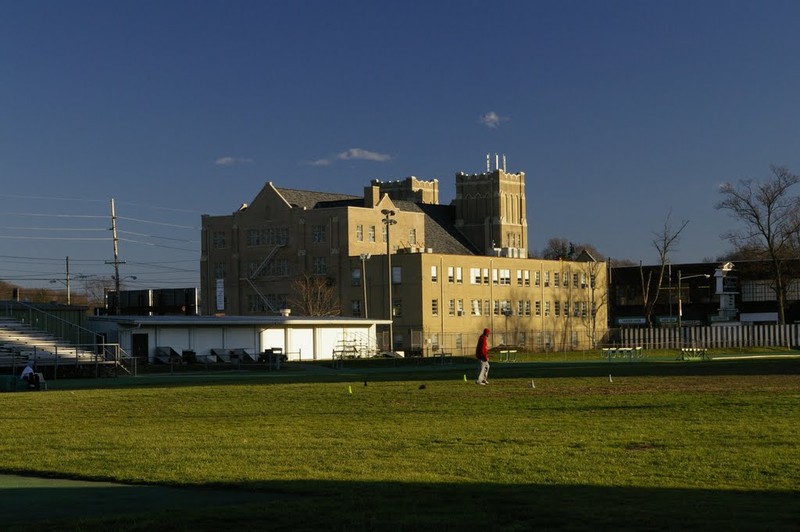 The running track and basketball courts in the Rec Center.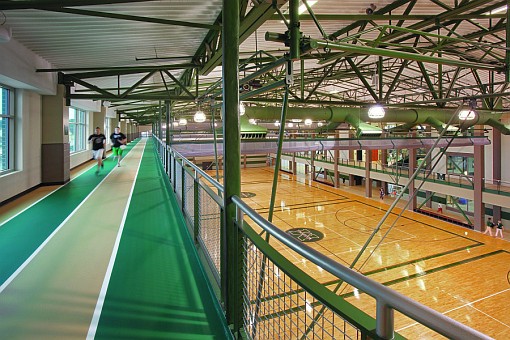 The $30 million, 123,000 square foot building contains a multi-use court, swimming pool, and indoor running track, among other things.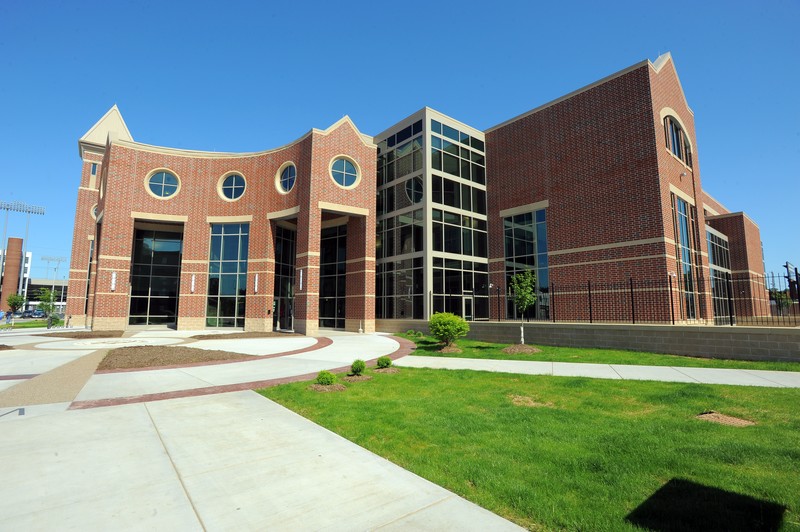 Backstory and Context
The area encompassing the Marshall University Recreation Center was once the site of Twentieth Street Baptist Church. The church was dated to 1892 when a congregation was organized and began meeting at the corner of Twentieth Street and Fifth Avenue. The church went through three sanctuaries, with the final one constructed in 1926. The congregation grew steadily, with membership peaking at around 800 in the 1950s. By the early 2000s however, it had dwindled to a few hundred, and the large building became too difficult to maintain. In 2006 the Twentieth Street Baptist Church sold their sanctuary to Marshall for $1 million. In May 2007 the vacated building was demolished to make room for the proposed recreation center. The Twentieth Street Baptist Church congregation merged with Beverly Hills Baptist Church to form New Baptist Church in 2008.
Plans for a new recreational center, initially referred to as the "Health and Wellness Center" date back at least to 2004 when the Student Government Association petitioned the Board of Governors for a new facility. At this time, the only recreational spaces available to students were small and aging facilities in Gullickson Hall and the Cam Henderson Center. In 2007 the Board of Governors approved a $94 million public-private project with Capstone Development Corp. to build a recreation center along with two new residence halls (Freshman North and Freshman South). Construction on the $30 million, two-story, 123,000 square foot recreation center began in the summer of 2007 and was completed in early 2009. The exterior of the building was given a tower and a classic brick design to blend in with other campus structures such as Old Main and Drinko Library.
The Recreation Center is open to students, faculty, alumni, and their families. The center includes a multi-purpose court, 1/7 mile running track, swimming pool, spa, fitness studios, exercise machines, weight lifting spaces, racquetball rooms, climbing rock wall, locker rooms, an equipment shop, and an outdoor turf field. It offers a variety of intramural activities as well as a youth program, bike-sharing program, fitness classes, outdoor excursions, and certification courses for CPR, First Aid, and Lifeguarding. 
Sources
"About Us." New Baptist Church. Accessed January 26, 2020. http://www.newbaptistchurch.com/about-us.html.
Casto, James E. "Lost Huntington: 20th Street Baptist Church." Herald-Dispatch. November 17, 2014.
"Long-Awaited Recreation Center Opens Feb. 5." We Are…Marshall. February 20, 2009.
LoPresti, Sarina. "Here today, gone in May." The Parthenon. January 30, 2007.
"Plans Underway for Recreation Center, Residence Halls." We Are…Marshall. May 18, 2007.
"Recreation Center Nears Opening." We Are…Marshall. January 23, 2009.
Snyder, Randy. "MU's World-Class Recreation Center." Marshall Magazine (Summer 2009): 24-28. 
Additional Information