Cam Henderson Center
Introduction
Author-Uploaded Audio
The Cam Henderson Center is the home of the Thundering Herd basketball, volleyball, swimming, and diving programs. The complex was constructed in 1981 during a building boom on Marshall's campus. It is named in honor of legendary Marshall basketball coach Cam Henderson (1890-1956), one of the most successful coaches in the school's history. The Center allowed Marshall's basketball team to play on campus rather than at the Memorial Field House, and it provided new space for student recreational activities. The basketball arena is notable for being the site of the world's longest recorded college basketball shot, thrown by Bruce Morris on February 7, 1985. In addition to the arena, the Center also houses the Frederick A. Fitch Natatorium, named after a longtime chairman of the Physical Education Department.
Images
The Cam Henderson Center was built in 1981 and is attached to the older Gullickson Hall.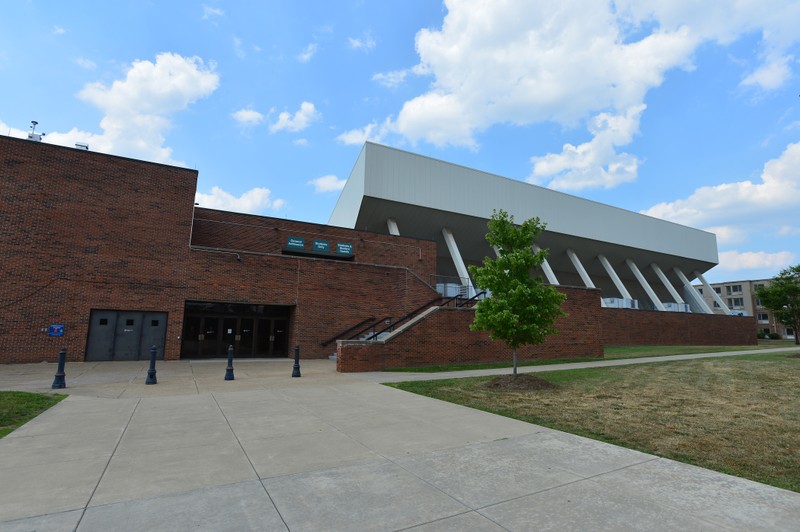 The northern side of the center has an enclosed street bridge to a parking garage.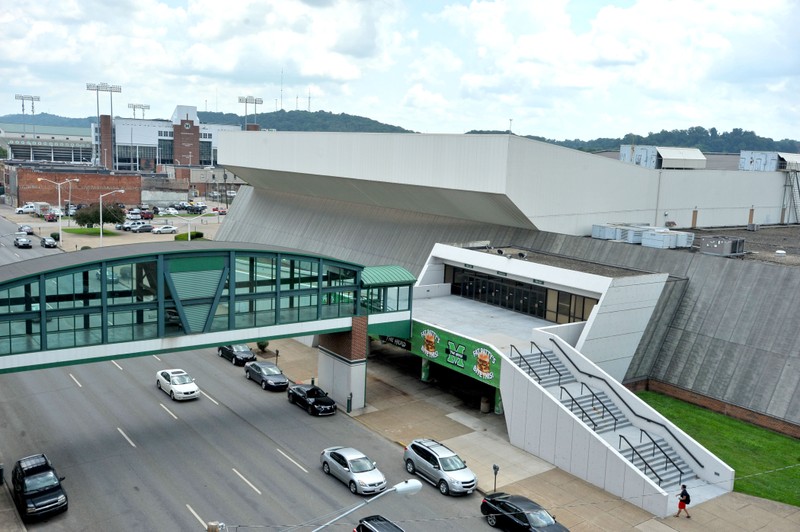 The basketball arena can hold a little over 9,000 people.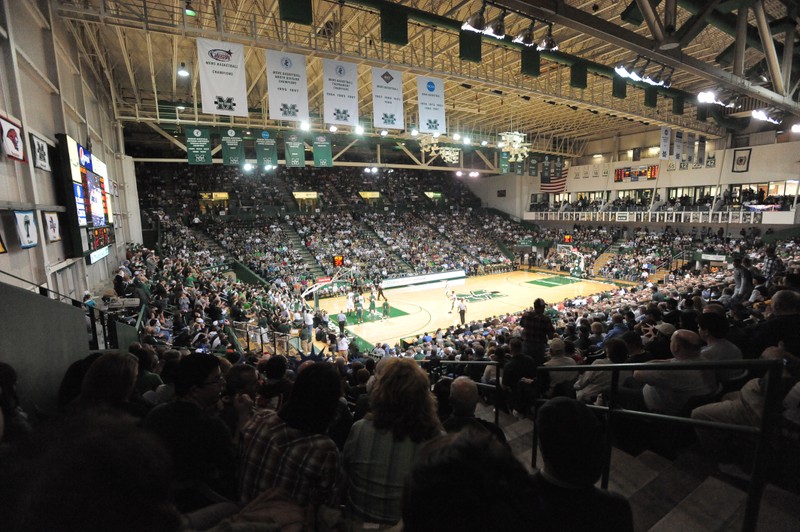 Concept art for the Cam Henderson Center. The exterior is known for its distinct butterfly shape.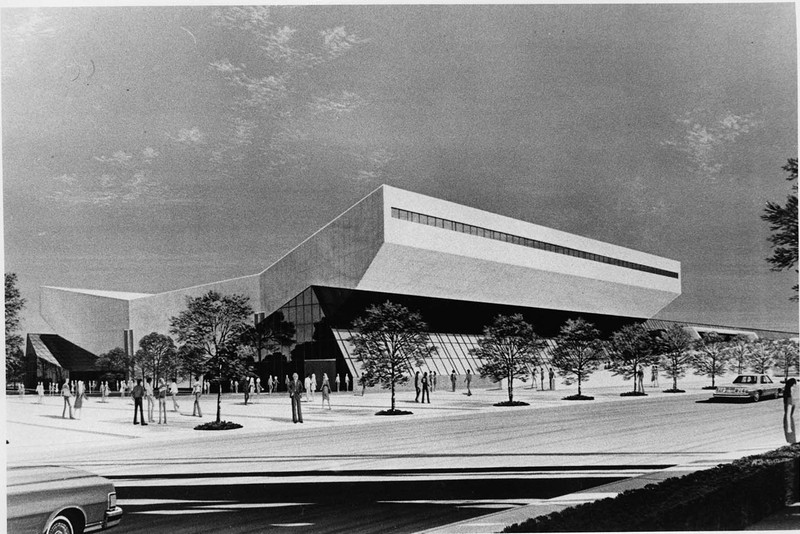 Cam Henderson (1890-1956) was one of Marshall's most successful coaches in history, and very popular with the community.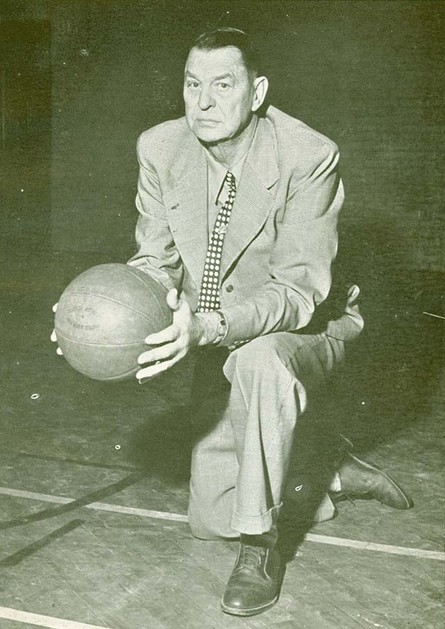 Backstory and Context
Throughout the 1970s plans and proposals for a new, multi-purpose athletic facility were discussed at Marshall. The men's facilities in Gullickson Hall were too small for the growing student body, while the Women's Gymnasium was old and deteriorating. Around 1977 the state legislature allocated $18 million to Marshall for a new athletic facility. It was one of just several building and expansion projects pursued by Marshall during the late 1970s and early 1980s. An ambitious, 213,000 square-foot complex was designed by Morgantown architect Robert J. Bennett and the Eggers Group of New York. The structure would be attached to Gullickson Hall, and in addition to a basketball court it included a natatorium, classrooms, space for tennis, handball, volleyball, archery, badminton, indoor track, wrestling, and judo.
The center held its first basketball game on November 27, 1981, although the entire facility was not completed and dedicated until May 1982. Due to higher than expected costs, Marshall was forced to cut some of the planned amenities, including air conditioning. After years of complaints, the building underwent a $5 million renovation in 1998 that included the installation of air conditioning as well as new bleachers. This reduced the crowd capacity from over 10,000 to 9,048, but provided more comfortable seating. New renovations in 2018-2019 remodeled the court floor and replaced the scoreboard.
History was made at the Henderson Center on February 7, 1985 during a game between Marshall and Appalachian State. As the game was approaching halftime, Marshall player Bruce Morris threw the ball and scored a shot from a distance of 89 feet, 10 inches. The act, nicknamed the "Shot Herd Round the World," was afterwards certified by the Guinness Book of World Records as the longest recorded shot in the history of college basketball. A pair of footprints on the court marks the spot where Morris threw his shot.
If education is self-development of self good and for social service, then athletics is a potent educational agent. -Cam Henderson
The facility is named after Eli Camden "Cam" Henderson (1890-1956), who coached basketball at Marshall from 1935 to 1955. Henderson enjoyed a very successful career, winning 358 games and losing 158, for a 70 percent success rate. He remains the winningest basketball coach in Marshall's history. Under his leadership, Marshall won the 1947 National Association for Intercollegiate Basketball (NAIB) championship in Kansas City. Henderson also coached football from 1935 to 1949; his record of 68-46-5 remained the school's highest until 2001. Some also credit Henderson with pioneering the basketball techniques of zone defense and fast break. 
Sources
"Cam Henderson Center." Marshall University Athletics. Accessed January 12, 2020. https://www.herdzone.com/sports/2018/6/11/facilities-mars-cam-henderson-html.aspx.
Connell, Mike. "The Old Man." Herald-Dispatch. November 25, 1981.
Dedication Program, Cam Henderson Center, Marshall University. May 22, 1982.
Feinberg, Doug. "Morris recalls hitting longest shot in basketball history." AP News. February 11, 2019. Accessed January 12, 2020. https://apnews.com/b95f2e4b32bf45ae9c1c490cc2558fb2.
"From civic-sports arena…Cam Henderson Center." The Parthenon. November 24, 1981.
Haptonstall, Clark. "Cam Henderson." e-WV: The West Virginia Encyclopedia. November 30, 2012. Accessed January 12, 2020. https://www.wvencyclopedia.org/articles/358.
Johnson, Michael. "Tributes to Cam mark dedication. Herald-Dispatch. May 23, 1982.
MarshallU. "Bruce Morris, 'The Longest Shot'" (video). Posted February 12, 2019. Accessed January 15, 2020. https://www.youtube.com/watch?v=-bB1dvB1yEI.
MarshallU. "Cam Henderson Center" (video). Posted October 2, 2019. Accessed January 15, 2020. https://www.youtube.com/watch?v=iQ8DbZqTp3c.
Marshall University News. February 13, 1984.
Marshall University News. May 15, 1982.
Marshall University News. May 15, 1984.
Herd Game Magazine. November 27, 1981.
Mitchell, C. T. "Green Hardhat Succeeds Green Beanie on Campus." Marshall Alumnus 18, no. 1 (April 1977): 14-16.
"Multi-Purpose Facility." Marshall University News Release. July 19, 1976.
Salvatore, Ernie. "Henderson Center fix overdue." Herald-Dispatch. 1998.
Warf, Brigham. "Cam Henderson floor gets face lift." The Parthenon. September 24, 2019. Accessed January 12, 2020. https://www.marshallparthenon.com/22242/sports/cam-henderson-floor-gets-face-lift/. 
Wellman, Dave. "Basketball fans happy about plans for facelift." Herald-Dispatch. January 29, 1998. 
Additional Information