Stonewall Jackson's Mother Historical Marker
Introduction
This marker commemorates Julia Jackson, mother of Confederate General Thomas Jonathan "Stonewall" Jackson. Jackson is best known as an able military commander who earned his nickname for demonstrating stoic courage under fire during the first battle of Manassas. His mother, Julia Jackson, was born in Loudon County, Virginia in February, 1798. She bore six other children and died during childbirth from complications in December of 1831. Julia Jackson was laid to rest in an unmarked grave in Westlake Cemetery in Ansted. Years later, a former Confederate Captain who had served with her son located her burial plot and placed a tombstone to mark the location of her grave. As of 2017, this is one of only two-dozen historical markers that commemorate women in West Virginia. Like several of those markers, this marker focusses almost exclusively on the actions and lives of men.
Images
The historical marker is located between a commercial and a residential area in Ansted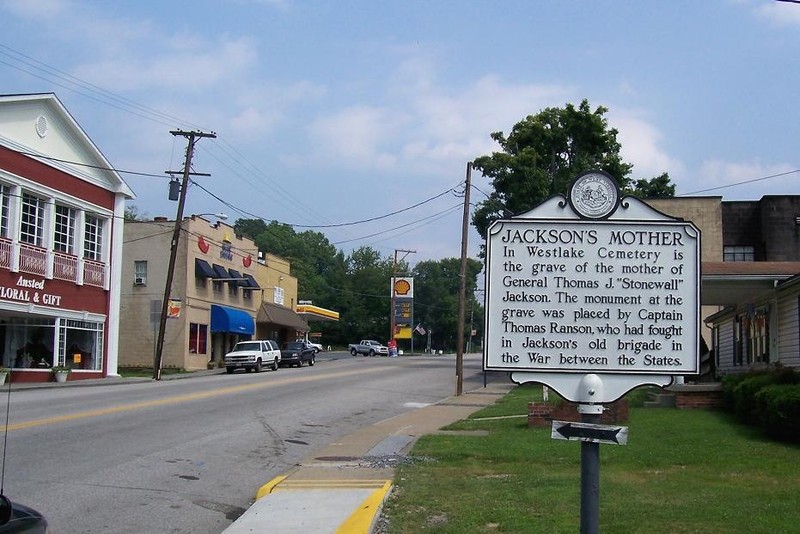 This marker was created years after Julia Jackson's death by an admirer of her son, Thomas Jackson.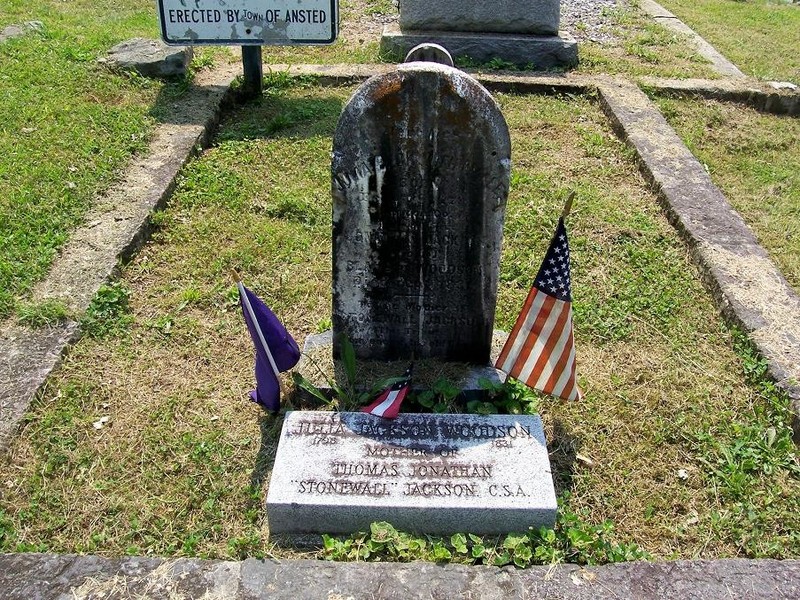 Backstory and Context
Julia Neal was born on February 28th, 1798 in Loudon County, Virginia. In 1817 Julia Neal married Jonathan Jackson, who was originally from Randolph County. The couple settled in Clarksburg and had two children prior to the arrival of Thomas Jonathan Jackson on January 21, 1824. Like many other families in the antebellum period, tragedy struck the young family two years later when Julia's daughter Elizabeth and her husband perished from typhoid fever.
In 1830, Julia married Blake Baker Woodson, the attorney for Fayette County. Records indicate that Blake Woodson "was not fond of his stepchildren" and as a result, Thomas and his siblings were sent to live with her relatives. Julia bore three more children before dying from complications related to childbirth on December 4th, 1831. Neighbors created a homemade coffin for Julia and marked her grave with only a small piece of wood.
In 1855 Thomas Jackson attempted to visit his mother's grave. The night before visiting the grave he had stayed at Tyree's Tavern, less than a quarter mile from her grave, before setting out to see her final resting place. The tavern's owner, William Tyree accompanied him to her resting place. However, the piece of wood used to mark her grave was missing and he was unable to determine her final resting spot. Sometime after this, Captain Thomas Ranson, a former solider of Stonewall, visited Westlake Cemetery. He reportedly devoted considerable effort to locate the final resting place of Julia Jackson and purchased a stone marker.
Sources
Jackson's Mother. Little Bits of History. July 13, 2012. Accessed March 08, 2017. http://littlebitsofhistory.blogspot.com/2012/07/jackson-mother.html.


Additional Information