Guardian Building
Introduction
Nicknamed the "Cathedral of Commerce," the Guardian Building is one of the most expressive Art Deco skyscrapers ever built. Built in 1928 and finished in 1929, the building was originally called the Union Trust Building and is a bold example of Art Deco architecture, including art modern designs. The main frame of the skyscraper raises 36 stories, capped by two asymmetric spires, one extending for four additional stories.
Images
The Guardian Building in Detroit, Michigan, is listed on the US National Register of Historic Places and is a designated National Historic Landmark.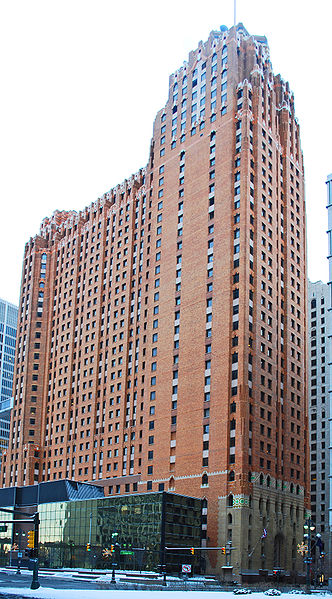 Tiffany clock in metal framework separating the lobby from the promenade. "Guardian Building Detroit Interior Clock" by Vincent Arel. Licensed under CC BY-SA 3.0 via Wikimedia Commons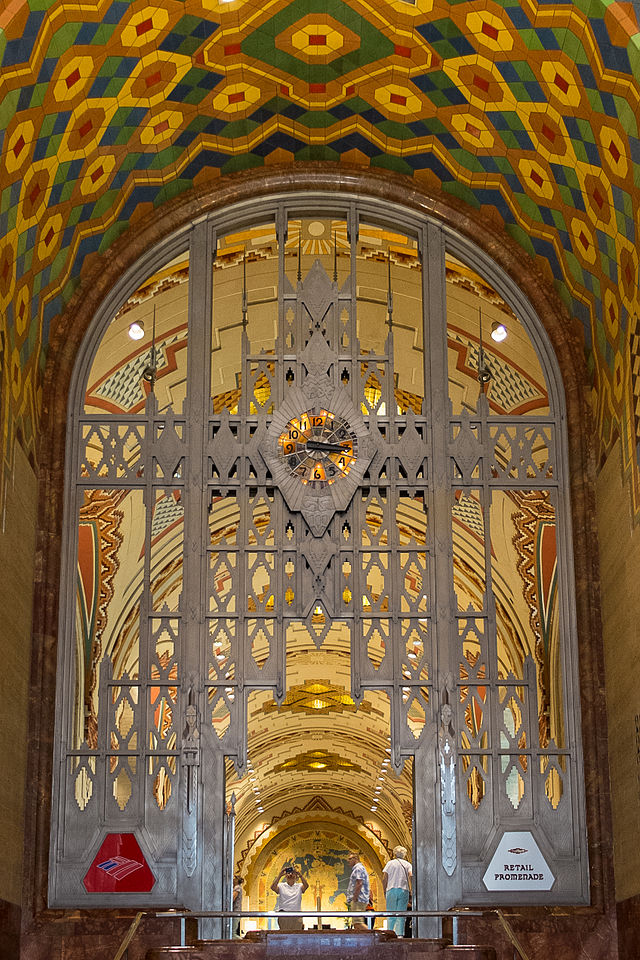 An exterior arches of the Guardian Building.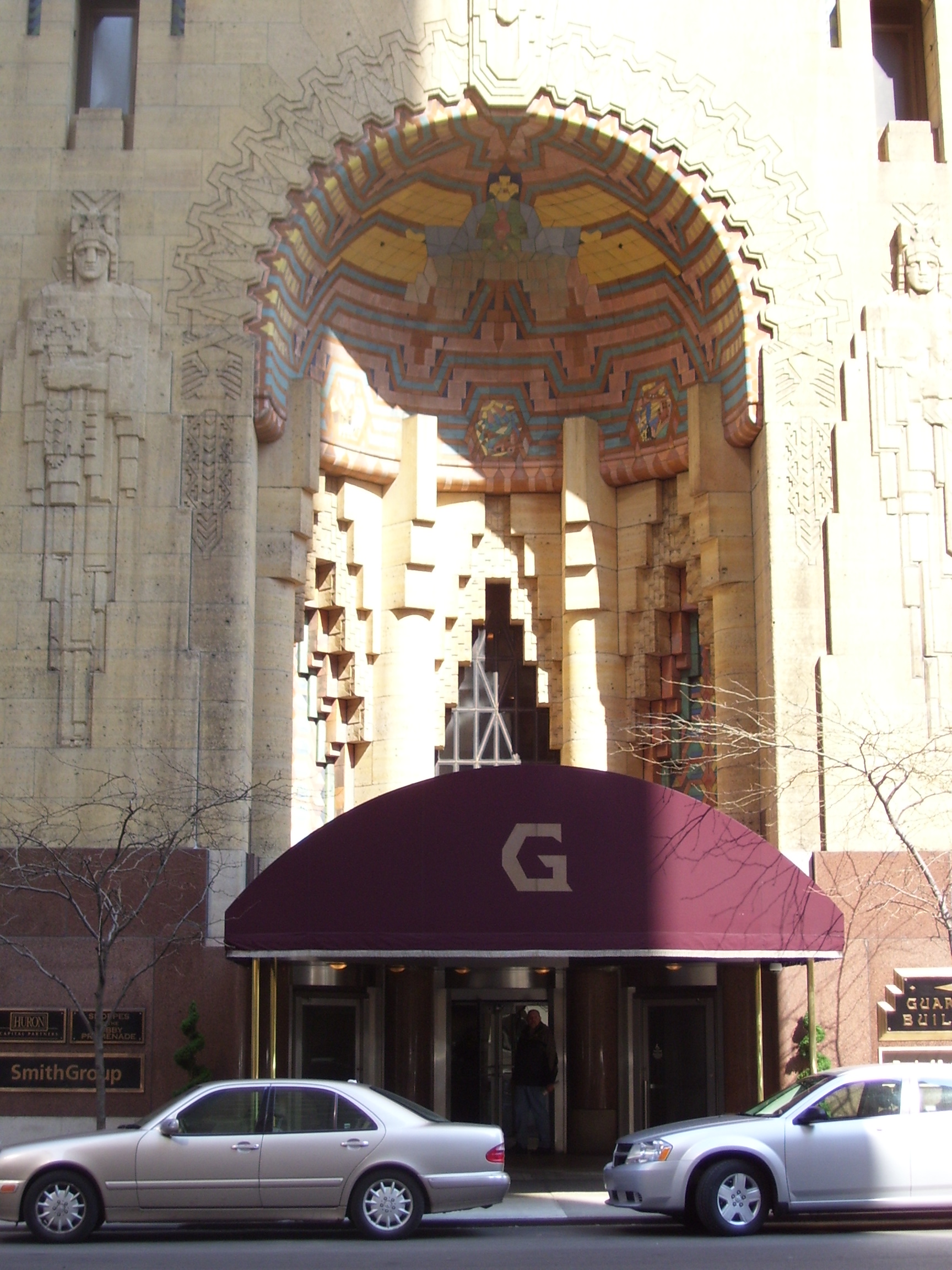 Monel metal gates in the basement of the Guardian Building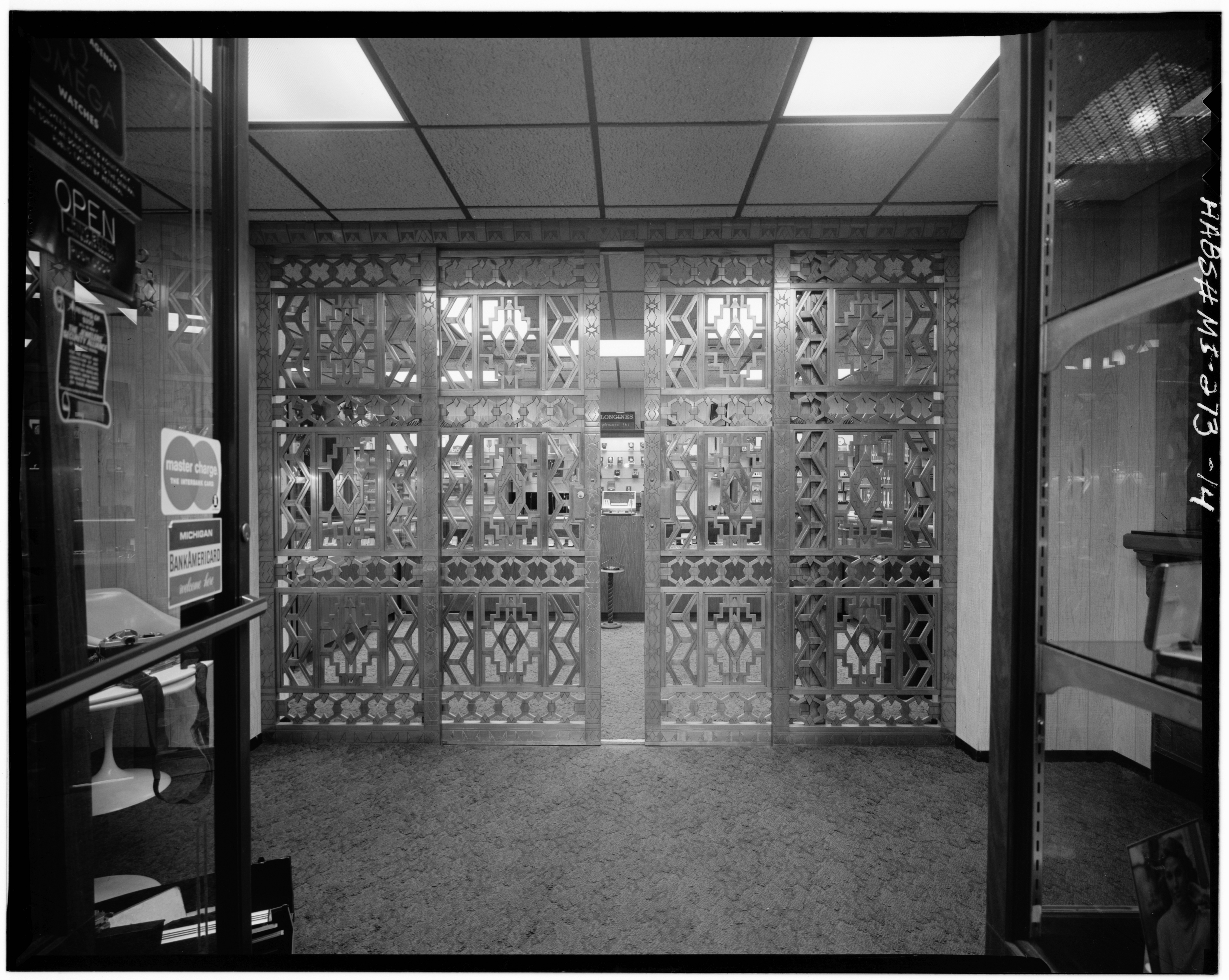 Backstory and Context
Opened in 1929, the Guardian Building is one of Detroit's most magnificent art deco skyscrapers. Designated a National Historic Landmark in 1989, the Guardian Building was designed by Wirt C. Rowland of the leading Detroit architecture firm Smith, Hinchman & Grylls. The cathedral theme is emphasized on the exterior by the two towers at each end of the building connected by a somewhat lower navelike block. The theme is played out in the interior with the tall banking lobby designed as a nave with side aisles. A specially formulated orange brick, known as Guardian brick, clads the steel frame. Brilliantly colored terra-cotta, glazed tile, and gold-stained glass and metal decorate it inside and out. The Guardian Building was the world's tallest masonry structure when it was completed.
Originally named the Union Guardian Building, this building was created for the Union Trust Co. when it required more space after a merger with the equally huge National Bank of Commerce. By the time the building was completed, Union Trust had bought up several other banks and become the Guardian Detroit Union Group, which held 40% of Detroit's banking resources. But the Great Depression hit Detroit — and the bank — hard. In 1932, the bank went into receivership as the New Union Building Corp.
During World War II, the building was used as a command center for the Army as it coordinated ordinance production. After the War and until the present day , the building has served various tenants as an office building in downtown Detroit.
Sources
Detroit: A National Register of Historic Places Travel Itinerary. National Park Service. . Accessed March 07, 2018. http://www.nps.gov/nr/travel/detroit/d17.htm.

Guardian Building. Michigan State Housing Development Authority. . Accessed March 07, 2018. http://www.michigan.gov/mshda/0,4641,7-141-54317_19320_61909_61927-54589--,00.html.

MDOT-Woodward Light Rail Project Technical Report. Michigan.gov. . Accessed March 07, 2018. https://www.michigan.gov/documents/mdot/MDOT-Woodward_Ave._Light_Rail_Transit_Project_FEIS_Section_106_Technical_Report_Downtown_Detroit_to_I-75_AOE_October_2010._3_of_3_410408_7.pdf.


Additional Information