Kennedy Building, UNC Charlotte
Introduction
The Kennedy Building was one of the first two buildings on the UNC Charlotte campus. Both Kennedy and Macy were constructed in 1961, designed by Odell Associates, Inc. and built by F. N. Thompson, Inc. The 42,000 square foot research and instructional facility cost $897,000 and was named in honor of Woodford "Woody" A. Kennedy, a man who called his devotion to Charlotte College, UNC Charlotte's predecessor, "something between a hobby and an obsession."
Images
The steps of the Kennedy Building after the April 30th tragedy, with flowers and other offerings.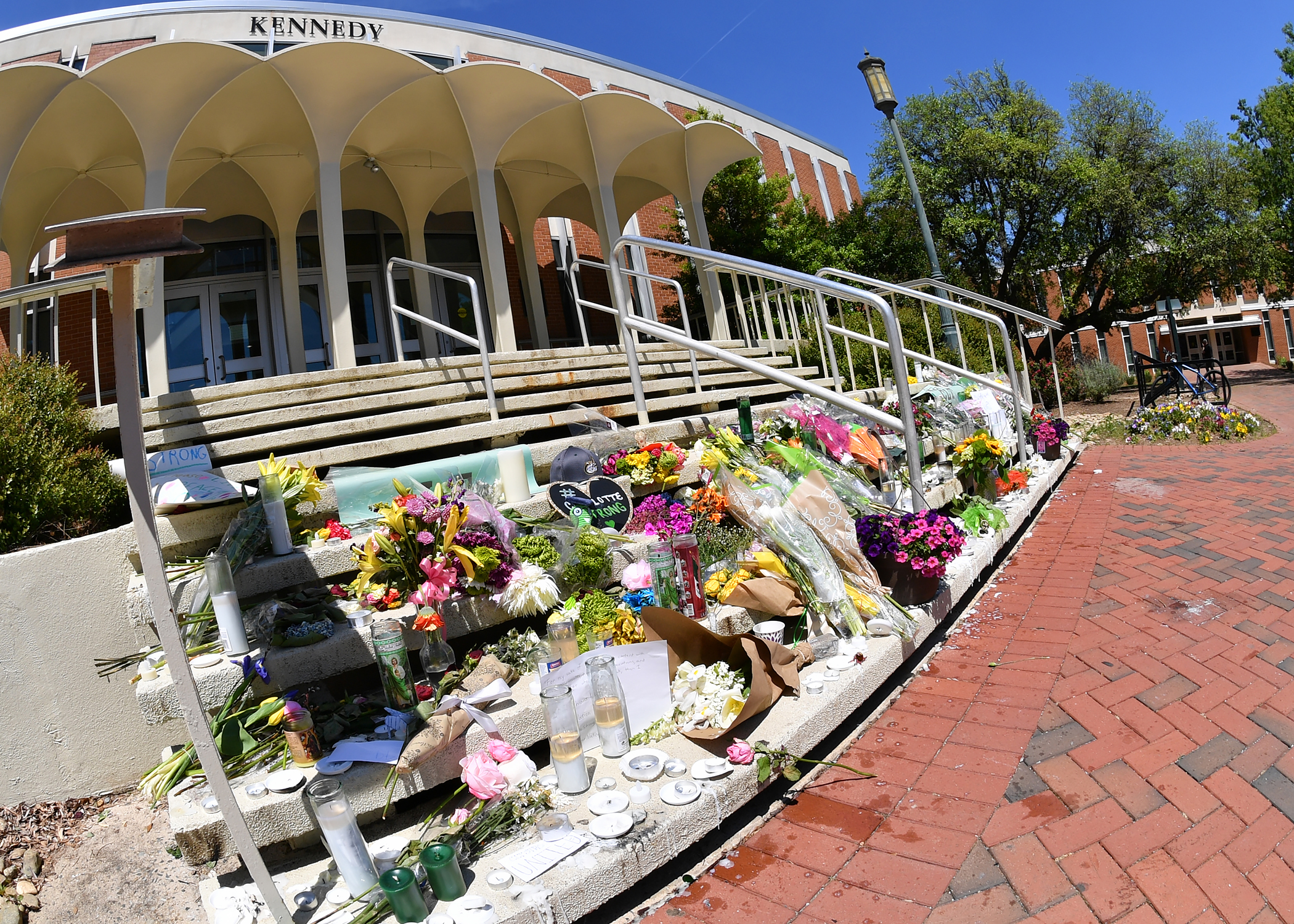 The front of the Kennedy Building with student on steps, undated.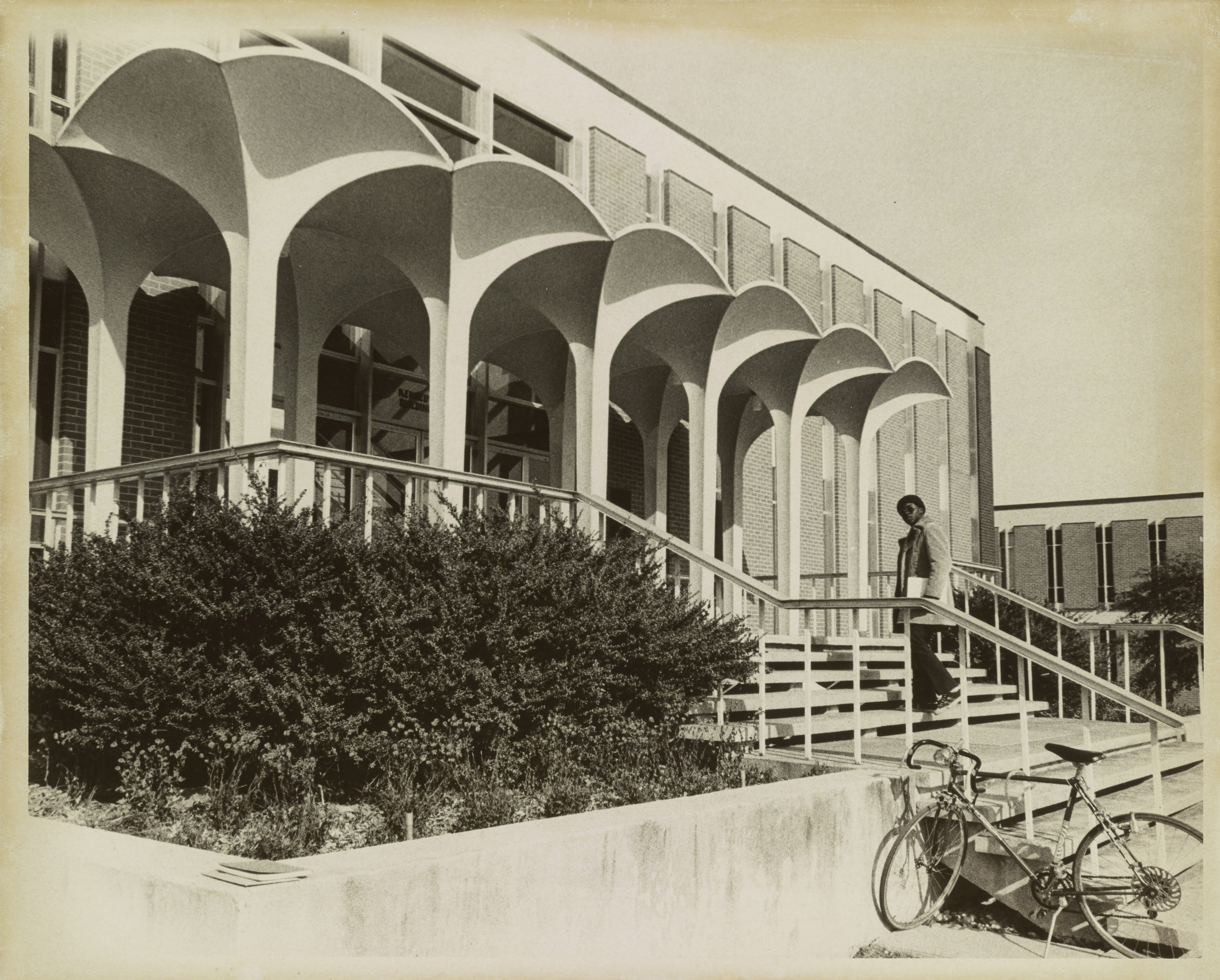 The Kennedy Building with several students out front. Belk tower to the left.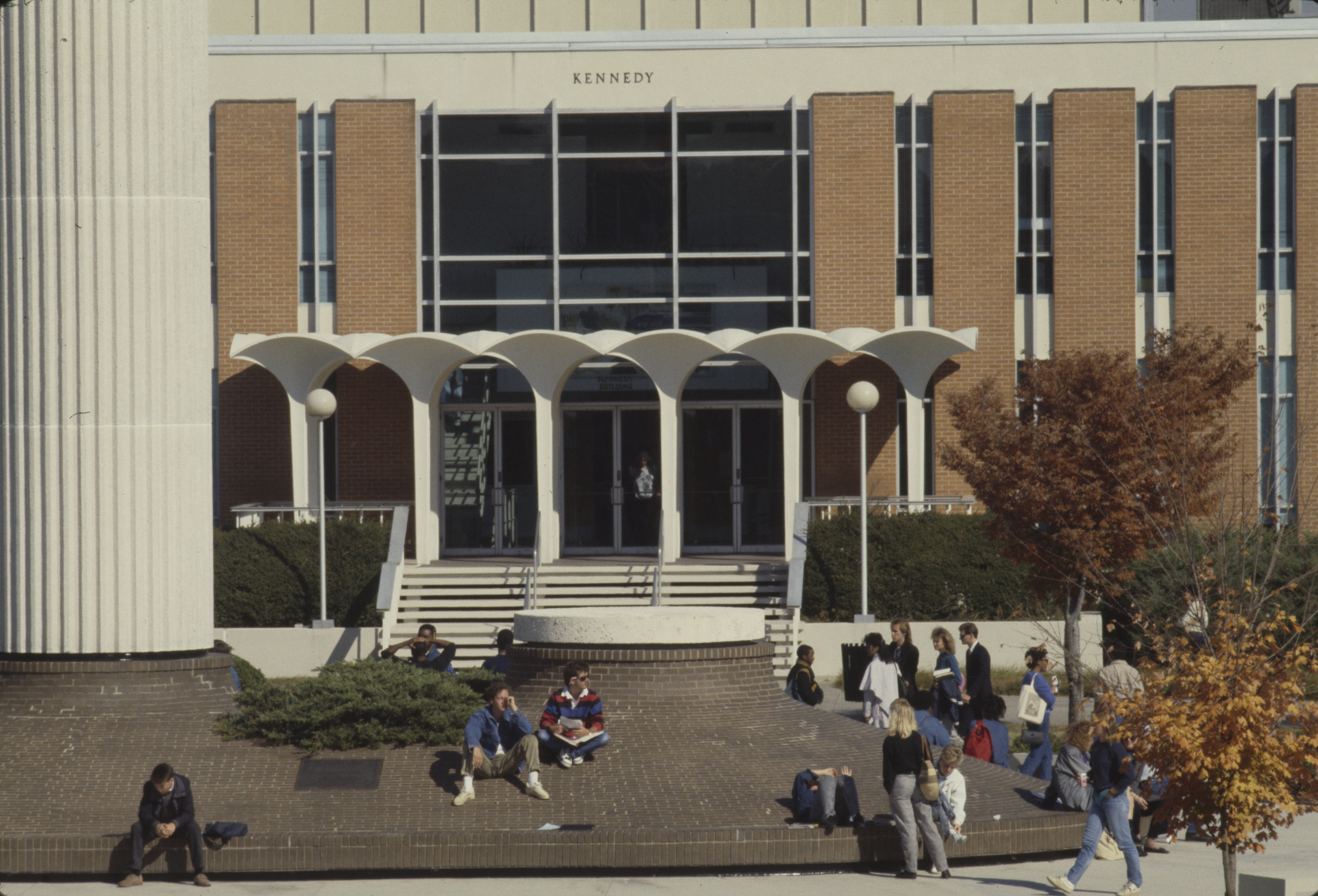 Backstory and Context
Mr. Kennedy's dream for the college was as a four-year, state-supported college. As early as 1952, he was soliciting community leaders for support. He argued that Charlotte was the most populated area in the state resulting in a larger percentage of taxes paid to the State Treasury. Most importantly, he asserted that without a state-supported college within 85 miles of Charlotte, half of the superior high school graduates did not go on to college because they could not afford to live away from home.
In 1961, John Paul Lucas wrote, "... Charlotte College in a large measure owes its present state of advancement, if not its very existence, to the vision, the persistence, yes, the stubbornness of Woody Kennedy at a time when few shared his enthusiasm." Mr. Kennedy served for eleven years on the advisory board for Charlotte College, was a member of the site selection committee, and passed away the night before he was to become a member of the first Board of Trustees. The other Board members carried forward his vision and recognized his dedication by proposing that the first building on the new campus be named for him. At the dedication ceremony on February 16, 1962, Mr. Kennedy was honored as a civic leader, engineer, and a friend of education. 
Original plans for the science and engineering building included ten classrooms, twelve offices, one lecture room, laboratories for chemistry, physics, biology, geology, and engineering courses, and a temporary library to be converted into more laboratories, classrooms, and offices at a later date. Currently, the Kennedy Building is home to The Center for Teaching and Learning and The Office of OneIT. Of note, the Kennedy Building was also the site of the university's greatest tragedy, when on April 30, 2019 a campus shooting claimed two lives and injured four others.
Sources
Building plans--Charlotte College, 1960, Box 2, Folder 39, Charlotte College Records, 1949-1965, J. Murrey Atkins Library Special Collections & University Archives, University of North Carolina at Charlotte.
Dedication--Kennedy Building, February 16, 1962, Box 18, Folder: 152, Charlotte College Records, 1949-1960, J. Murrey Atkins Library Special Collections & University Archives, University of North Carolina at Charlotte.
Four Year College Favored, May 20, 1952, Charlotte Collegian, Charlotte College. 
Science Building Named in Honor Of W. A. Kennedy, February 1, 1962, Charlotte Collegian, Charlotte Charlotte.
Image Sources
UNC Charlotte, Brandfolder

J. Murrey Atkins Library Special Collections & University Archives, University of North Carolina at Charlotte

J. Murrey Atkins Library Special Collections & University Archives, University of North Carolina at Charlotte

Additional Information