Hechenbleikner Lake, UNC Charlotte
Introduction
This scenic lake was named for Professor of Biology Herbert Hechenbleikner in 1975. "Dr. Heck," as he was affectionately known, created the lake from his own imagination and constructed it with the help of students and volunteers in 1964. The lake is but one of several projects initiated by Hechenbleikner, who guided the early landscape planning for the University of North Carolina at Charlotte.
Images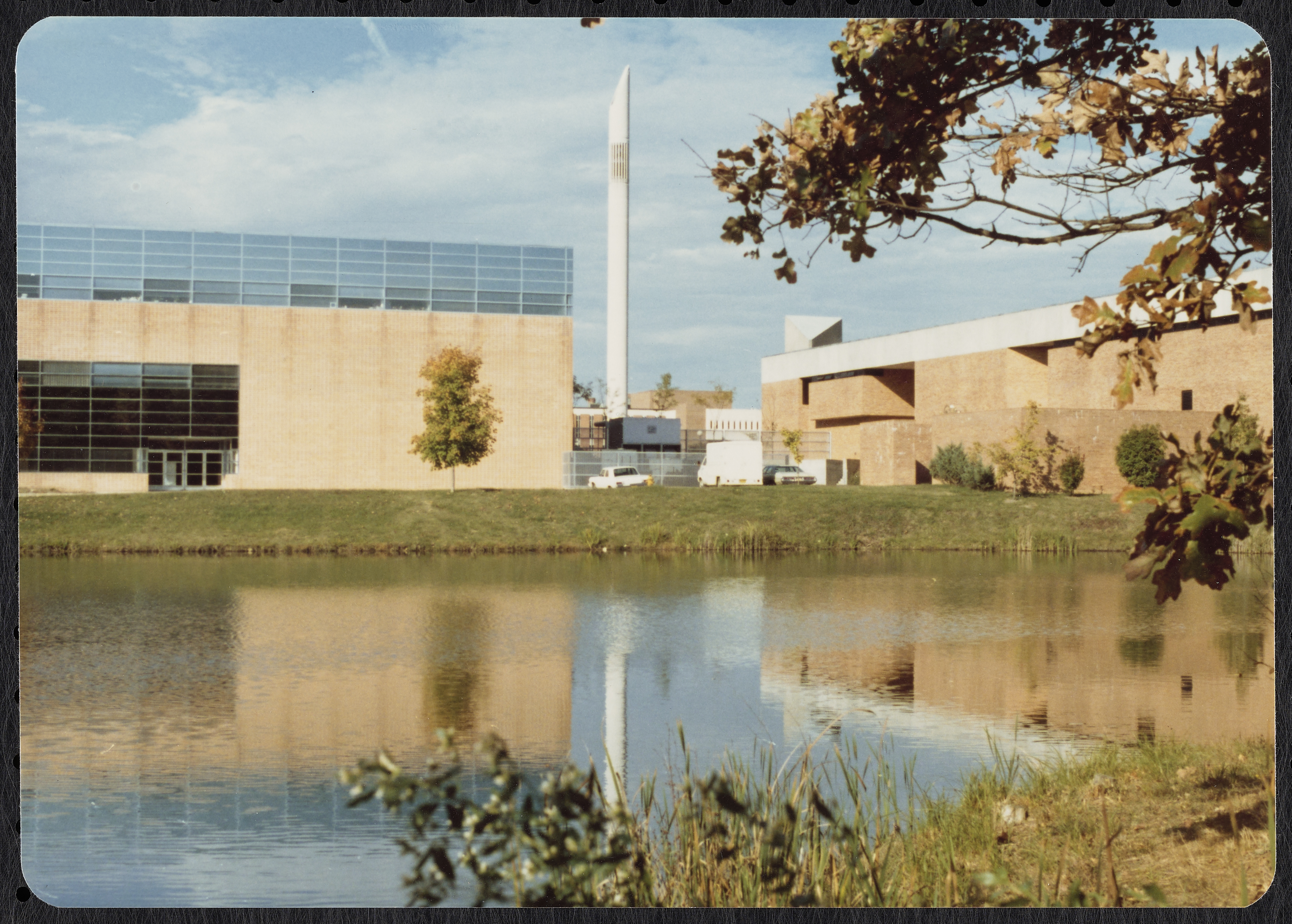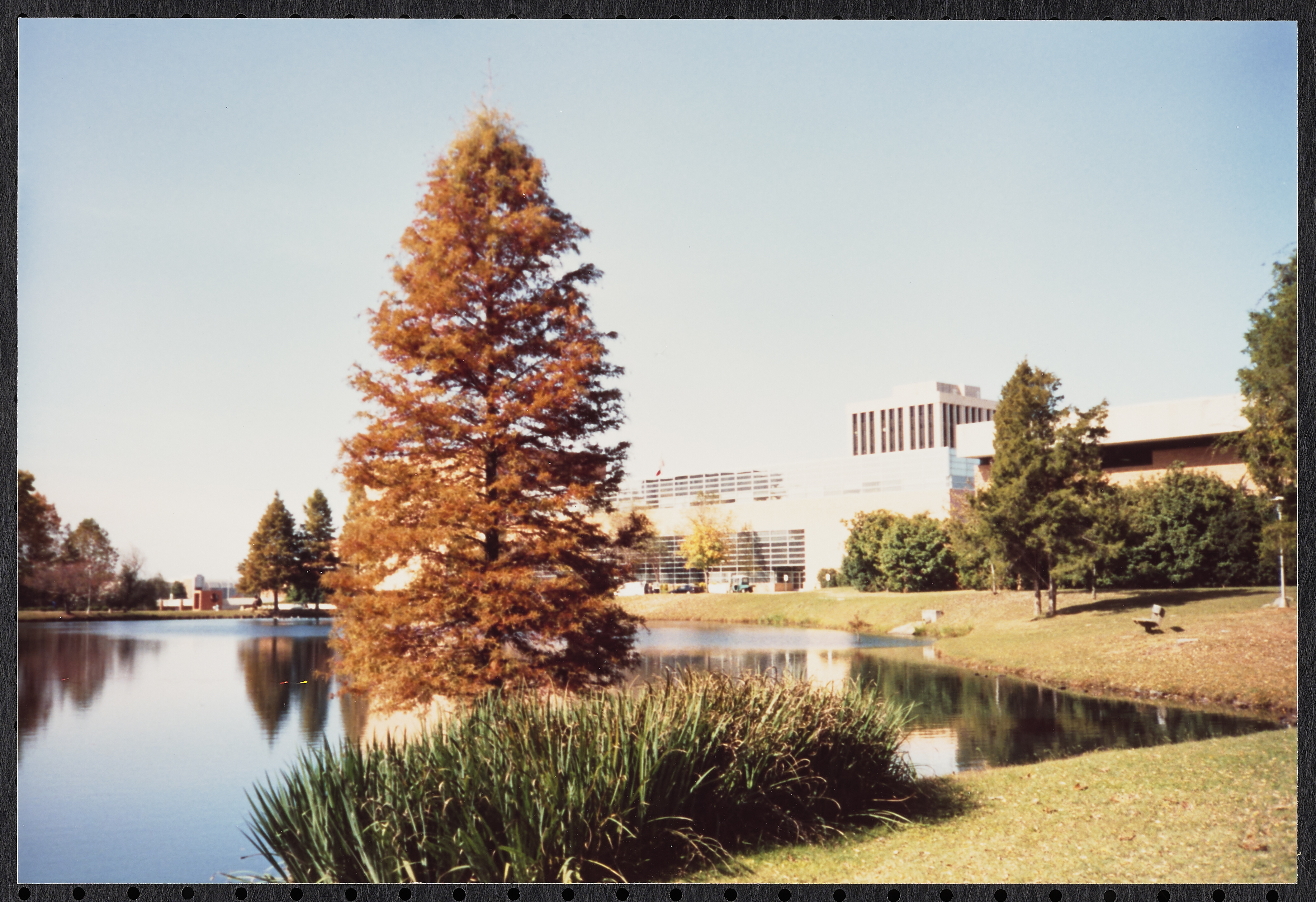 Backstory and Context
Hechenbleikner was educated at the University of North Carolina at Chapel Hill and Harvard University. While the director of science for Charlotte City Schools, he joined the faculty of the Charlotte Center for the University of North Carolina in 1946 as a part-time instructor for geology, geography, zoology, and botany. In 1962, when Charlotte College moved from Central High School to its permanent campus, Hechenbleikner followed as a full-time professor of biology.  
Hechenbleikner made major contributions to the original landscaping of the campus. With little to no funds available for beautification projects, he sourced trees and flowers from local garden club donations, seeded grass around new buildings, and planted trees at the entrance to campus.
Working with college students and trainees from a local heavy equipment operator school that also provided earth moving equipment, Hechenbleikner supervised the building of an earthen dam formed by campus's new entry road, which filled in a ravine allowing the lake's creation. Over the years, the lake served as a home for swans and ducks while also serving as a venue for campus events such as the College of Architecture's annual boat races. 
In early 2010, the overflow pipe for the lake caved in. As a result, draining water began to erode the earthen dam, threatening its collapse and that of Broadrick Boulevard. In response, the university's Facilities Management Department, working with state and federal agencies, developed a plan to drain the lake and repair the dam - a project that took two years to complete. Campus Landscape Architect Peter Franz also saw an opportunity during the project to make the lake more pedestrian-friendly through the addition of a brick sidewalk running from Robinson Hall past the Colvard Building, and ending at Broadrick Boulevard near the main entrance roundabout. Benches were added around this perimeter with an overlook platform between Robinson Hall and the Rowe Arts Building. Completed in 2012, the lake was refilled naturally by rainwater. 
In 2015, a work of public art was unveiled at the lake's overlook. Designed by artist John Medwedeff, Aperture is a steel sculpture mounted on a bearing, which can be rotated to present different views of the lake and surrounding campus buildings. It was donated by longtime benefactor Ike Belk, who commissioned the project. Additionally, the natural area on the far side of Hechenbleikner Lake was designated a Certified Wildlife Habitat by the National Wildlife Federation in 2017 - in recognition of the University's efforts to create and maintain spaces on campus that are hospitable to wildlife. 
Sources
Lori Blackburn, "Herbert Hechenbleikner," From Query's Turnout to UNC Charlotte, UNC Charlotte College of Education and Allied Professions, University of North Carolina at Charlotte, 1989, p. 32
"Herbert Hechenbleikner," The University of North Carolina Herbarium, UNC Chapel Hill, 13 June 2011, http://herbarium.unc.edu/Collectors/Hechenbleikner.htm. (Last accessed, August 30, 2021). 
"Dr. Herbert Hechenbleikner Obituary," Charlotte Observer, December 29, 2004, https://www.legacy.com/us/obituaries/charlotte/name/herbert-hechenbleikner-obituary?n=herbert-hechenbleikner&pid=2973391. 
"Trustees Board names dorms; other campus landmarks," Carolina Journal, Volume 10, No. 16, January 14, 1975, p.1. 
Wade Bruton, "Great Lake," UNC Charlotte Magazine, Volume 20, No. 2, Q2 (June) 2013, p. 21.
Shelly Theriault, "Hechenbleikner Lake Restoration Nearly Complete," Inside UNC Charlotte, November 30, 2012, https://inside.charlotte.edu/news-features/2012-11-30/hechenbleikner-lake-restoration-nearly-complete. 
"Hechenbleikner Lake Dedicated as a Certified Wildlife Habitat," Facilities Management, Division of Business Affairs, University of North Carolina at Charlotte, January 18, 2017, https://facilities.charlotte.edu/news/2017-01-18/hechenbleikner-lake-designated-certified-wildlife-habitat. 
"Aperture Sculpture Dedicated Near Hechenbleikner Lake," Inside UNC Charlotte, November 5, 2015, https://inside.charlotte.edu/news-features/2015-11-05/%E2%80%98aperture%E2%80%99-sculpture-dedicated-near-hechenbleikner-lake. 
Image Sources
J. Murrey Atkins Library Special Collections & University Archives, University of North Carolina at Charlotte

J. Murrey Atkins Library Special Collections & University Archives, University of North Carolina at Charlotte.