Niner Miner Sculpture, UNC Charlotte
Introduction
This bronze sculpture depicts the mascot of UNC Charlotte, the 49er Miner. Completed in 1991 by Oregon sculptor Lorenzo Ghiglieri, the piece was commissioned by the university to create a focal point for the campus. It is located at the foot of the staircase that leads from the plaza between Atkins Library and the Barnhardt Student Activities Center down to the plaza between the College of Education and the College of Health and Human Services.
Images
The 49er Miner statue after it was installed in its present location, 2017.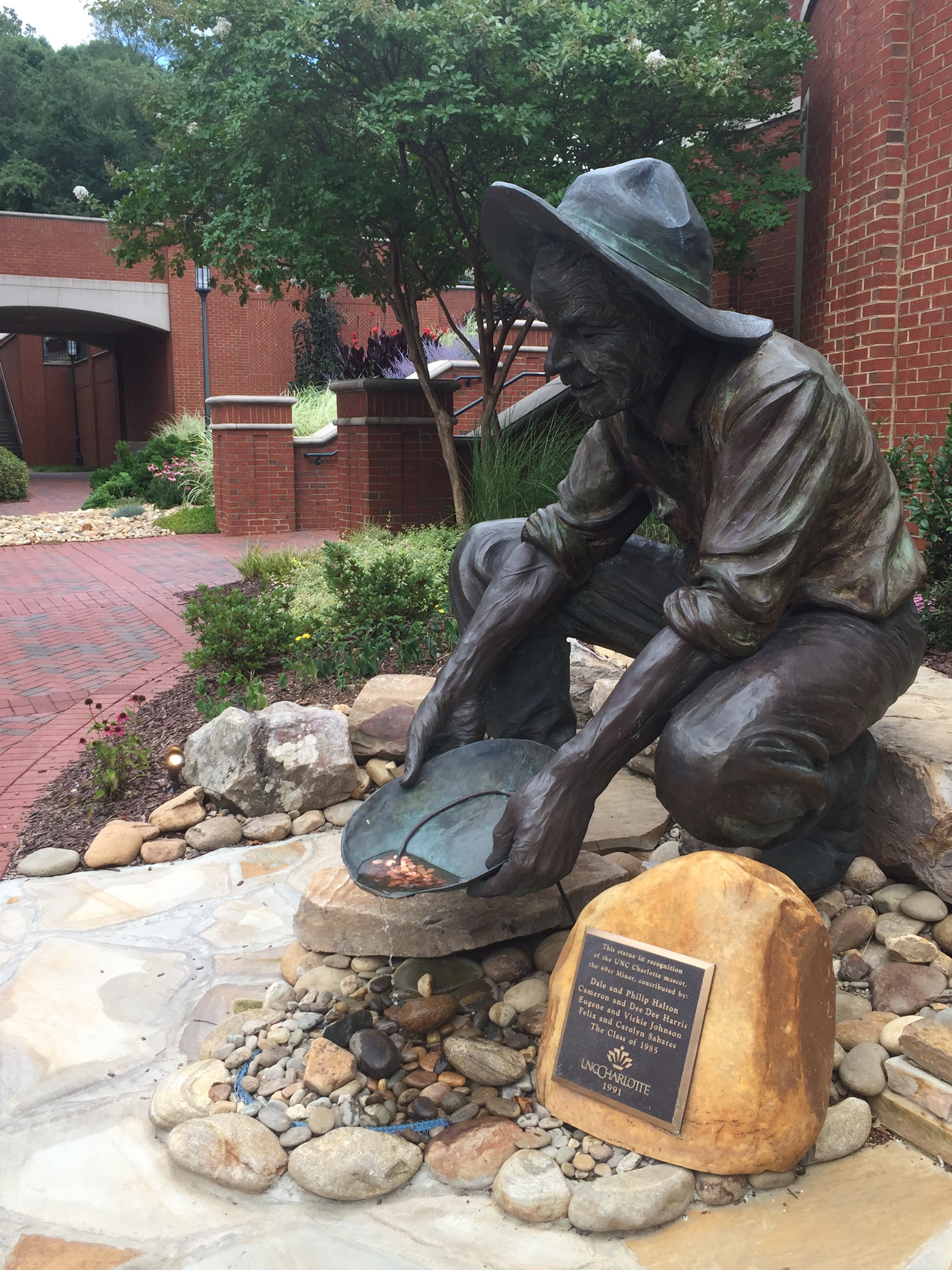 The 49er Miner statue at its original location, with the Reese Building in the background, 2006.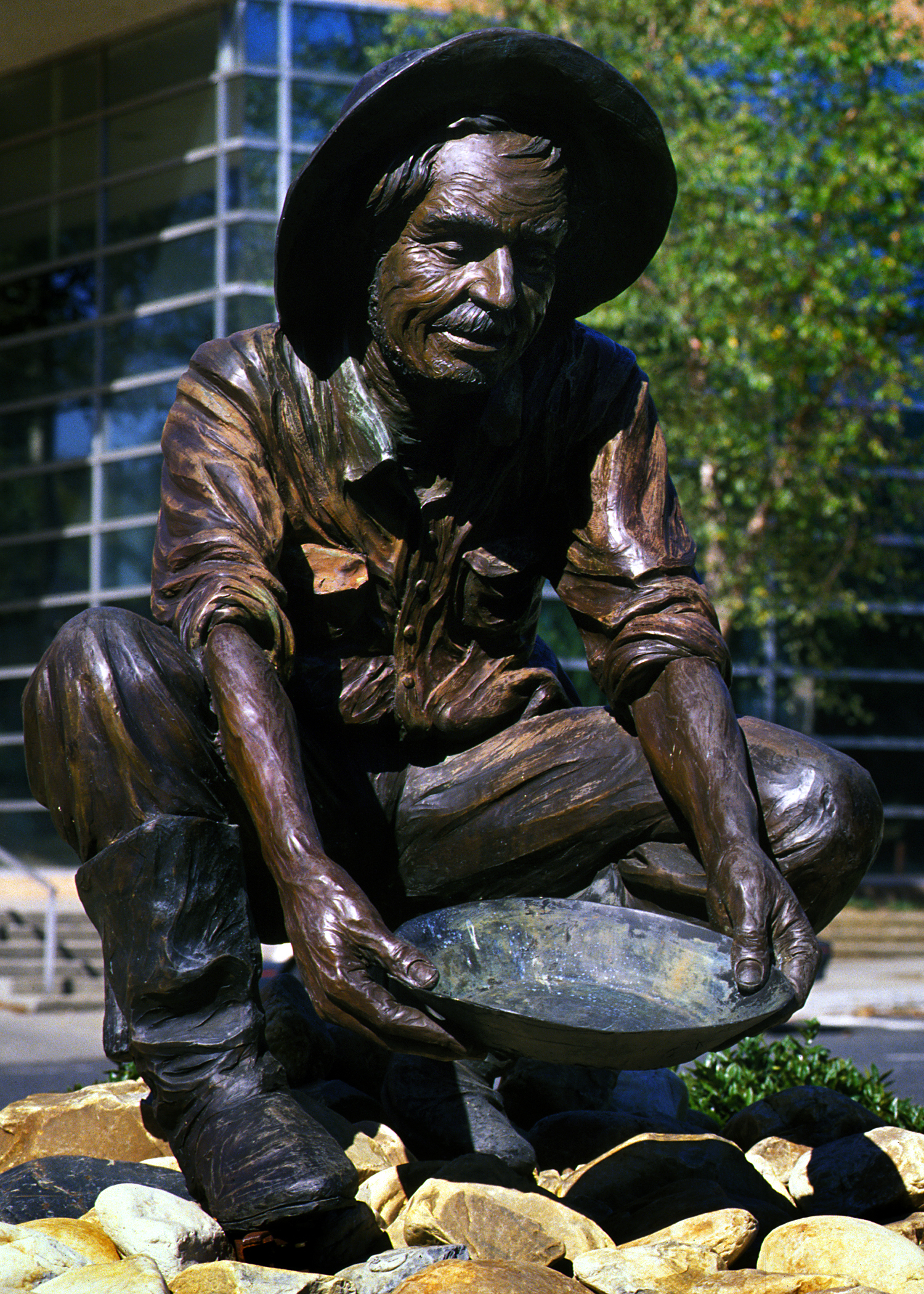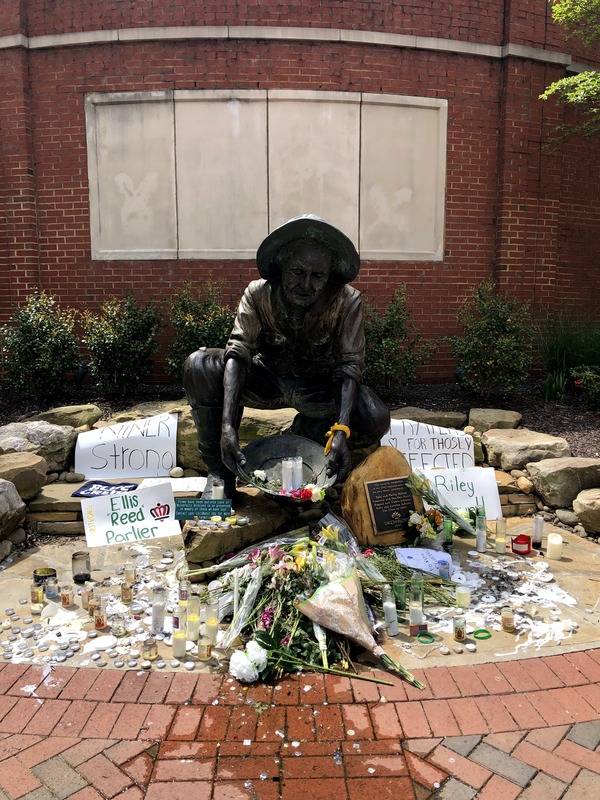 Backstory and Context
The 49er Miner was originally installed in 1992 on the Broadrick Boulevard median near the Reese Building close to the main entrance to campus. It was relocated in 2016 at the request of the Student Government Association, who sought a better location for students to take photographs with the 49er. When it was installed at its new location, a water feature was added that directs a small amount of water to spill into the miner's pan. 
The relocation of the sculpture coincided with the institution of a class ring program, leading to one of the university's traditions: When they receive their ring, students dip it into the pan and allow the water to flow over it as a gesture of bonding with the university. Another tradition is to put a penny in the pan.
The 49ers nickname, adopted in 1961 by student vote, references the importance of the year 1949 in the history of the university. In that pivotal year, Bonnie Cone and others convinced the state legislature of the continuing need for a state-supported college in Charlotte. As expressed in The Gold Digger student handbook for 1965-66: "The use of the forty-niner mascot symbolizes the spirit of striving for a goal and concentrating all energies to the achievement of that goal." Students often refer to the 49er Miner statue as "Norm," the name given to the mascot later.
The idea for the sculpture was first proposed by alumnus Cameron "Cammie" Harris, who was familiar with Ghiglieri and helped to raise the $55,000 needed for the commission. In addition to Cameron and his wife Dee Dee, other donors included Dale and Philip Halton, Eugene and Vickie Johnson, Felix and Carolyn Sabates and the Class of 1985.
Sources
Creemers, Harry P. "Life-Size Miner Statue." Memorandum to Chancellor James H. Woodward, September 5, 1991. Art: Outdoor Sculpture folder in the office of the Associate Dean for Special Collections and University Archives, J. Murrey Atkins Library, UNC Charlotte.
"Miner's Move Enhances Opportunities to Show Niner Pride." Inside UNC Charlotte. October 24, 2016. https://inside.charlotte.edu/news-features/2016-10-24/miners-move-enhances-opportunities-show-niner-pride. Retrieved August 19, 2021.
Division of Student Affairs website. "Things to Do." https://traditions.uncc.edu/things-do. Accessed August 20, 2021.
"Introduction to the University: Forty-Niner Tradition." The Gold Digger student handbook for 1965-66. Page 4-7. Reference file: University Mascot -- 49er
Harris, Cameron. Oral History Interview with Christina Wright. June 12, 2014. https://goldmine.uncc.edu/index/render/object/pid/uncc:2556/parentPID/islandora:root
Image Sources
J. Murrey Atkins Library Special Collections & University Archives, UNC Charlotte

Additional Information