Sardi's Restaurant
Introduction
Author-Uploaded Audio
This landmark New York restaurant was opened in 1927 by the Italian-born Vincent Sardi and his wife Jenny. To attract customers and to make his restaurant stand-out among other New York restaurants, Sardi decided to decorate the walls with caricatures of movie and Broadway stars. He first hired Russian artist Alex Gard to draw the stars, and Gard continued to draw hundreds of caricatures until his death. The next long-term artist to take over the role was Don Bevan. Over the decades, Sardi's rose in popularity, even inspiring the opening of a Hollywood Sardi's. Only the West 44th St. Sardi's has stood the test of time, however. When locals and tourists step off of Broadway into Sardi's, it is trip back in time, reflected by the original wall color and the red coats worn by waiters. Sardi's remains the restaurant to frequent before or after catching a show in the historic Theatre District of New York.
Images
Right off of Broadway, this vintage sign denotes the location of Sardi's restaurant.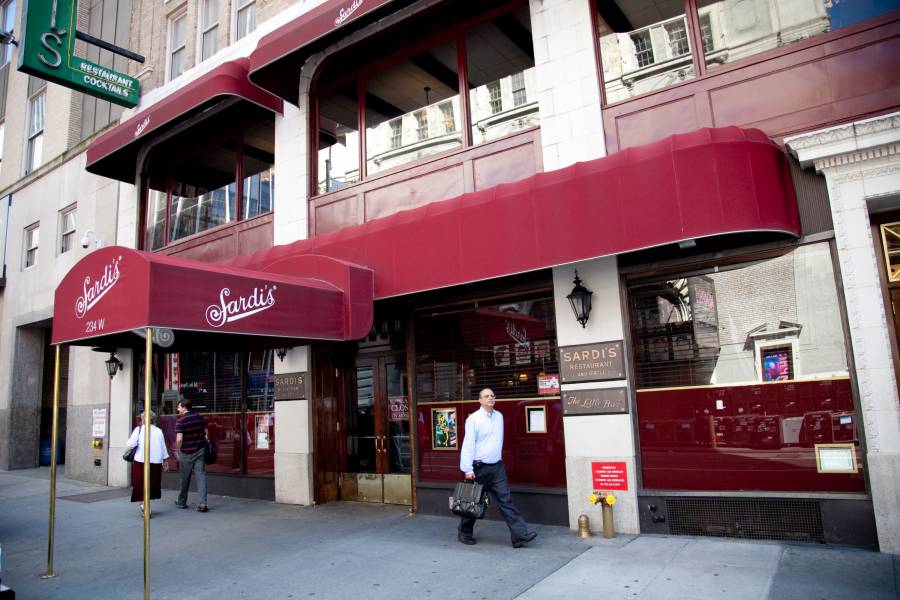 Vincent Sardi, Jr. owned and managed Sardi's for over 50 years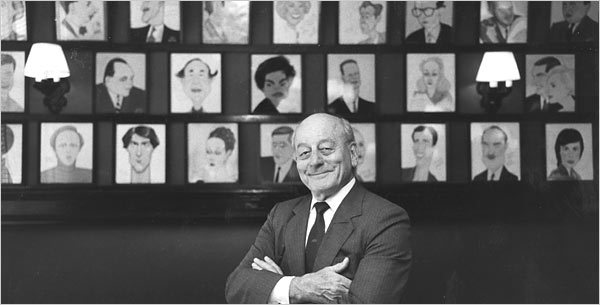 The caricature of Lucille Ball and hundreds of others hangs in Sardi's main dining room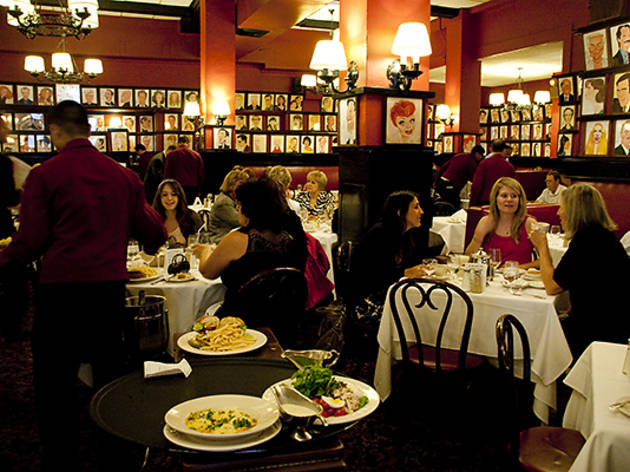 Groucho Marx dining at Sardi's, 1968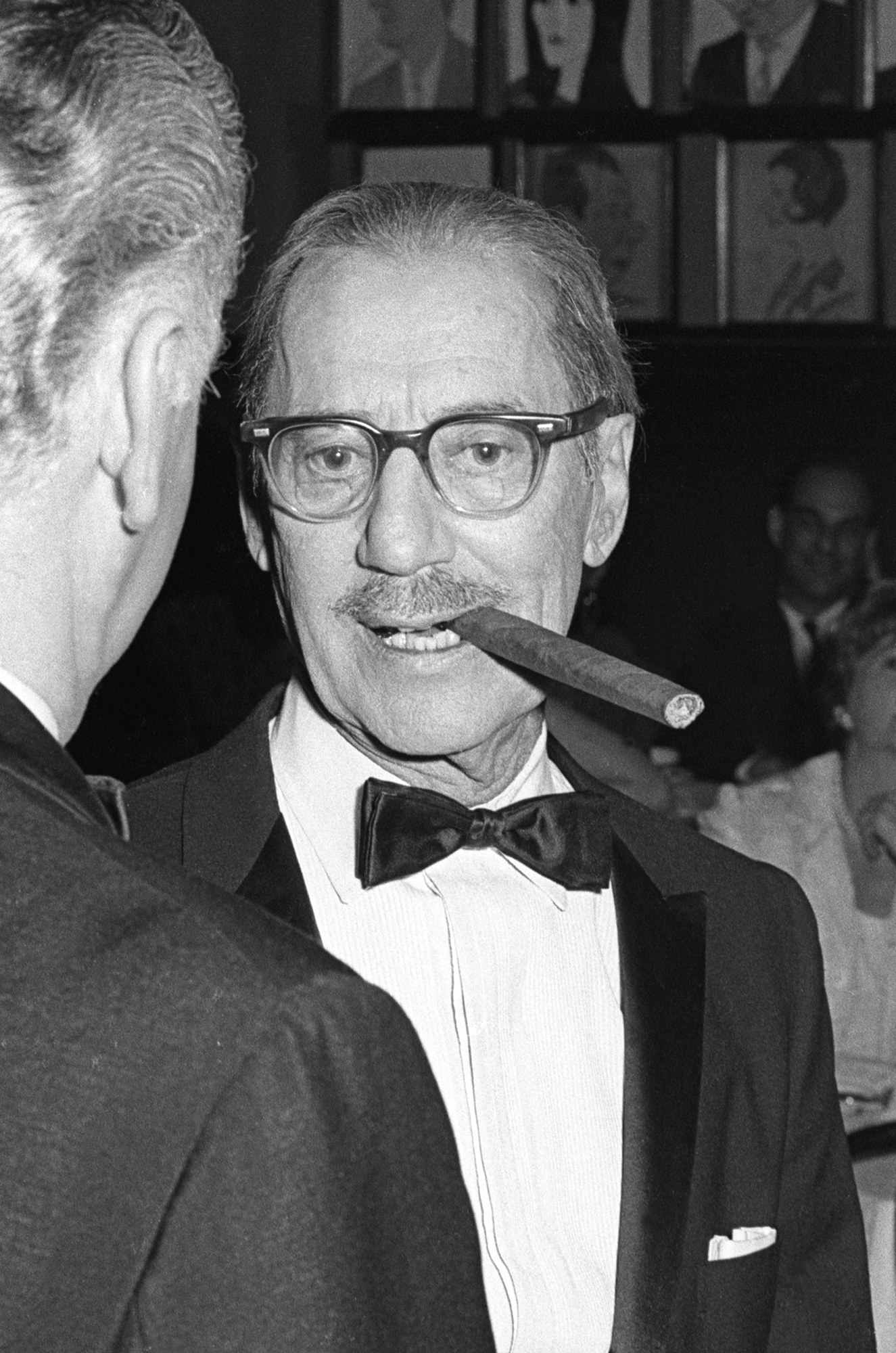 Sardi's "Little Bar" on the main level features the caricatures of one of New York's most beloved shows, "The Honeymooners." From left to right: Jackie Gleason, Audrey Meadows, Art Carney, and Joyce Randolph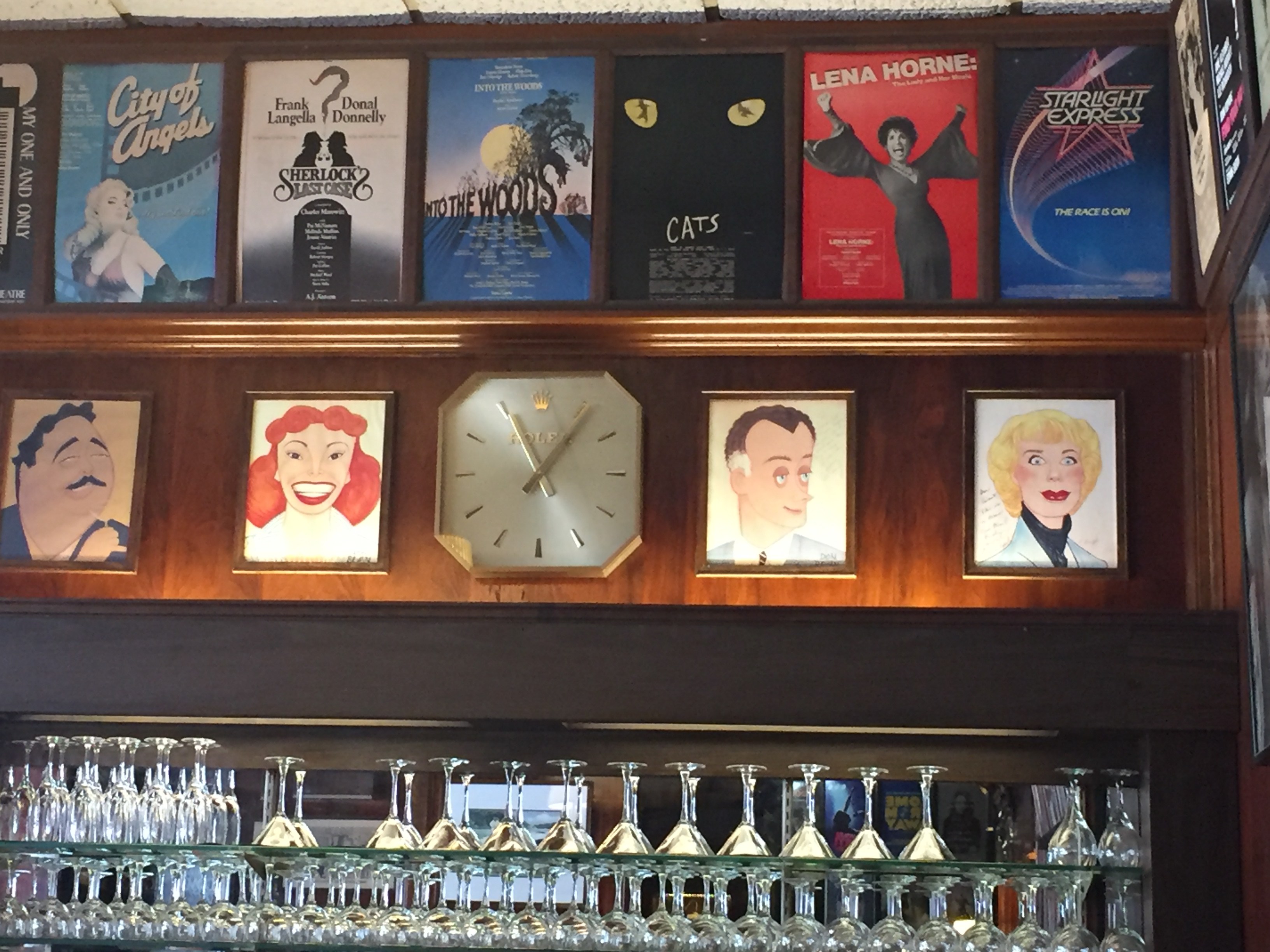 The Sardi's sign advertising the downstairs "Little Bar"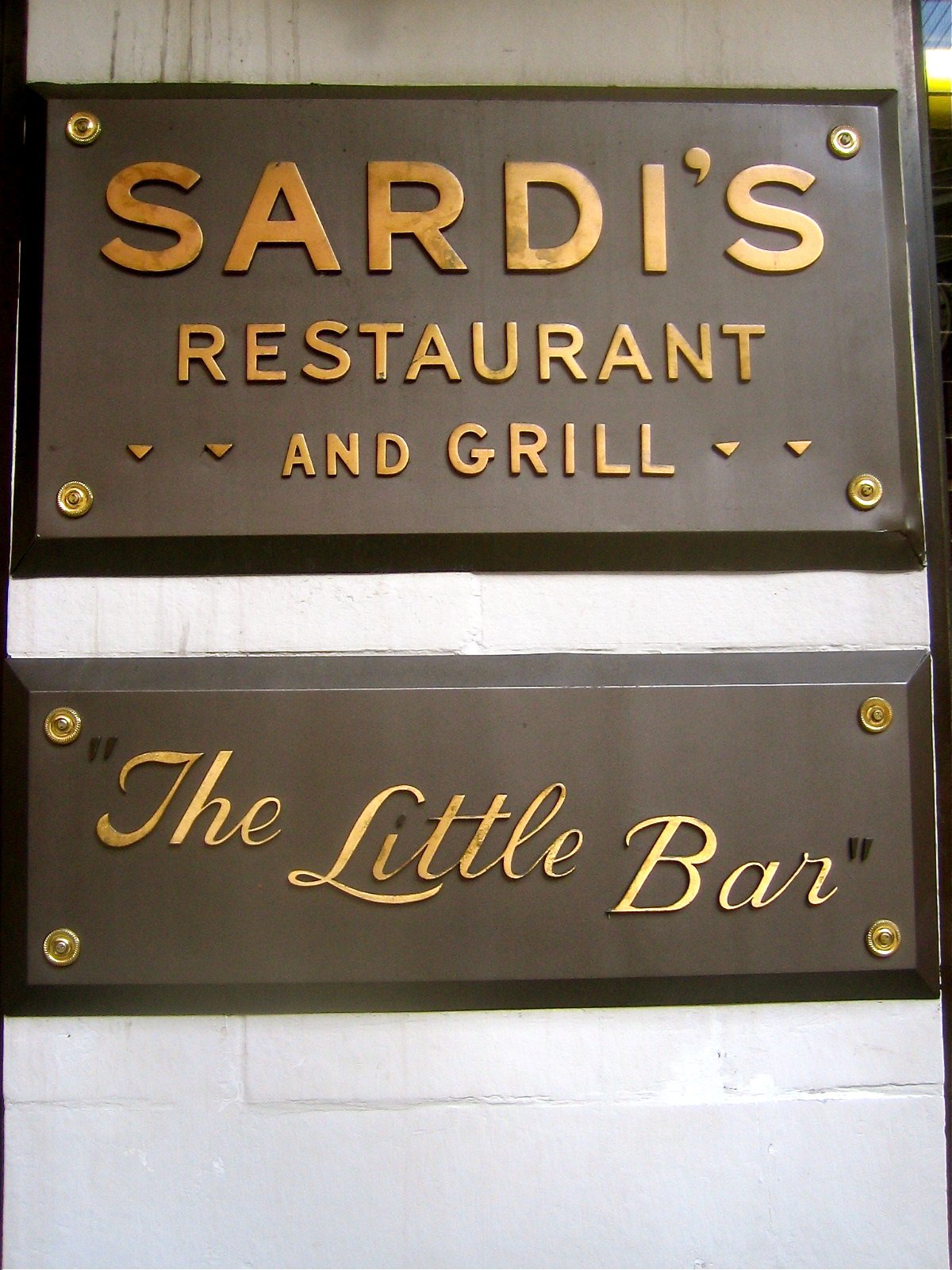 Backstory and Context
Author-Uploaded Audio
The story of Sardi's began in 1921 in the basement of a brownstone located at 246 West 44th St. when Vincent Sardi opened a small restaurant appropriately called "Little Restaurant." Over time, actors and theater goers began to simply call it "Sardi's." In 1927, 246 was demolished to make room for the new St. James Theater, so Sardi's moved to 234 West 44th, where it still remains.
In the early years during the Great Depression, Sardi's struggled to turn profit. Vincent Sardi thought of the idea to bring the famous faces of Broadway to life through caricatures. The first artist Sardi hired was Russian-born Alex Gard. Gard was not paid with money but instead was offered two meals a day at Sardi's in exchange for his artistic talents. In total, Gard produced more than 700 of the famous caricatures gracing the walls of Sardi's.  
Sardi's became the favorite New York watering hole for well-known names such as columnist Walter Winchell, Liza Minnelli, Lauren Bacall, James Cagney, Fred Astaire, and musical composer Stephen Sondheim. In addition, Sardi's was the birthplace of the Tony Award. When the actress and American Theater Wing founder Antoinette Perry died in 1946, her partner was eating at Sardi's when he came up with the idea to name an award in her honor. For years thereafter, the Tony Award winners were announced from Sardi's.
In 1947, Vincent retired from the restaurant business and handed it over to his son Vincent, Jr. For over 60 years, Vincent Sardi, Jr. was the face of Sardi's and was dubbed the "unofficial mayor of Broadway." In 1958, with the restaurant grossing over a million dollars a year, Sardi opened "Sardi's East" on East 54th St.; the restaurant was not as successful as the original and he sold it 10 years later. As the 1970s and 80s progressed, the Theatre District of New York began to decline and Sardi sold the restaurant for more than $6 million in 1985, only to resume ownership six years later. Vincent Sardi, Jr. continued to own the restaurant bearing his family's name until his death in 2007.
The Theatre District of New York has drastically changed since Sardi's first opened at 234 West 44th St. in 1927. However, both Vincent and Vincent Sardi, Jr. were creative, dedicated, and inventive enough to ensure that Sardi's would withstand any undeniable change. After all of these years there is no sign that Sardi's is slowing down, due to its historic atmosphere in one of New York's most notable areas. 
Sources
Grimes, William. Vincent Sardi Jr., Restaurateur and Unofficial 'Mayor of Broadway,' Dies at 91. The New York Times. January 05, 2007. Accessed July 01, 2018. https://www.nytimes.com/2007/01/05/nyregion/05sardi.html.
Giannotta, Meghan. Secrets of Sardi's: The hall of fame of Broadway. Secrets of New York. May 12, 2016. Accessed July 01, 2018. https://www.amny.com/secrets-of-new-york/secrets-of-sardi-s-the-hall-of-fame-of-broadway-1.11770707.
Bobb, Brooke. A Look Back at the Good Times Had, Pre- and Post-Show, Throughout Sardi's History. Vogue. June 12, 2016. Accessed July 01, 2018. https://www.vogue.com/article/parties-sardis-restaurant-tony-awards-theater.
Additional Information