Patsy's Pizzeria, Original Location
Introduction
Patsy's Pizzeria opened in this location in East Harlem on First Avenue in 1933 and over their nearly century of operation, the pizzeria has become famous for their brick, coal-fired oven which produces a unique texture and flavor for their thin-crust slices. When Pasquale "Patsy" Lanceri opened the restaurant, East Harlem was still heavily populated by Italian immigrants and their descendants. Lanceri's widow, Carmella sold the restaurant in 1991 to Frank Brija, an Albanian immigrant from Kosovo. They may have been the first restaurant in New York to sell pizza by the slice.
Images
Original Patsy's Pizzeria building in 2008 photo (Paul Lowry)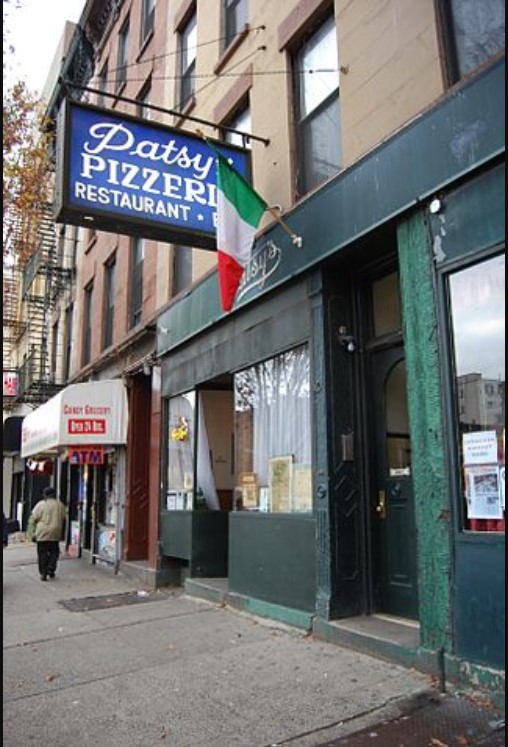 Backstory and Context
Patsy Lancieri learned to make pizza in coal-fired brick ovens by working at one of the original pizzerias in New York City, Lombardi's, before opening his own restaurant in East Harlem in 1933. Gennaro Lombardi owned a grocery store at 53-1/2 Spring Street in Lower Manhattan; it became the first licensed pizzeria in the U.S. in 1905. Two other men who worked at Lombardi's went on to open their own pizzerias: Anthony "Totonno" Pero began Totonno's in Coney Island in 1924 and John Sasso opened John's Pizzeria on Bleeker Street in 1929.
Patsy and Carmela Lanceri lived in an apartment above the restaurant. The brick oven at Patsy's Pizzeria is kept heated continuously, even when the restaurant is closed. If the oven was allowed to get cold, it would take too long to heat it back up every day, and the taste of the charring wouldn't be the same. Building codes in the city don't allow this type of oven to be built from scratch now; only existing ovens can be rebuilt or renovated. Patsy's still buys their tomatoes from only one grower, to ensure their sauce will taste just right.
The original Patsy's nephew, Patsy Grimaldi, opened a Patsy's Pizzeria in Brooklyn in 1990, but later changed the name to Grimaldi's Pizzeria. Another restaurant in Manhattan named Patsy's Restaurant, on W. 56th Street in Midtown was founded by Patsy Scognamillo in 1944. Patsy's Restaurant and Patsy's Pizzeria have been involved in a trademark lawsuit for over a decade over the use of the name "Patsy's." Patsy's Restaurant was supposedly ordered by the court to quit using the Twitter handle "patsysnyc" but was still doing so, according to Mr. Brija. The court also declared that the W. 56th Street eatery should be renamed "Patsy's Italian Restaurant" and neither business could call itself just "Patsy's." The Midtown restaurant does not serve pizza.
Brija has expanded Patsy's Pizzeria to several additional locations in Manhattan plus one in Queens (now closed) and one in the Bronx.
Sources
Anonymous. 104 Years of Pizza in New York. New York Magazine. July 8th 2009.
Marzulli, John. "Exclusive: A decade's-long rivalry between "Patsy's" restaurant heats up." New York Daily News (New York) November 9th 2013.
New York Originals. Patsy's Pizzeria - New York Originals by Jamie Mcdonald, YouTube. April 23rd 2019. Accessed December 4th 2021. https://www.youtube.com/watch?v=Jpef593qJXE.
Slattery, Denis. "Patsy's Pizzeria is set to dish out its famed thin crust pies in the Bronx." New York Daily News (New York) May 21st 2014. .
Image Sources
https://en.wikipedia.org/wiki/Patsy%27s_Pizzeria#/media/File:NYC-East_Harlem-Patsy's_Pizzeria-01.jpg

Additional Information