Katz's Delicatessen
Introduction
One of the oldest and most famous of New York's restaurants, Katz's Deli has been serving the public since 1888. At the time, thousands of European immigrants were pouring into the city, with many of them settling on the Lower East Side. A large percentage of the city's new arrivals were Jewish, and the Lower East Side became a thriving hub of Jewish culture, with Yiddish theater, in particular, flourishing. Because of its proximity to many of Yiddish theaters, Katz's became a popular gathering place for entertainers. The deli is most well-known for its use as a backdrop in the film When Harry Met Sally.
Images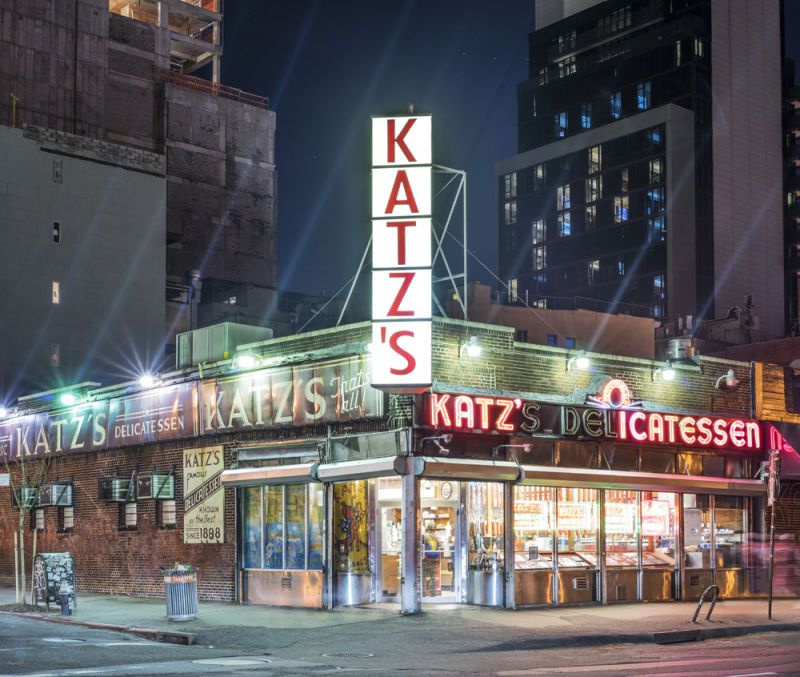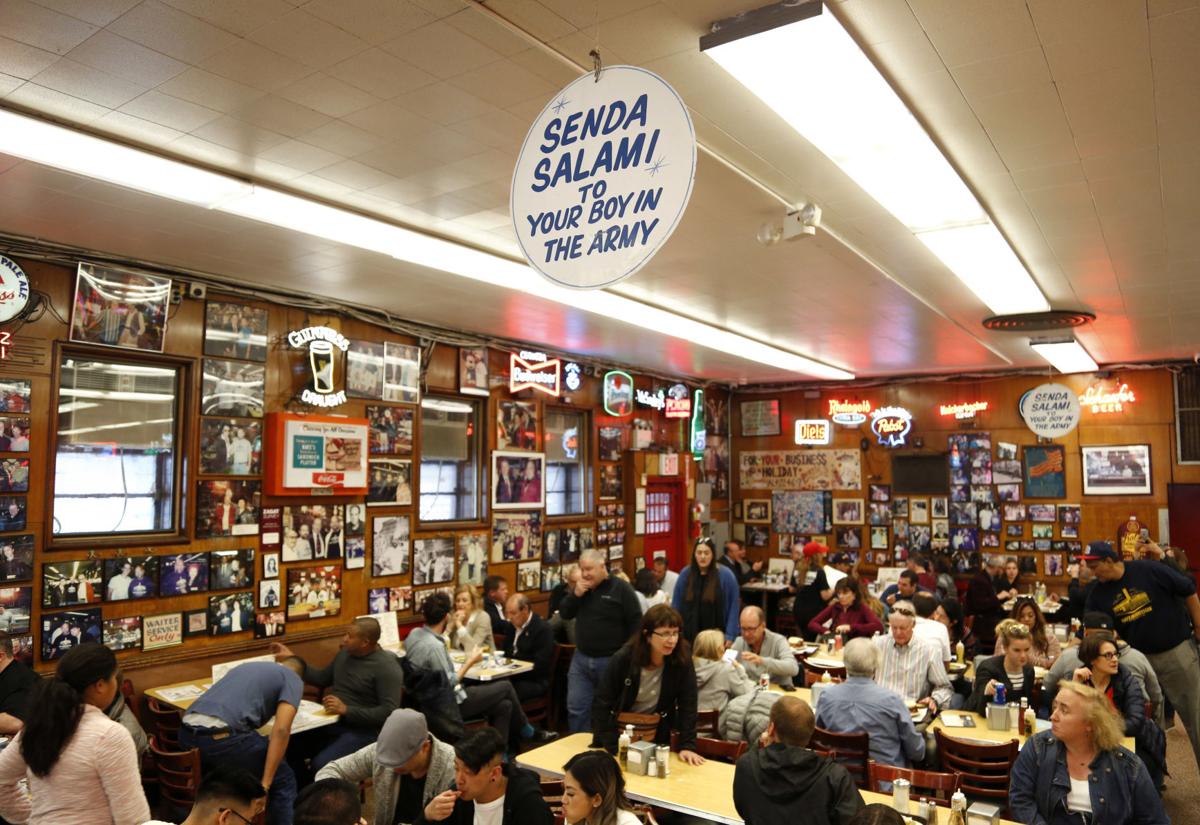 Meg Ryan and Billy Crystal in When Harry Met Sally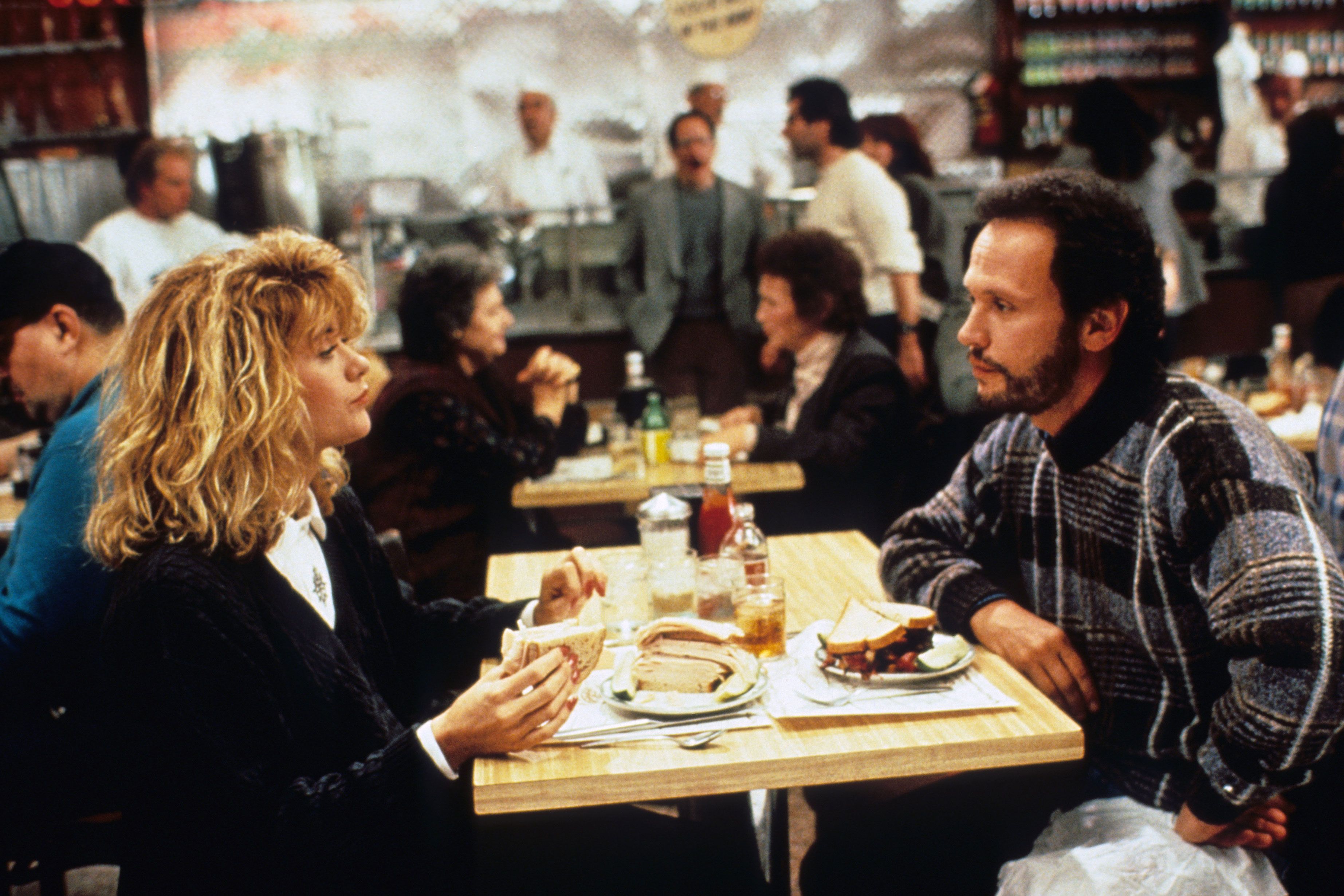 Backstory and Context
Originally known as Iceland Brothers, the world-famous Katz's Deli opened in 1888 on Ludlow Street. The deli's opening coincided with a surge of immigration from Eastern Europe. Many of those immigrants were Jewish and a number of them settled in the tenements of the Lower East Side. As a result, the Lower East Side became the heart of Manhattan's Jewish population. Iceland Brothers was one of many delis established in the Lower East Side during the immigration of the late 1800s.
In 1900, the Iceland brothers were bought out by their business partners, the Katz family, and the restaurant was renamed Katz's Delicatessen. Within a few years, numerous Yiddish theaters were established in the neighborhood and because of its proximity to them, Katz's became a regular gathering place for celebrities. To this day, its walls are still adorned with photographs of the many stars who have frequented the deli. It was also a popular spot--something of a community living room--for ordinary residents as well, particularly on Friday nights, when the deli served hot dogs and beans to locals. In 1923, when the subway was constructed, Katz's moved from its original location across the street, where it remains.
Katz's was already a beloved Manhattan institution when it was featured in the 1989 film When Harry Met Sally. The movie, in which Meg Ryan's character fakes an orgasm at a table in Katz's, made the deli known throughout the world. Today, a sign hangs above the table where Meg Ryan and Billy Crystal sat to identify it to curious visitors. Most people outside New York know Katz's primarly because of When Harry Met Sally, but the deli has actually been featured in other films, including the Frank Sinatra flick The Contract on Cherry Street, as well as Donnie Brasco and others.
The deli is as popular today as ever and is typically packed, with most diners choosing Katz's famous pastrami sandwich. It reportedly sells roughly 15,000 pounds of pastrami each week.
Sources
Kachejian, Brian . Why New York's Katz's Delicatessen Serves the Best Pastrami Sandwich , Classic New York History . Accessed March 11th 2021. https://classicnewyorkhistory.com/why-new-yorks-katzs-delicatessen-serves-the-best-pastrami-sandwich/
The King of Pastrami: Looking Back at Katz's Deli, Tenement Museum. Accessed March 11th 2021. https://www.tenement.org/blog/the-king-of-pastrami-looking-back-at-katzs-deli/.
Our Story , Katz's Delicatessen. Accessed March 11th 2021. https://katzsdelicatessen.com/our-story.
Krishna, Priya. The Most Famous Deli in America: A History of Katz's Delicatessen, Zagat. May 21st 2017. Accessed March 11th 2021. https://www.zagat.com/b/the-most-famous-deli-in-america-a-history-of-katzs-delicatessen#:~:text=Send%20Feedback-,The%20Most%20Famous%20Deli%20in%20America%3A%20A%20History%20of%20Katz's,of%20the%20most%20iconic%20delis%3F&text=Walking%20down%20Houston%20Street%2C%20it's,city%20for%20a%20pastrami%20sandwich..
Additional Information