Downtown Salisbury
Introduction
In the 1950s, Downtown Salisbury was a bustling center of progress. While a trip downtown to the movie theatres, restaurants, and various other businesses during the area's height might seem picturesque, there was one outstanding tarnish: racial segregation. Whether separate bathrooms or entrances for Black and white patrons or an entirely different hospital ward, businesses did not afford Black patrons the same treatment. To rectify this, Salisbury's Mayor formed the Wicomico County Biracial Commission to continue integration while thwarting demonstrations and protests by freedom riders and other organizations. 
Images
The location of the original English Grill pictured in December 2021. (Photo by Allison B. Stancil)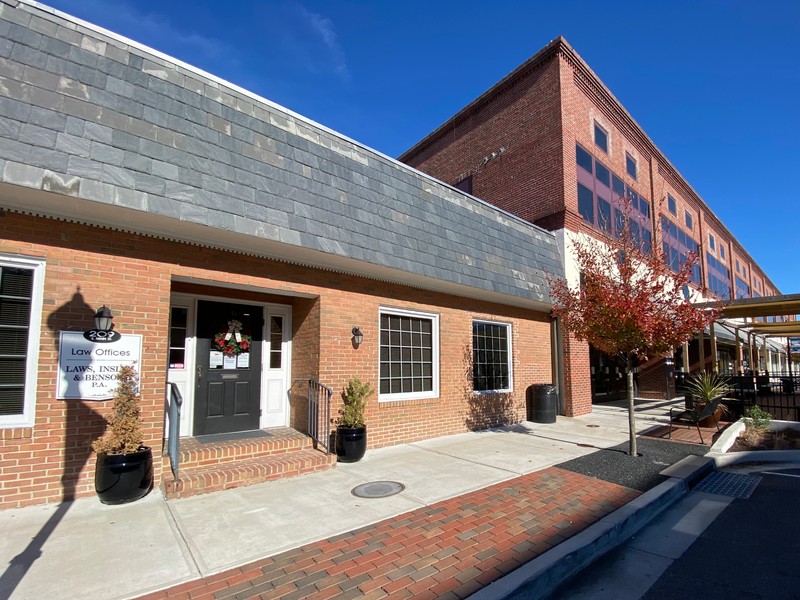 An aerial of downtown Salisbury before Route 50 and the Mill Street bridge. (Walter Thurston Photograph Collection 2016.096.2351)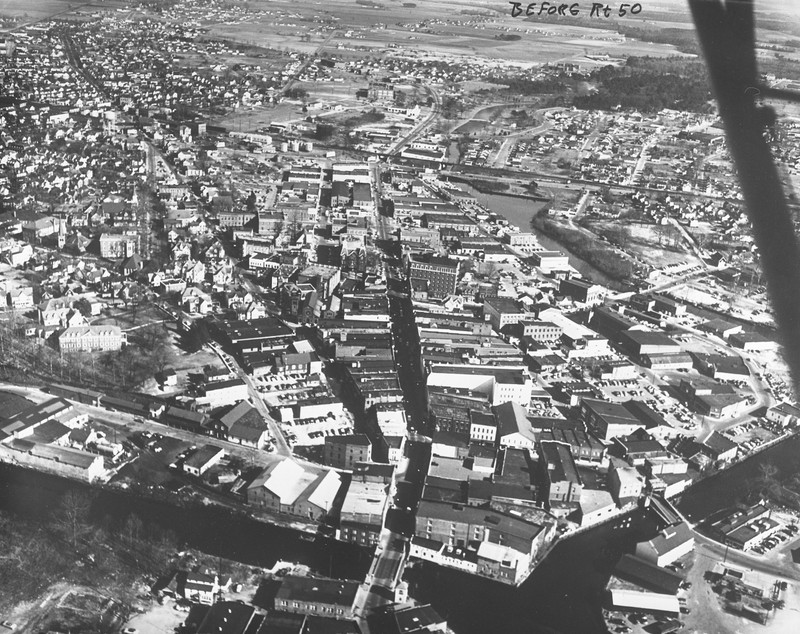 Salisbury's Main Street in the 1960s. (Walter Thurston Photograph Collection 2016.096)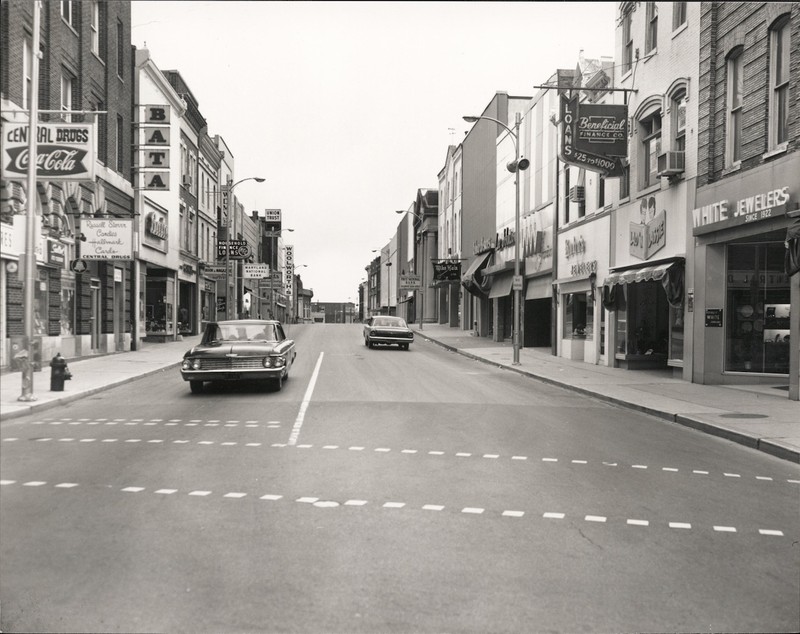 The exterior of the original English Grill is pictured in the early twentieth century. This location is now a law office. (Walter Thurston Photograph Collection 2016.096.1815)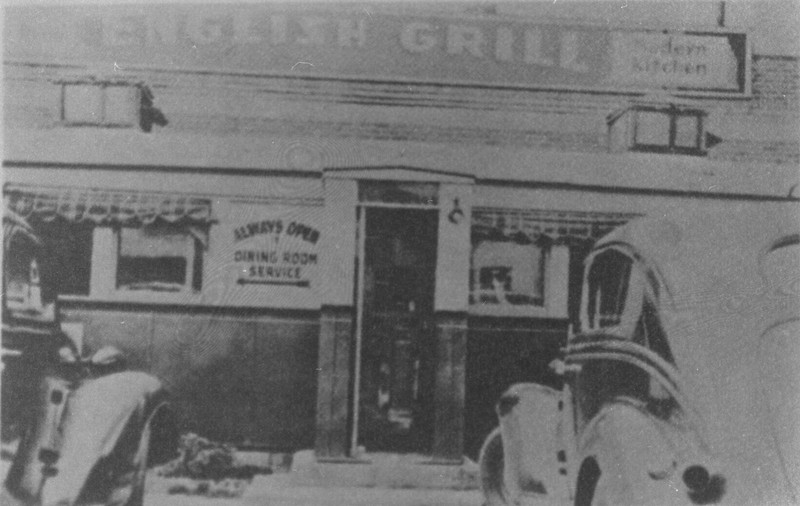 A segregated shower sign from the United States Army. A similar one may have existed at Salisbury's National Guard Armory (now Wicomico Public Libraries). (2014.083.005)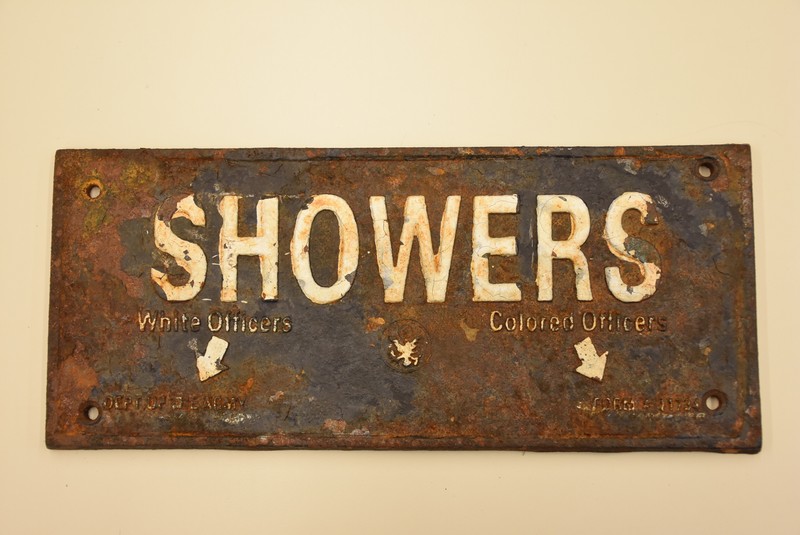 Community members meet after the 1968 riots in Salisbury. (Mel Toadvine Collection 1993.031)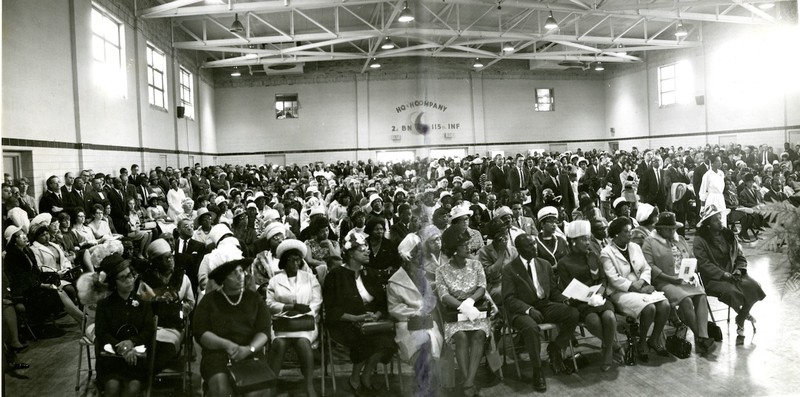 Backstory and Context
Salisbury Mayor Boyd E. McLernon formed the Bi-Racial Commission in 1960 to encourage "quiet" action against segregation, hoping that it would save Salisbury from the same unrest that other areas faced. Other community members like Commission member Reverend C. Henry Mack, did not agree, stating that he would not be opposed to demonstrations and protests if Salisbury did not act quickly enough. At the time, Salisbury was slowly beginning to integrate, but many businesses still did not afford Black patrons equal treatment. 
Growing up in the 1950s, Anna L. Lee, Wicomico County educator, remembers only being able to sit in the balcony at the movies, joking that it was the best spot in the house. While Lee can find humor in the situation decades later, she experienced firsthand the segregated Downtown Salisbury area. On November 4, 1940, the Black-operated and eventually Black-owned Ritz Theatre opened "exclusively for colored folks" on Lake Street.[1] However, Ritz Theatre suffered at least three different fires before a final blaze in 1963 that also devastated the Blue Moon Night Club, a men's hair salon, The Spot, and Polan's Five and Dime Store, all businesses that served Salisbury's Black community. 
Like the theatres, Salisbury's restaurants were also segregated. White-owned restaurants only allowed Black customers to pick their food up at the back door. Maybelle Smiley, Wicomico County educator and nurse, experienced "[looking] at the other patrons sitting and around the tables and the stools," but not being able to sit down and enjoy a meal herself.[2] When businesses in Downtown Salisbury began integrating, English Grill, which once stood where Laws, Insley & Benson P.A. law firm is today, took a more precautious approach to integration—the diner only allowed Black patrons before midnight fearing "drunken white patrons might make trouble."[3]
Sources
[1] "Gala Opening," The Salisbury Times, November 2, 1940, 3.
[2] Maybelle Smiley and Ernestine Brown, interview by Chris Grande, Matt Gresick, and Christel Savage, July 13th, 2005, Teaching American History Oral History Project, transcript, Edward H. Nabb Research Center, Salisbury.
[3] Michael Durham, "Thirty Miles Divide," LIFE Magazine 55, no. 4 (June 26, 1963), 23.
Image Sources
Allison B. Stancil

Edward H. Nabb Research Center

Edward H. Nabb Research Center

Edward H. Nabb Research Center

Edward H. Nabb Research Center

Additional Information