Hughes Mews - Foggy Bottom's Other Alley
Introduction
Hughes Mews - formerly known as Hughes Court - has a small collection of original picturesque alley row houses dating from the late 1800s. At one time this alley held as many people as nearby Snows Court and shared its bad reputation as being overcrowded, unsanitary, and unsafe. As with Snows Court, that reputation ignored the presence of the alley's low-income, but close-knit and vibrant community. The alley currently features a large mural hand-painted by artist Elizabeth Graeber, "Garden," featured in the 2014 Arts in Foggy Bottom bi-annual exhibition. 
Images
Hughes Court with a description of residents as "Merry Idlers", early 1900s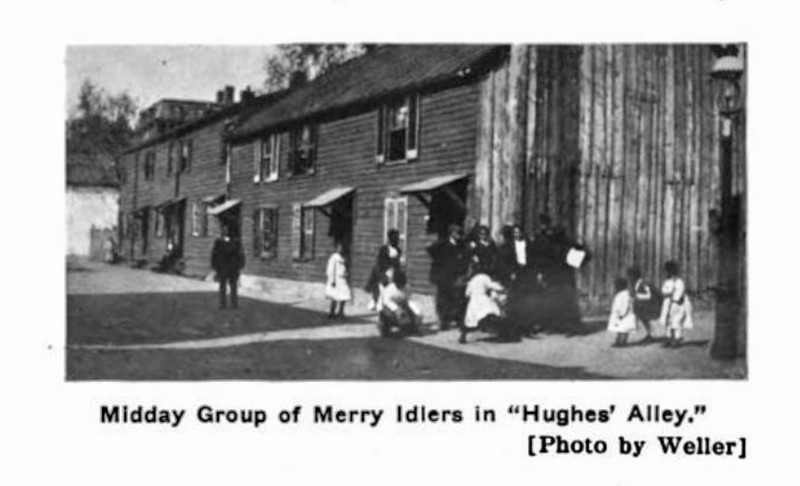 Two story, two bay modest row houses at Hughes Mews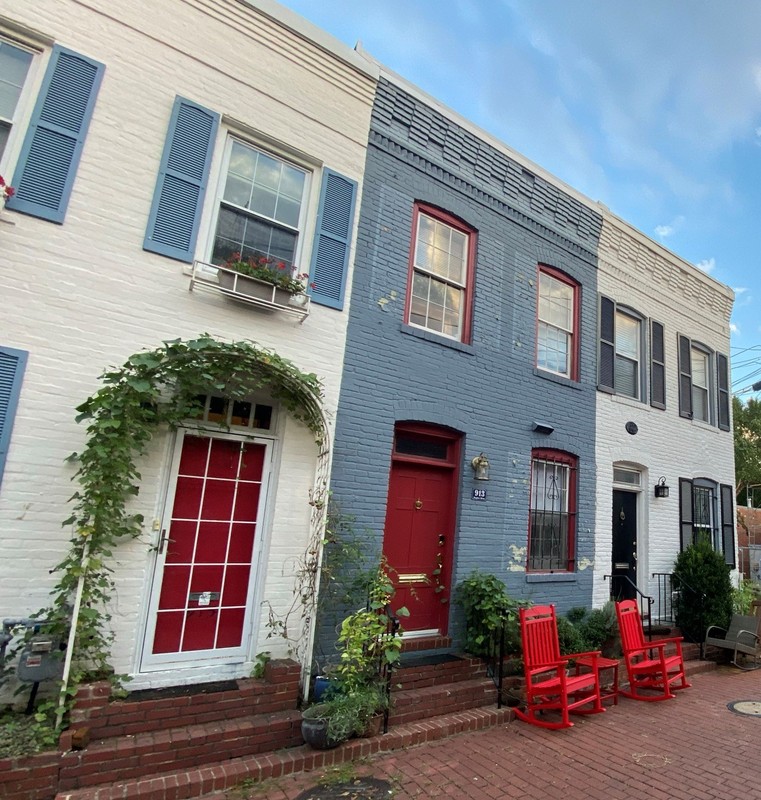 The last remaining row of historic houses in Hughes Mews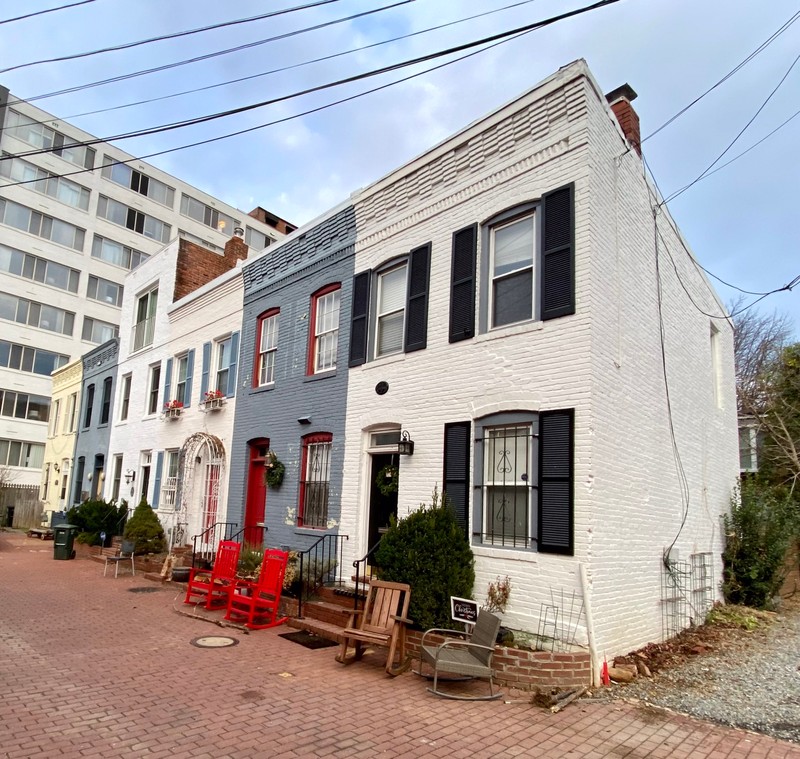 The picturesque wall with "Garden" mural by Elizabeth Graeber, Arts in Foggy Bottom, 2014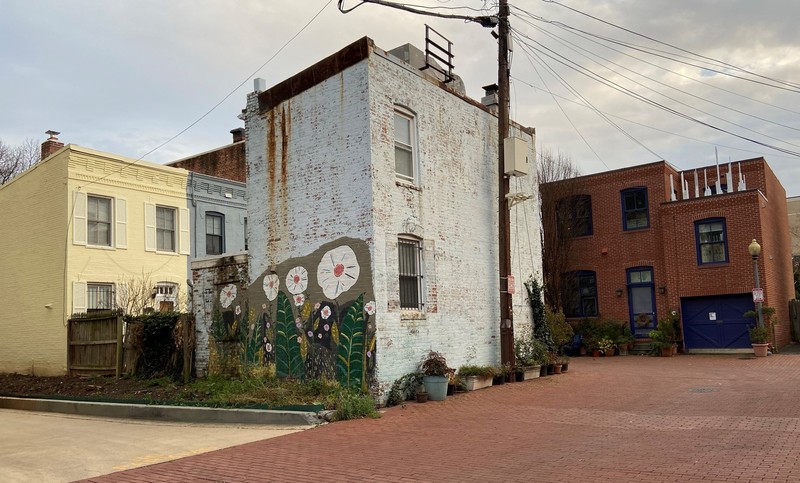 Entering the left interior section of Hughes Mews - rows and and gardens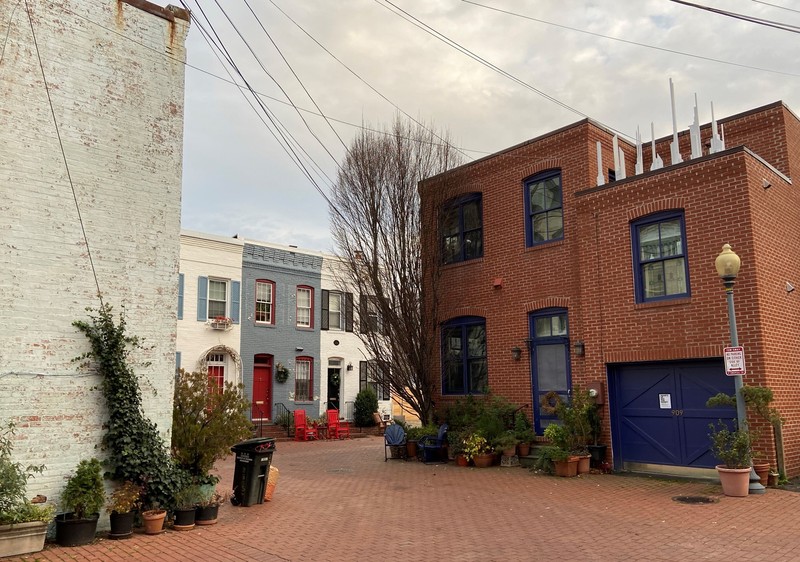 Backstory and Context
This corner is currently a lovely alley space with creative container gardens placed in front of the remaining row houses. In 1892, there were up to 300 people living in Hughes Court. Most of the old row houses were demolished and replaced by large apartment buildings in the mid-late 1950s. Only this group (911-923 Hughes Mews) of row houses remains. Nos. 911 and 913 were built in 1887 by Geo. E. Emmons for J.W. Payne. Nos. 915-923 were designed, built and owned by Danenhower & Sons in 1885.
In the early 20th century, Hughes Court shared Snows Court's reputation for overcrowding, disease, and crime. Housing "reformer" Rev. Wilbur V. Mallalieu wrote in 1912 that Snows Court, "a festering sore in the District of Columbia" was "almost immediately connected with Hughes Court, another interior alley. The two form one underworld community." Charles Frederick Weller in "Neglected Neighbors" (1909) (p. 246) included both alleys as part of "a large area of stagnation," noting that "[o]dors from the gas works and influences from large breweries are especially evident here."
There is a folktale concerning a notorious resident of Hughes Court named Sam McKeever. He worked as rag merchant by day. But by night, he was a grave robber and body-snatcher, who sold the bodies to medical schools. The story is one night in 1918, he came upon a woman in a park, jumped her from behind, threw a bag over her, knocked her on the head, and sold her to a medical school. When he got home to Hughes Court, his wife was missing and he realized what he had done, but it was too late.
In the 1950s, couples like Ben and Dorothy Burch purchased and began to renovate houses in Hughes Court, now changed to Hughes Mews. According to author Kim Prothro Williams, "as part of the process, they brought in gas, electricity, and indoor plumbing, repointed and painted the brick walls and replaced windows and roofs." (p. 68)
The modern square brick house (909 Hughes Mews) replaced a garage in 2004. It is currently occupied by artist/writer/story-teller J. Ford Huffman.
Sources
Borchert, James, Alley Life in Washington: Family, Community, Religion, and Folklife in the City, 1850-1970, Urbana: University of Illinois Press, 1982, at 206-208
Williams, Kim, The DC Historic Alley Buildings Survey, 2014 
Mallalieu, Wilbur V., "A Washington Alley," The Survey 28 (Oct.19,1912), at 69-71
Weller, Charles F., Neglected Neighbors: Stories of Life in the Alleys, Tenements, and Shanties of the National Capital, Philadelphia: The John C. Winston Co. 1909
Williams, Kim Prothro, "Hidden Alleyways of Washington, DC A History," Georgetown Press, 2023, P. 68
Image Sources
Weller, Neglected Neighbors, 1909, p. 16

Leone/Vogt, 2021

Leone/Vogt, 2021

Leone/Vogt, 2021

Leone/Vogt 2021

Additional Information