Mirror, Mirror on the -- Lamp Post
Introduction
Across the street, at the curve on the parkland corner, stands a multi-mirror sculpture elevated by the trunk of the lamp post. This sculpture is perfectly named for its location, "Watching Post." Artist Graham Caldwell created and installed it in 2014 as one of the exhibition sculptures in the Arts in Foggy Bottom Biennial event. With its large, small, and medium sized mirrors, it's also highly functional in this corner location. Caldwell picked the lamp post as a location because he liked the scale of the lamp post. According to artist, "he put the mirrors high enough off of the ground so they reflect things at some distance, but low enough that nearby people can see themselves."
The juxtaposition of mirrors-in-the-round supported by an historic lamp post and globe adds another layer to this intricate artwork and connects the past with the present. What the many round mirrors can't show is the part of this historic neighborhood that was demolished for the construction of the freeways. The 1960s construction wiped out about one-third of the neighborhood and displaced over 270 families, demolishing row houses, stables, small businesses, and an elementary school between 26th and 28th Streets. Only three modest row houses remain on a truncated I Street, visible on the other side of the freeway.
Images
Graham Caldwell's "Watching Post" at 26th and I Streets
Detail of "Watching Post"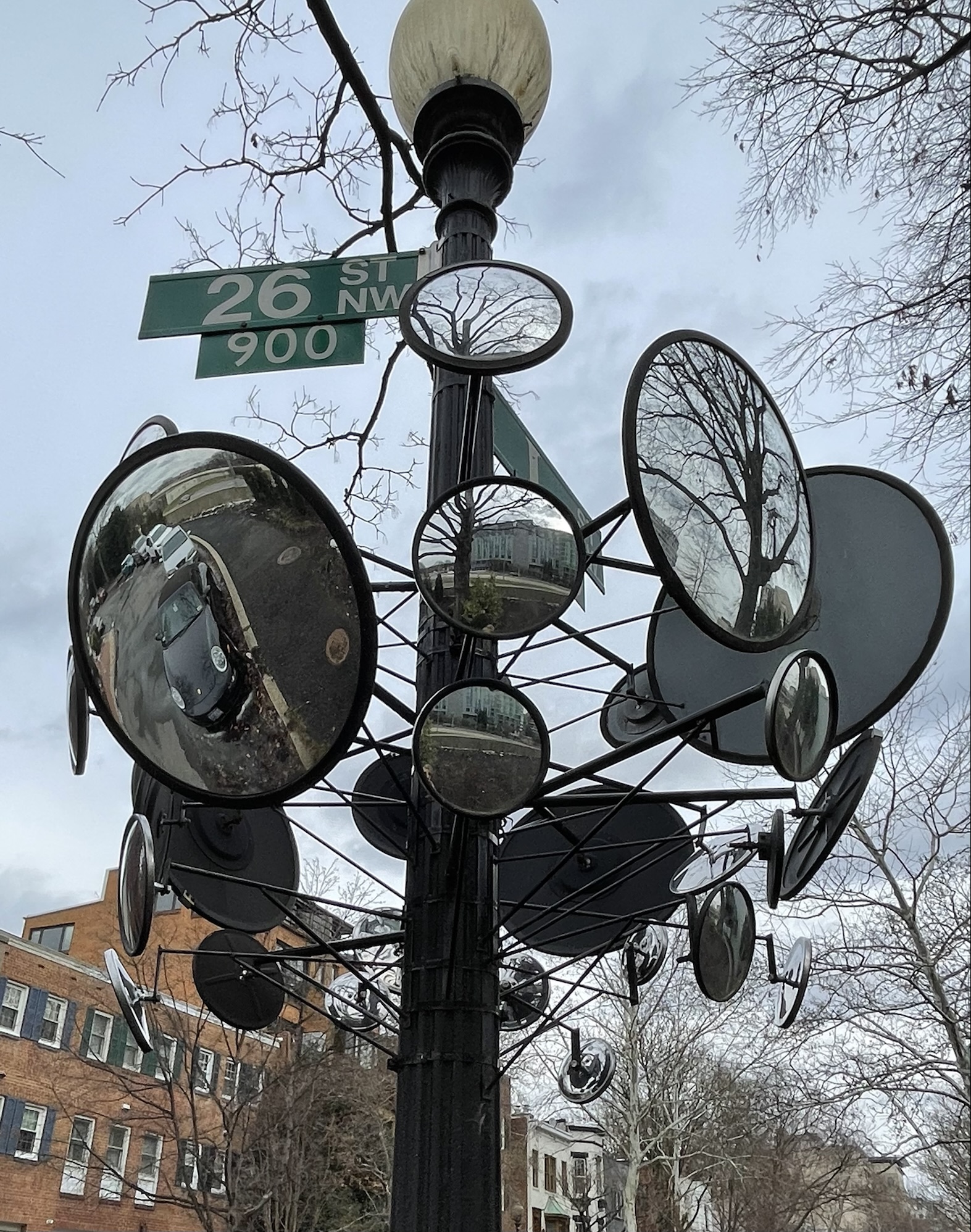 Art reflects artist Graham Caldwell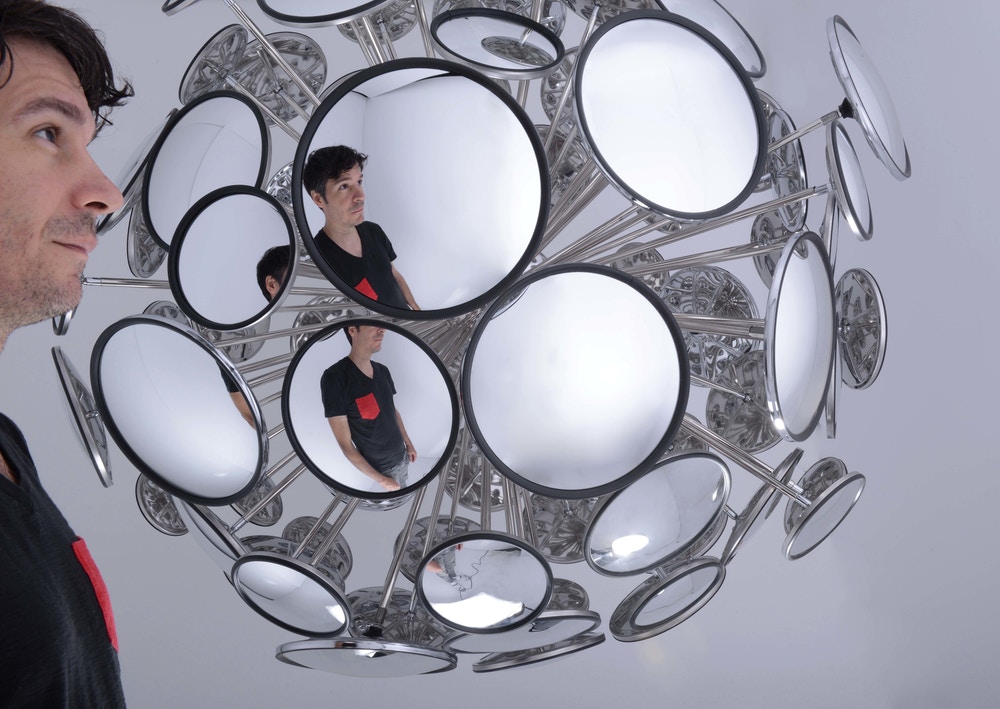 Caldwell, "Ejecta" sculpture of solid glass, steel, epoxy and hardware, dimensions variable, 2008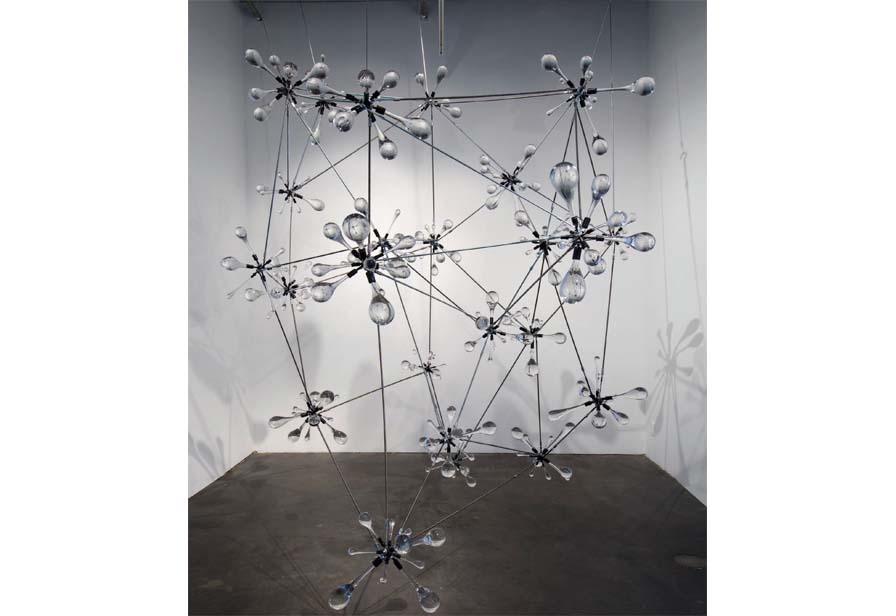 Caldwell, "Polychrome Triptych", iridescent glass and epoxy, 42 x 116 x 14 inches, 2015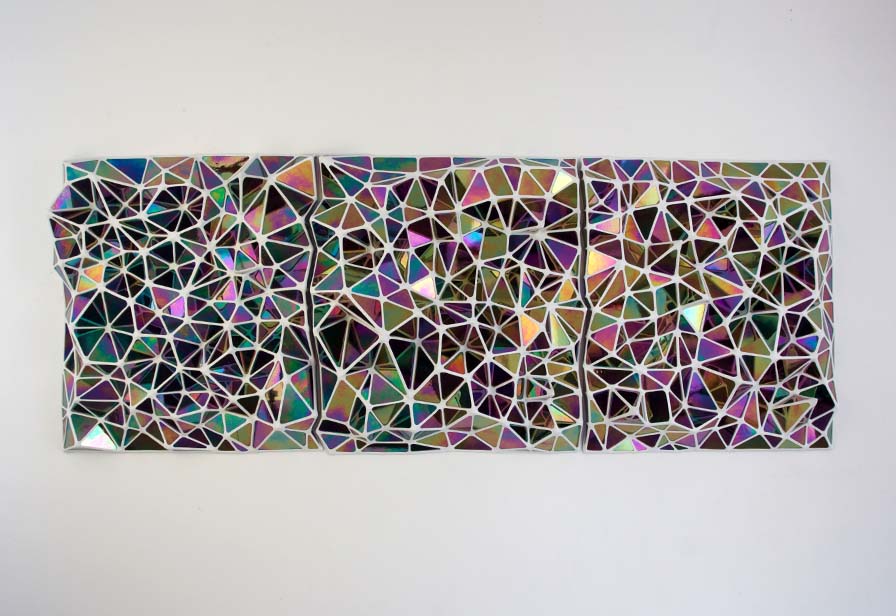 Watergate in view behind the Caldwell's glass sculpture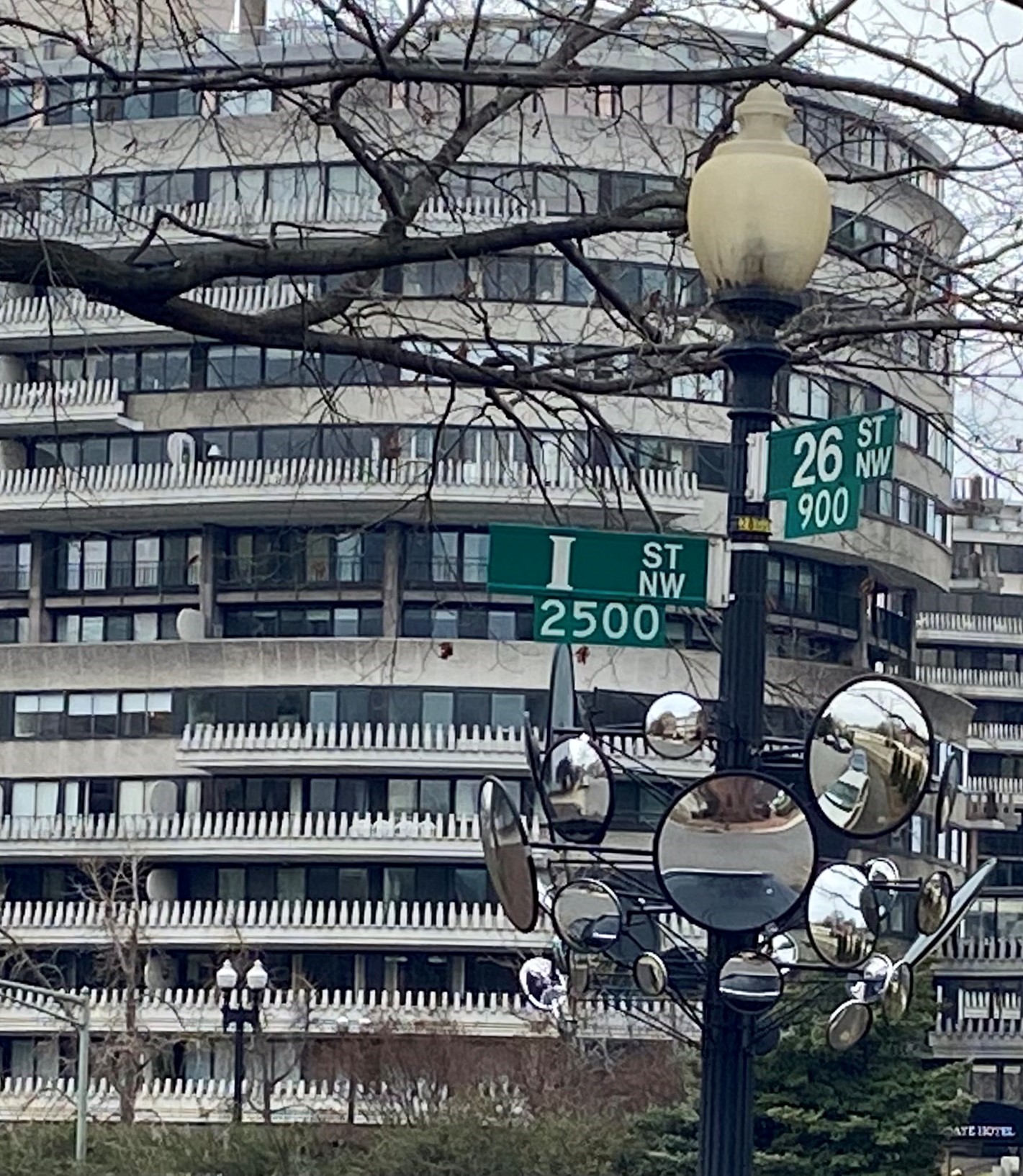 Backstory and Context
After the exhibition, "Watching Post" was purchased from the artist with funds from the Foggy Bottom Association and some of its residents. In a recent communication, Caldwell recalls, "I actually installed "Watching Post" twice! Once when the exhibition opened, and then some time later. That row of historical lamp posts were repainted by the city so I uninstalled for the painting and then reinstalled more permanently on the nice new freshly painted post. I made a stand-in post in my studio to design the work. The D.C. government has specs for those lamp posts that I tracked down online and used as a guide. The idea came quickly when I was thinking about the site, but the final form was refined over time in the studio. It was very satisfying to see sky and trees reflected in those mirrors and not tools and studio clutter!"
Graham Caldwell (b. 1973) is a prolific blown glass sculptor. According to a recent exhibition catalog, glass "is almost always seen as decorative. To my mind, one of the main reasons is because it's usually modest in scale . . . and easy to damage. (Of all the living post-war artists, Daly Chihuly is probably the most despised by housekeepers far and wide.) In contemporary culture, there is no more psychologically avoided and maligned material than glass."
Nevertheless, Caldwell "produces works that often feature a constellation of elements, both large and small, with myriad associations—to science, science fiction, and worlds both natural and unnatural, molecular and menacing: stalactites, crystalline structures, teardrops, arteries, bulbs, globes, convex and concave mirrors, antlers, talons, claws. Although they are materially fragile, some of Caldwell's works appear dangerous, capable of drawing blood. They are both beautiful and gnarly, able to attract viewers and to keep them at a distance."
Sources
Arts in Foggy Bottom Exhibition, 2014 (see link below)
Caldwell website (see link below)
Bob Nickas, Catalog of the Exhibition, 1984-2011 (see link below)
Personal communication, Graham Caldwell, 2022
Image Sources
Vogt/Leone, 2021

Vogt/Leone, winter 2022

https://www.artfare.com/graham-caldwell

Caldwell website

Caldwell website

Leone/Vogt, 2022

Additional Information