Beale Street
Introduction
The historically famous street, home of the blues and barbeque, is located right in downtown Memphis, Tennessee off of Main Street. Beale Street stretches 1.8 miles through the heart of downtown. The thoroughfare was constructed in 1841 by property developer Robertson Topp (1807-1876) and extended from the Mississippi River to Memphis' East Side. From the traveling African American musicians in the 1860s to tourists today, Beale Street remains a focal point in Memphis.
Images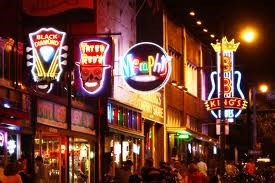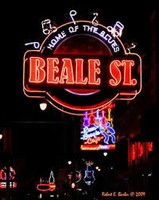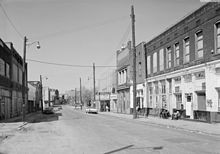 Beale Street circa 1960s-1970s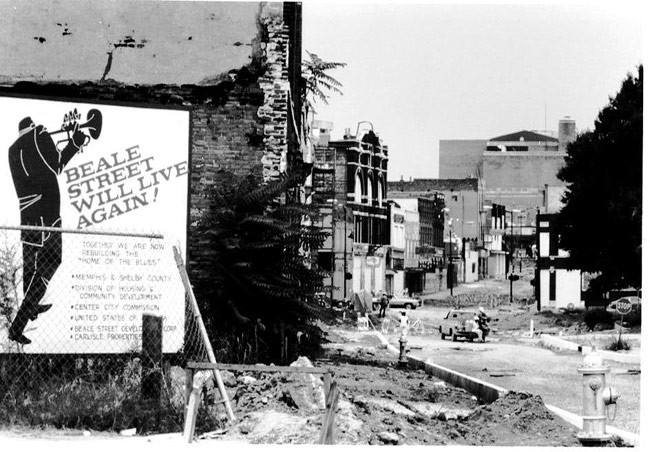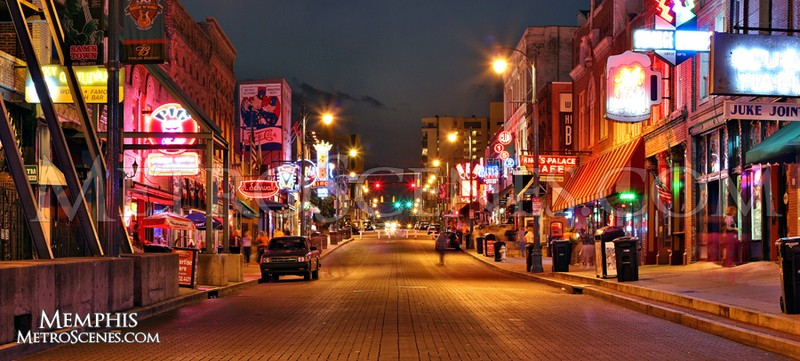 Backstory and Context
Beale Street in Memphis, TN is a historic street that has been around since 1841. Originally called Beale Avenue, it was developed by Robertson Topp as a merchant shop district due to its closeness to the Mississippi River Delta traffic and trading posts. By the 1860s many African American bands started playing in some of the clubs located on the street. The Young Men's Brass Band, formed by Sam Thomas in 1867, was the first group to draw crowds on Beale Street. After that, the area started to flourish and more theater's and parks were opened. Beale Street soon became a popular spot for African American musicians, especially Jazz. By the 1900s, most of the clubs and restaurants were actually owned by African Americans; in fact, the anti-segregationist paper "Free Speech,", co-owned and edited by journalist and suffragist Ida B. Wells, was headquartered on Beale Street. Beale Street became home to the "Memphis Blues" sound, developed by prominent jazz musicians. Key blues figures such as Rosco Gordon, Memphis Minnie, Muddy Waters, B.B. King, Louis Armstrong, Albert King, and Rufus Thomas performed on Beale Street into the 1940s.
In the mid 1960s, the once thriving street became severely ran down and most every shop and restaurant was boarded up due to mismanaged urban renewal project. Even though most of Beale Street was not being used, it was still made a National Historic Landmark in 1966. By the late 1970s and early 1980s, a group of people developed the 'Beale Street Development Corporation' and dedicated themselves to get the area back up and running.
Thanks to the 'Beale Street Development Corporation, today, the area is a thriving area that pays homage to its historic blues roots. There are several shops and restaurants on the street as well as historic locations. Beale Street has made such a comeback, that it is Tennesse's most visited attraction. The street is family-friendly, with the famous Orpheum Theatre and A.Schwab's general store, as well as other attractions. The B.B. King;s Blues Club is somewhere to catch dinner and tells the overview of Memphis' music history. However, on Friday and Saturday nights, children under 21 can not be on Beale Street after 11 pm.

Beale Street has live music performances every day, but once a year there is the Beale Street Music Festival. The festival is held in May at the Tom Lee Park by the Mississippi River and ran by the Memphis in May International Festival Inc. The festival is a three-day event, with more than 60 top artists performing. The Beale Street Music Festival draws in thousands of fans and is Beale Street's largest event.

Sources
Beale Street. Wikipedia. Accessed 3/17/17. https://en.wikipedia.org/wiki/Beale_Street.

Beale Street. Downtown Memphis. Accessed 3/17/17. http://www.downtownmemphis.com/guide-to-downtown/beale-street/.

Beale Street is the Heart of Memphis Music and Entertainment. Memphis. Accessed 3/17/17. http://www.memphistravel.com/beale-street-beal-street.

Beale Street. Beale St.. Accessed 3/17/17. http://www.bealestreet.com/.
"5 Things to Do on Beale Street by Night." Explore America's Most Iconic Street: Beale Street in Memphis | Memphis Travel. N.p., n.d. Web. 10 Apr. 2017. <http://www.memphistravel.com/trip-ideas/5-things-do-beale-street-night>.


Additional Information