Frances Ellen Watkins Harper House
Introduction
This historic Philadelphia home is where poet, fiction writer, journalist, and activist Frances Ellen Watkins Harper spent her later years and the location where she passed away on February 22, 1911. Born in Baltimore in 1825, she was the only child of free African American parents. After growing up in difficult conditions, she embarked on a career as a traveling speaker on the abolitionist circuit. Frances Ellen Watkins Harper also helped slaves escape through the Underground Railroad and wrote frequently for anti-slavery newspapers. As a journalist and activist, she worked with Frederick Douglass and other reformers, earning a reputation for her writing which led some to refer to her as the "mother" of African American journalism. The house has since been named a National Historic Landmark and is open to the public during special events.
Images
From 1870 to her death, this was the home of Frances Ellen Watkins Harper (1825-1911), a Black writer and social activist who participated in the abolitionist, Black rights, women's suffrage, and temperance movements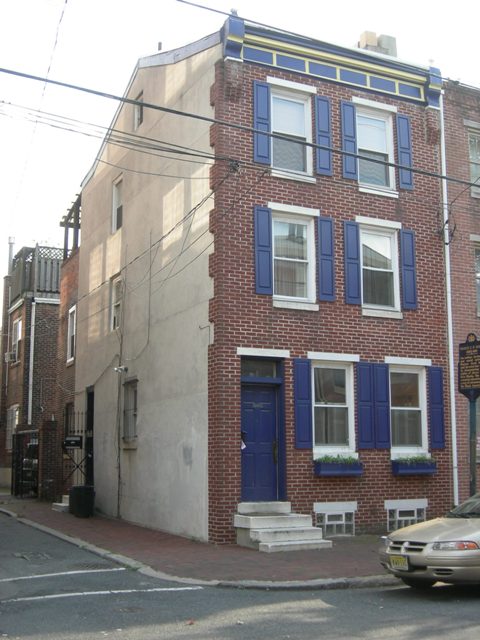 Pictured in this image is Frances E.W. Harper's published book "The Two Offers". This short story happened to be the first published book by an African American. It was one of many pieces of literature the historic author had written. Harper had wrote not only books but poems and speeches also for quite some time. She even had wrote for antislavery newspapers. With such talented writing skills, she made a large impact on society back then and still today.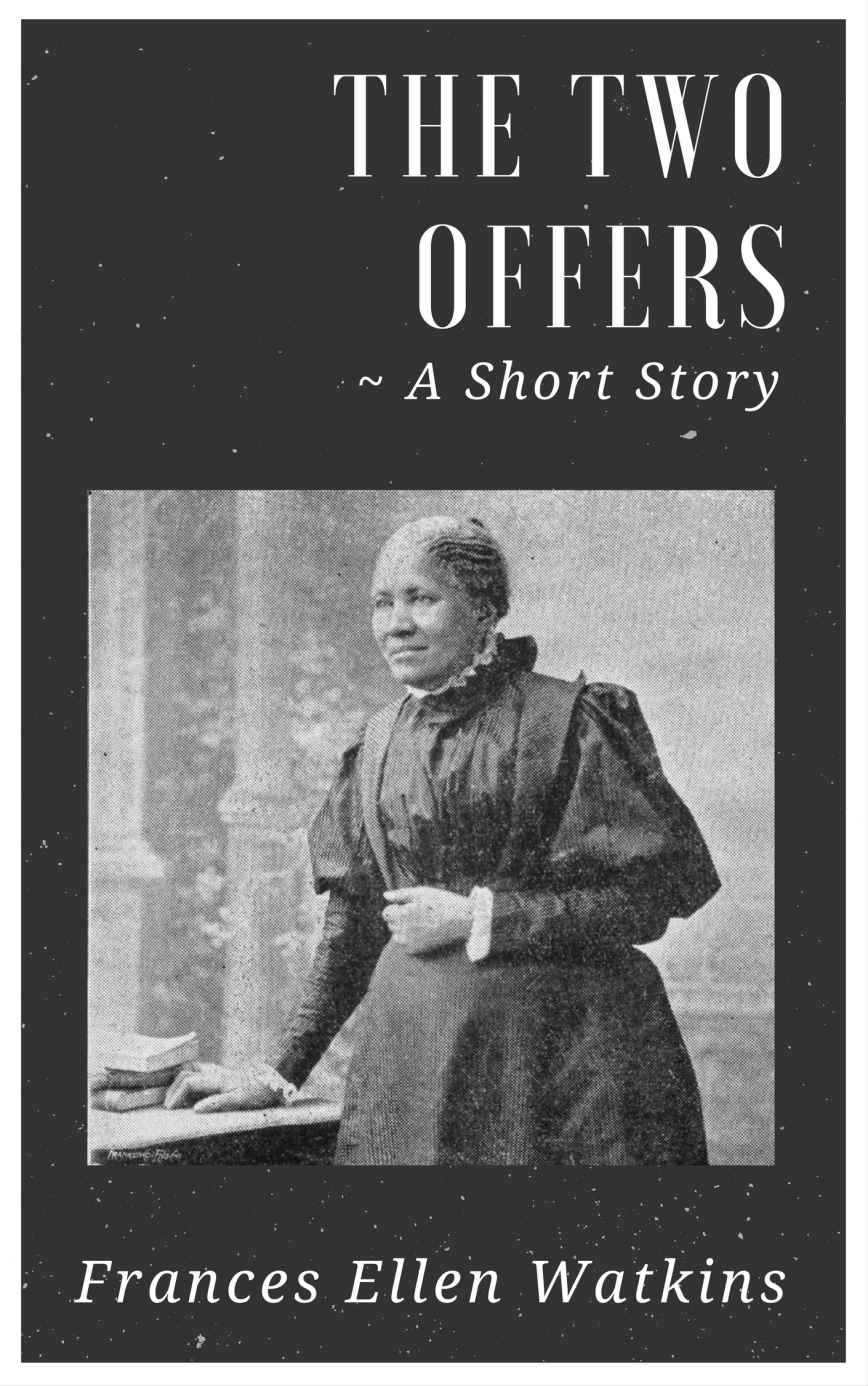 This image is a portrait of Frances Ellen Watkins Harper. In the image she appears to be middle aged and a grown mature women. She was also an extremely powerful women too. With her works of literature and her strong speaking voice, Frances influenced the lives of not only her time but forever after leaving a strong history in the fight for rights.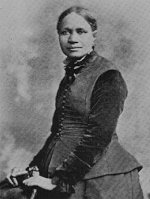 Backstory and Context
Frances Ellen Watkins Harper was born on September 24, 1825 in Baltimore, Maryland and was the daughter of two free African Americans. She was a women of many skills as she grew up to be a historic poet, fiction writer, journalist , activist, as well as a few more trades. Harper would come to be a highly valued and influential speaker at various events during the fight for civil rights, women's rights, and educational opportunities for all. Furthermore, Frances EW Harper had written various pieces of literature that were quite meaningful because she had used them to express the experiences of her and other African Americans at the time.
At the age of three, Frances had lost both of her parents and was forced to move in and be raised by her aunt and uncle, Henrietta and William Watkins. William Watkins had been an active abolitionist who was practicing self taught medicine, organized a Black literary society, and even opened up his own school in 1820 called the Watkins Academy for Negro Youth. Frances grew up following her uncle's actions, learning from what he did to fight for civil rights, all while also attending the Watkins Academy until the age of thirteen. During her times, it was normal for one to join the workforce at this age so Harper had begun to work as a nursemaid and seamstress for a Quaker household who owned a bookshop where the teenager would deeper explore in her love of literature.
At age twenty-six, Frances EW Harper had decided to began teaching. She first took a job at the Union Seminary in Ohio where she became the first woman instructor there and then after a year she moved to a school in York, Pennsylvania. During this time, Harper's home state of Maryland passed a law that any free African American living in the North were no longer allowed to enter the state with punishment of being sold as a slave, causing Harper not to be able to return to her home. Due to this she decided to dedicate her life to the anti slavery cause. She created a career being a traveling speaker for the fight for civil rights while at the same time helping slaves escape through the Underground Railroad and writing many novels and poems about her experiences.
Frances EW Harper's pieces of literature came to be historic over time as the effect they had on society showed as time went on. She began to write a lot of poetry for antislavery newspapers as her poem "Eliza Harris" was published in The Liberator, and also in Fredrick Douglass's Paper. Harper's short story "The Two Offers" was also the first published novel by an African American. She was hired by a few organizations to become a traveling lecturer and speaker including the Maine Anti-Slavery Society and Pennsylvania Anti Slavery Society. Harper's fight was not only for civil rights as she was an active activist for women's rights and the temperance movement. In 1866, Harper gave one of her most famous speeches at the National Women's Rights Convention in New York called "We Are All Bound Up Together".
Harper continued to spend the rest of her career fighting for equal rights, equal opportunities for school and work, and education for African American women. She co-founded and became vice president of the National Association of Colored Women's Clubs, was superintendent of Colored Section of the Philadelphia and Pennsylvania Women's Christian Temperance Union, the director of the American Association of Colored Youth, and lastly a member of the American Women's Suffrage Association. After collecting all of these accolades, she settled down in her home in Philadelphia but never stopped fighting for what she believed in.
Sources
Frances Ellen Watkins Harper, Poetry Foundation. Accessed December 4th 2020. https://www.poetryfoundation.org/poets/frances-ellen-watkins-harper.
The Editors of Encyclopedia Britannica. Frances E.W. Harper: American author and social reformer, Britannica. Accessed December 4th 2020. https://www.britannica.com/biography/Frances-E-W-Harper.
Frances Ellen Watkins Harper House, National Park Service. Accessed December 4th 2020. https://www.nps.gov/places/frances-ellen-watkins-harper-house.htm.
Alexander, Kerri Lee. Frances Ellen Watkins Harper, National Women's History Museum, 2020. Accessed December 4th 2020. https://www.womenshistory.org/education-resources/biographies/frances-ellen-watkins-harper.
Additional Information