All Wars Memorial to Colored Soldiers and Sailors
Introduction
Created by artist Jakob Otto Schweizer in 1934, the All Wars Memorial to Colored Soldiers and Sailors commemorates Pennsylvania's African American service members who served for the country in wartime. It is located prominently in the north end of Aviator Park next to the Logan Square traffic circle. It consists of finely detailed sculptures of African American military men who cluster about an allegorical figure representing Justice, who holds symbols of Honor and Reward. Above, American eagles surround a torch of life. The other side features four allegorical female figures representing the principles of war, liberty, peace, and plenty. First placed in West Fairmount Park, this work was moved here in 1994.
Images
The All Wars Memorial to Colored Soldiers and Sailors was created in 1934 by Swiss-American artist Jakob Otto Schweizer.

The memorial includes four statues of allegorical female figures including these two who represent the principles of war and peace.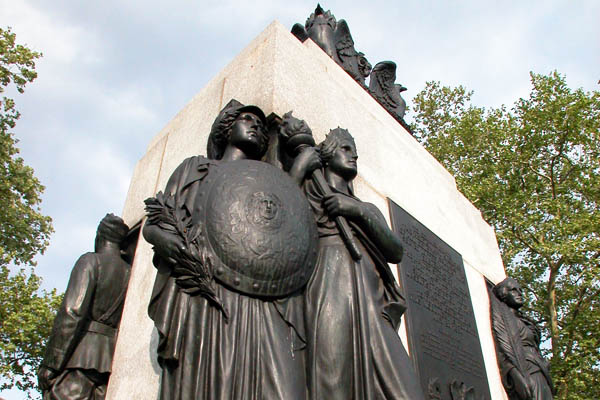 Backstory and Context
State legislator and captain of the last "colored" unit in the Pennsylvania Militia, Samuel Beecher Hart, sponsored a bill in the 1920s to erect a memorial African American service members. Enough funds were collected by 1927 and that year the governor appointed a commission of five members, all of whom were African Americans, to oversee the project. They selected Schweizer, who who was from Switzerland and had created several other monuments in the state.
The debate about where the memorial was to be located revealed blatant racism in the city at the time. Understandably, Hart believed it should be placed in a prominent location and Schweizer suggested here along what is known as the Benjamin Franklin Parkway. The city's Art Jury (the predecessor to the Art Commission) rejected the request, claiming that the memorial was "mediocre" and instead recommended another location, Fitler Square. However the neighborhood surrounding the square was inhabited by mostly working class Irish-Americans who did not the want the memorial (one landlord said that his building had "very desirable tenants living in these apartments, and we feel that such a statue opposite the apartments would cause us a loss of tenancy"). Neither did the African American community who thought the area was wholly unfit for such a memorial. In the end, the parties involved reached a compromise and the memorial was erected in 1934 in a remote spot in West Fairmount Park.
It remained there for several decades despite the efforts of Hart's granddaughter, Doris Jones Holliday, and others who worked to have it relocated to a worthy location. It was finally moved here in 1994 thanks to the work of the Committee to Restore and Relocate the All Wars Memorial, which raised funds for its restoration and relocation.
The full text of the plaque is as follows:
TO COMMEMORATE THE HEROISM AND SACRIFICE 
OF ALL COLORED SOLDIERS WHO SERVED IN THE 
VARIOUS WARS ENGAGED IN BY THE UNITED 
STATES OF AMERICA THAT A LASTING RECORD 
SHALL BE MADE OF THEIR UNSELFISH DEVOTION 
TO DUTY AS AN INSPIRATION TO FUTURE 
GENERATIONS THIS MONUMENT IS DEDICATED 
MAY 30TH, 1934
Sources
"All Wars Memorial to Colored Soldiers and Sailors (1934)." Association for Public Art. Accessed December 12, 2022. https://www.associationforpublicart.org/artwork/all-wars-memorial-to-colored-soldiers-and-sailors.
"All Wars Memorial to Colored Soldiers and Sailors, (sculpture)." Art Inventories Catalog - Smithsonian American Art Museum. Accessed December 12, 2022. https://siris-artinventories.si.edu/ipac20/ipac.jsp?session=F4W135538806S.9366&menu=search&aspect=Keyword&npp=50&ipp=20&spp=20&profile=ariall&ri=&term=&index=.GW&aspect=Keyword&term=&index=.AW&term=&index=.TW&term=&index=.SW&term=&index=.FW&term=&index=.OW&term=PA000002&index=.NW&x=10&y=12.
"The Disturbing and Inspiring History of the All Wars Memorial." Association for Public Art. June 30, 2020. https://www.associationforpublicart.org/apa-now/story/the-all-wars-memorial.
Additional Information