Tampa City Hall
Introduction
Constructed in 1915 and expanded to include an annex in 1916, this ten-story building features a central tower composed of seven stories that extends from the three-story base. The structure features a variety of architectural styles. The entrance is flanked by Doric columnns, while the poured concrete structure is covered by masonry, stone, and terra cotta exterior features. The clock in the central tower was not part of the original design. Funding for the clock was made possible by a donation drive led by some of the city's leading women.
Images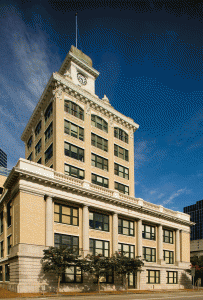 Backstory and Context
Prior to the construction of the building, this was the location of a home that dated back to the early 1840s. The owner of the home was able to use the proceeds of the property sale to move the home, which has been preserved and remains the oldest home in the city at 3210 8th Ave.
Sources
"Historic Tampa City Hall," AIA Tampa Bay, accessed 10/29/16 http://tourtampabayarchitecture.com/page_9-html
Additional Information