Graceland Cemetery
Introduction
Graceland Cemetery is the final resting place of many notable Chicagoans, including Charles Wacker, Dr. Daniel Hale Williams, and Marshall Field, among many others. Located on the North side of the city, Graceland Cemetery has become a tourist attraction thanks to its beautiful Victorian landscaping. The cemetery still offers individual and family plots for burial, as well as cremation plots. Graceland Cemetery is one of the most peaceful and beautiful attractions in the city of Chicago.
Images
Obelisk at Graceland Cemetery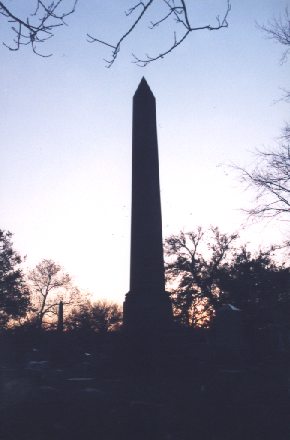 Statue of Marshall Field at his grave in Graceland Cemetery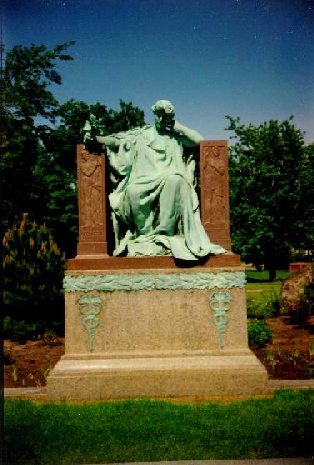 Statue of Inez Clarke at Graceland Cemetery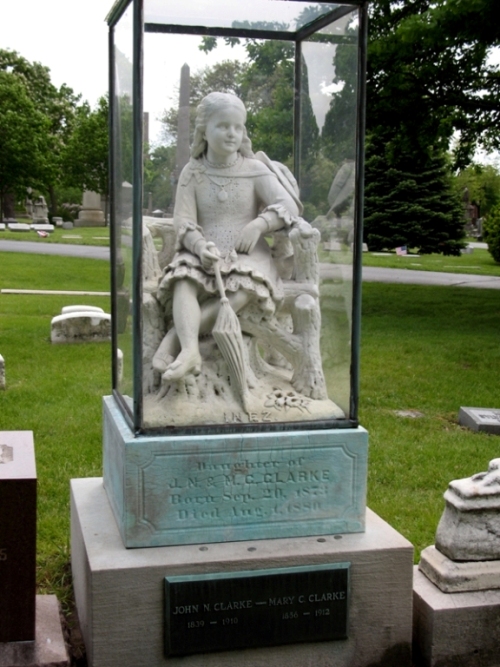 Eternal Silence statue at the grave of Dexter Graves in Graceland Cemetery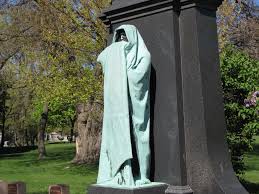 The mausoleum of Potter and Bertha Honore Potter at Graceland Cemetery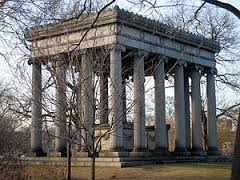 Backstory and Context
Graceland Cemetery is a private cemetery established on the North side of Chicago in 1860 by lawyer Thomas Bryan. Because of concerns with potential water contamination due to the original city cemetery being on the front of Lake Michigan, the development of Graceland Cemetery was needed. The original 80 acres of land used for the cemetery were outside of Chicago's city limits at the time in what was then Lake View, Illinois. As the city expanded, the neighborhood has retained the nickname Lakeview. Bryan hired prominent architect H.W.S. Cleveland to design the park-like concept for the cemetery. Cleveland designed the paths and uniformly-sodded burial plots to resemble more of a pastoral landscaped park as opposed to the impersonal, poorly-maintained cemeteries common to the era. In addition, landscape architect Ossian Simonds added native plant life to the cemetery to enhance the ambiance and create a Victorian park feel. The cemetery is bordered with stone walls topped with wrought iron steel point fencing that is quintessentially Victorian. Graceland Cemetery has expanded from 80 acres at its original development to 119 acres today and is owned and operated by the Trustees of the Graceland Cemetery Improvement Fund, a not-for-profit trust. It features a historic chapel that was originally designed by Holabird & Roche which has been restored to its original appearance with the addition of 500 hand-carved niches for the placement of cremated remains. There is also an outdoors area reserved for the in-ground burial of cremated remains near the chapel called the Columbarium Garden, which features a beautifully designed stone wall and bronze plaques.
Graceland Cemetery is the final resting place for many notable Chicagoans. Charles Wacker(1856-1929), for whom Chicago's famous Wacker Drive is named, is buried there. Dr. Daniel Hale Williams (1856-1931), who was not only one of the first African-American surgeons but also one of the first surgeons to perform an open-heart procedure, is also buried in Graceland Cemetery. Retailer and business man Marshall Field was also laid to rest there. There are many prominent architects (Ludwig Mies van der Rohe, David Adler, George Elmslie), businessmen (Philip Danforth Armour, Cyrus McCormick), and several famous athletes who have been laid to rest there. There have also been several mayors of Chicago buried there, including Fred A. Busse, Carter Harrison Sr., Carter Harrison Jr., and Joseph Medill.
The cemetery is also the home of a local ghost story, Inez Clarke. Legend has it that little Inez was only six when she died in 1880 after being struck by lighting during a family picnic. In response to their shock and grief, her parents commissioned a life-size statue to be placed on her grave a year after her death and after its completion, was placed in a glass case for protection. Some of the most common ghost stories surrounding the statue are that the figure of the little girl disappears from inside the glass case during thunderstorms, scared by the threat of lightning, as well as visitors claiming to hear the sound of a child weeping nearby. Cemetery records show no history of an Inez Clarke ever being buried there, despite the plaque on the statue bearing her name. It is believed that there may have been a mix-up with the child's name on paperwork for the cemetery, with "Amos Briggs" being used accidentally due to Inez Clarke's mother's maiden name on the forms. Despite this, visitors still flock to pay their respects to the little girl forever young inside her glass case, often leaving behind small toys and stuffed animals for her.
Sources
"History - Graceland Cemetery." Graceland Cemetery. Web. 28 Apr. 2015. Hucke, Matt. "Graceland Cemetery." Graveyards. 2005. Web. 28 Apr. 2015. Taylor, Troy. "Inez Clarke: Legends & Lies in Chicago's Graceland Cemetery." Behind the Legends: Weird and Haunted in Chicago. Oct. 2007. Web. 28 Apr. 2015.
Additional Information