Dunkin' Donuts Park
Introduction
Dunkin' Donuts Park, which opened in 2017, is a new – and very welcome – addition to Hartford's Downtown North area, but it is more than just a new place to go hang out on a sunny summer evening. The stadium, and the Hartford Yard Goats minor league who call it home, represent the return of professional baseball to Hartford after a 65-year hiatus. Hartford's baseball history actually dates back to the 19th century, and past ballfields and stadiums have played host to some of the greatest players the game has ever known, but the sport had been sadly absent since the Hartford Chiefs left town in 1952. Hartford's last stadium was torn down in 1955, and it would be another six decades before construction began on a new one.
Images
The Hartford Terrace seating area (under the stag) at Dunkin' Donuts Park.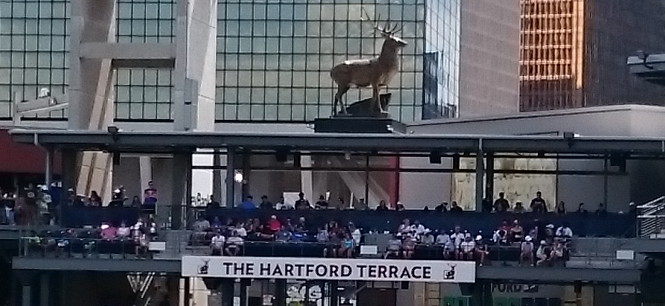 The scoreboard with the coffee cup that steams when a Yard Goats player homers.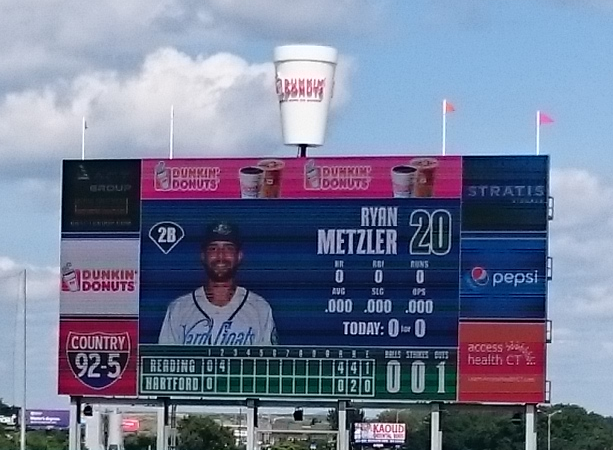 Yard Goats take on Reading Fightin' Phils at Dunkin' Donuts Park on Aug. 20, 2017...Goats lost :(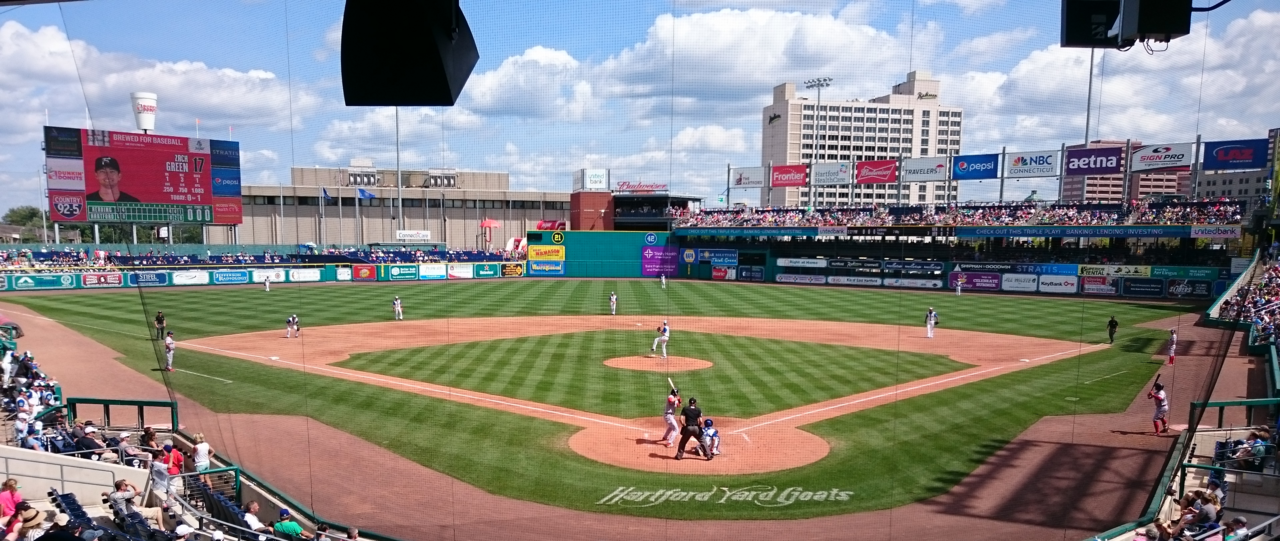 The park's main entrance where the very walls procialm the team slogan "No Goats, No Glory!"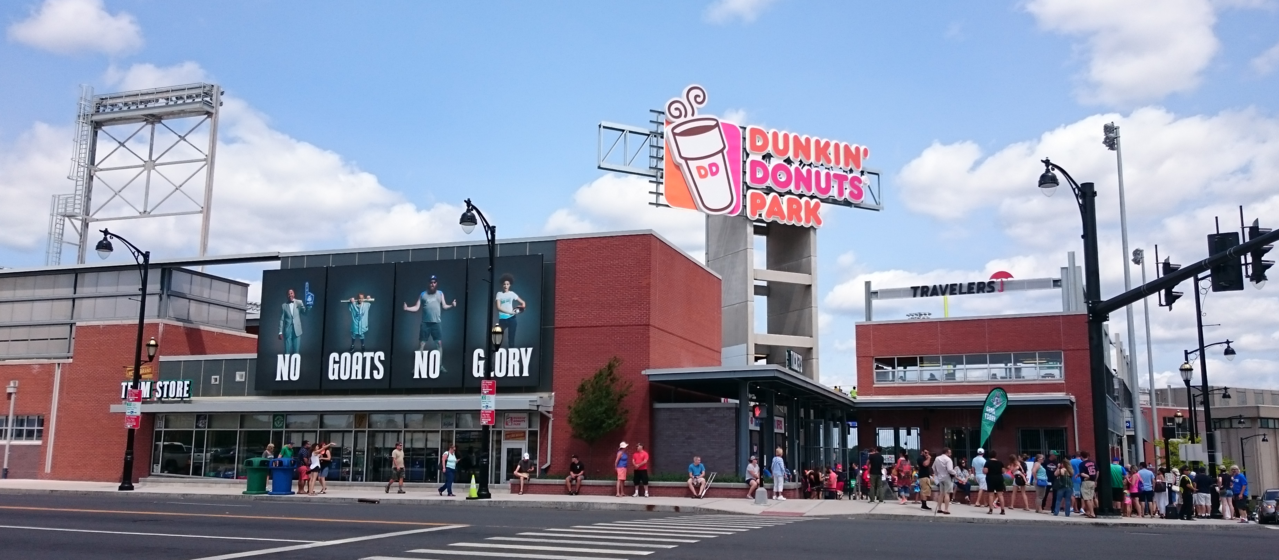 Backstory and Context
Dunkin' Donuts Park has a total of 6,121 seats, each and every one of which was occupied numerous times over the course of its inaugural 2017 season. In fact, the opening day crowd numbered 6,850, so it seems quite a few fans were even willing to stand to watch Hartford's first pro ball game of this century, millennium, etc. Sadly, the Goats lost 2 – 7 to the New Hampshire Fisher Cats, but that did not prevent the fans from packing the house for the rest of the spring and summer. In fast, 41 of 68 home games were sellouts.

The Yard Goats' warm welcome comes as no surprise, since Hartford has been a baseball town since baseball's earliest days. The Hartford Dark Blues, formed in 1874, played at the Base Ball Grounds in what was to become Colt Park. This team joined the National League in 1876, and for one season represented Hartford's one and only shot at the big leagues. By 1877, however, the team had relocated to Brooklyn.


Later Hartford ball clubs including the Senators, Laurels, Bees, and Chiefs would play at Bulkeley Stadium, which was named for Morgan Bulkeley, the Dark Blues owner who became the National League's first president as well as serving as Hartford mayor, Connecticut governor and state senator. Future Hall-of-Famers Lou Gehrig and Leo Durocher got their start with the Senators, Warren Spahn once played for the Chiefs, and even the great Babe Ruth had his last ever at-bat playing for Hartford's semi-pro Savitt Gems. Nothing remains now of these bygone ball fields but a few commemorative plaques, and yet the Yard Goats pay homage to their predecessors with a wall mural of the 1921 Eastern League champion Senators and a concessions stand named the Dark Blues Diner.


The eagerly anticipated new stadium was not without its problems. Ground was broken in February of 2015, after the June 2014 announcement that the New Britain Rock Cats (at the time a AA affiliate of the Minnesota Twins) would be moving to Hartford for the 2016 season. By 2016, the stadium was $10 million over budget and clearly would not be ready for the April opener, so the 2016 Yard Goats (now a Colorado Rockies affiliate) were forced to spend the entire season on a very extended road trip. They really had no choice, as New Britain had already leased their stadium to an independent league team. Cost overruns and political wrangling made it seem, at times, as if the new stadium would never be completed, but opened at last on April 13, 2017. Coincidentally, this was 20 years to the day that the Hartford Whalers, the city's last professional sports team, left town.
Now in its second season, Dunkin' Donuts Park remains as popular as it was last year. The Goats are still struggling a bit, but they continue to improve. The stadium itself, first to be constructed for an Eastern League team since 2005, is also a winner. Its flexible seating options range from a picnic pavilion to luxury suites to the upper deck seats offering an amazing panorama of the Hartford skyline as well as the famous sunset view that has launched a thousand Instagram posts. Kids in attendance enjoy a fun zone with bounce houses, slides and pitching booths, as well as two furry goat mascots, Chew Chew and Chompers. Concessions include regional specialties including lobster rolls and clam chowder, and a few new donut-themed (of course) creations: the BLTDD (bacon, lettuce, and tomato sandwiched between glazed donuts) and the Dunkin' & Chicken Skewers (Munchkins meet boneless wings). Continuing the Dunkin' Donuts motif, the left field has a video board featuring a giant cup of coffee that lets off steam every time a Goat goes yard.
In addition to serving as the Yard Goats' home ground, Dunkin' Donuts Park also hosts the University of Hartford Hawks and the UConn baseball teams, as well as teams from the Cape Cod Baseball League. The stadium even holds free outdoor movie nights when the team is on the road. Even in the off season, the stadium holds special events such as an annual beer festival in October. What's more, the stadium, expected to serve as a catalyst for much-needed North Hartford development, has already proven successful at boosting local revenue. Local hotels and restaurants alike have seen a spike in profits since the stadium's opening, and new development in the area expected to follow.
Whether or not the Goats post a winning season this year, one thing is for certain: Hartford fans couldn't be happier to have such a beautiful stadium to call their own. And nothing, but nothing, beats the thrill of once more being able to "root, root, root for the home team" and know that that team is here to stay.
Sources
Messina, Mike. Diamonds of the Past: Hartford's Lost Ball Parks. Connecticut History. . Accessed June 10, 2018. https://connecticuthistory.org/diamonds-of-the-past-hartfords-lost-ball-parks/.

Pro Baseball In Hartford: A History Of Highlights, Lengthy Gaps, Quirky Incidents And Passionate Fans. Hartford Courant. March 26, 2017. Accessed June 10, 2018. http://www.courant.com/hartford-magazine/features/hc-hm-yard-goats-hartford-baseball-history-20170325-story.html.

Baker, Paul. Dunkin' Donuts Park – Hartford Yard Goats. Stadium Journey. October 27, 2017. Accessed June 10, 2018. https://stadiumjourney.com/stadiums/dunkin-donuts-park-hartford-yard-goats/.

Dunkin' Donuts Park. The Official Site of Minor League Baseball. . Accessed June 10, 2018. http://www.milb.com/content/page.jsp?ymd=20100309&content_id=8725166&sid=t538&vkey=team1.

Hartford Yard Goats. The Official Site of Minor League Baseball. . Accessed June 10, 2018. https://www.milb.com/hartford.

Spedden, Zach. Dunkin' Donuts Park / Hartford Yard Goats. Ballpark Digest. April 17, 2017. Accessed June 10, 2018. https://ballparkdigest.com/2017/04/17/dunkin-donuts-park-hartford-yard-goats/.

Amore, Dom. From Gehrig To Bagwell, A Proud History Of Baseball In Connecticut. Hartford Courant. March 02, 2014. Accessed June 10, 2018. http://www.courant.com/courant-250/moments-in-history/hc-from-gehrig-to-bagwell-a-proud-history-of-baseball-in-connecticut-20140301-htmlstory.html.

Cats Walk All Over Yard Goats in Park Opener. The Official Site of the Hartford Yard Goats. April 13, 2017. Accessed June 10, 2018. https://www.milb.com/hartford/news/cats-walk-all-over-yard-goats-in-park-opener/c-224191678?tid=196097242?tid=196097242.

Mock, Joe. Dunkin' Donuts Park: Ending Hartford's Losing Streak. Baseballparks.com. . Accessed June 10, 2018. http://www.baseballparks.com/indepth/dunkin-donuts-park/.

Eaton-Robb, Pat. A year later, Hartford shows off new $71 million stadium. AP News. March 30, 2017. Accessed June 10, 2018. https://www.apnews.com/b9c60bf2ca9242c29ac2692a60e3bde0.

Lurye, Rebecca. 7 Things That Kept Yard Goats Fans Coming Back. Hartford Courant. September 01, 2017. Accessed June 10, 2018. http://www.courant.com/sports/baseball/yard-goats/hc-hartford-yard-goats-success-20170830-story.html.

Dillon, Kevin. Hartford Yard Goats preview: What to watch for at the team's home opener at Dunkin' Donuts Park. MassLive. April 13, 2017. Accessed June 10, 2018. https://www.masslive.com/sports/2017/04/hartford_yard_goats_preview_wh.html.

Dunkin' Donuts Park: Upcoming Events. Hartford.com. . Accessed June 10, 2018. https://hartford.com/venue/dunkin-donuts-park/.