Virginia Hall
Introduction
By the early 20th century, Tusculum recognized the need to accommodate it's growing population of female students. To meet that purpose, and with the financial assistance of Nettie Fowler-McCormick, Tusculum erected a new building in 1901. Designed by influential Chicago architect Louis Sullivan, Virginia Hall was the first women's dorm, home to the domestic science program, and eventually served as a campus dining hall. Today, Virginia is home to the Admissions Office, Registrar's Office, University Marketing, and the Department of English.
Images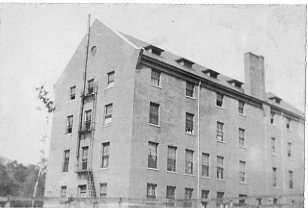 Virginia Hall as seen from the front.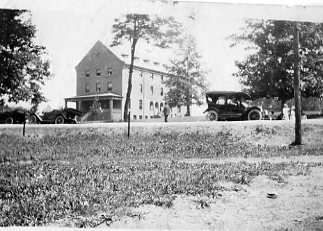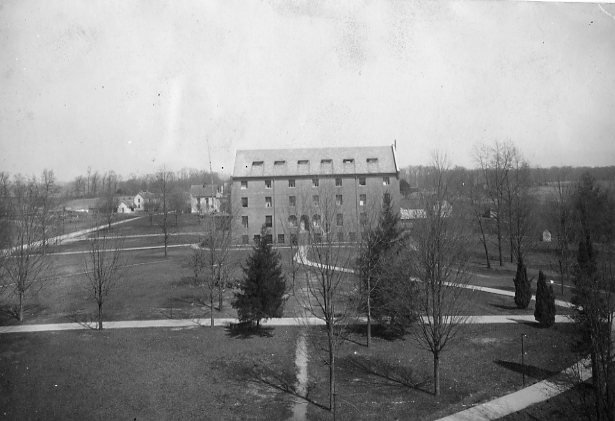 Virginia Hall as seen from it's side entrance.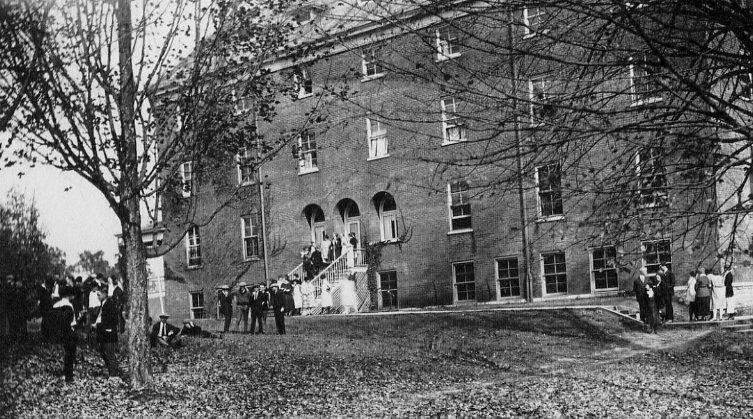 Students cook during a class in Virginia Hall's basement.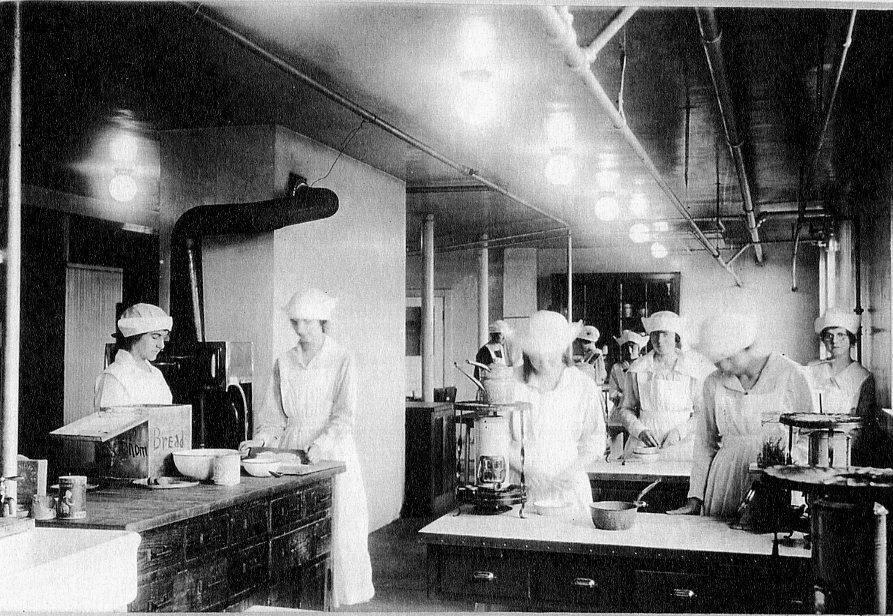 Students eating in Virginia Hall's dining room.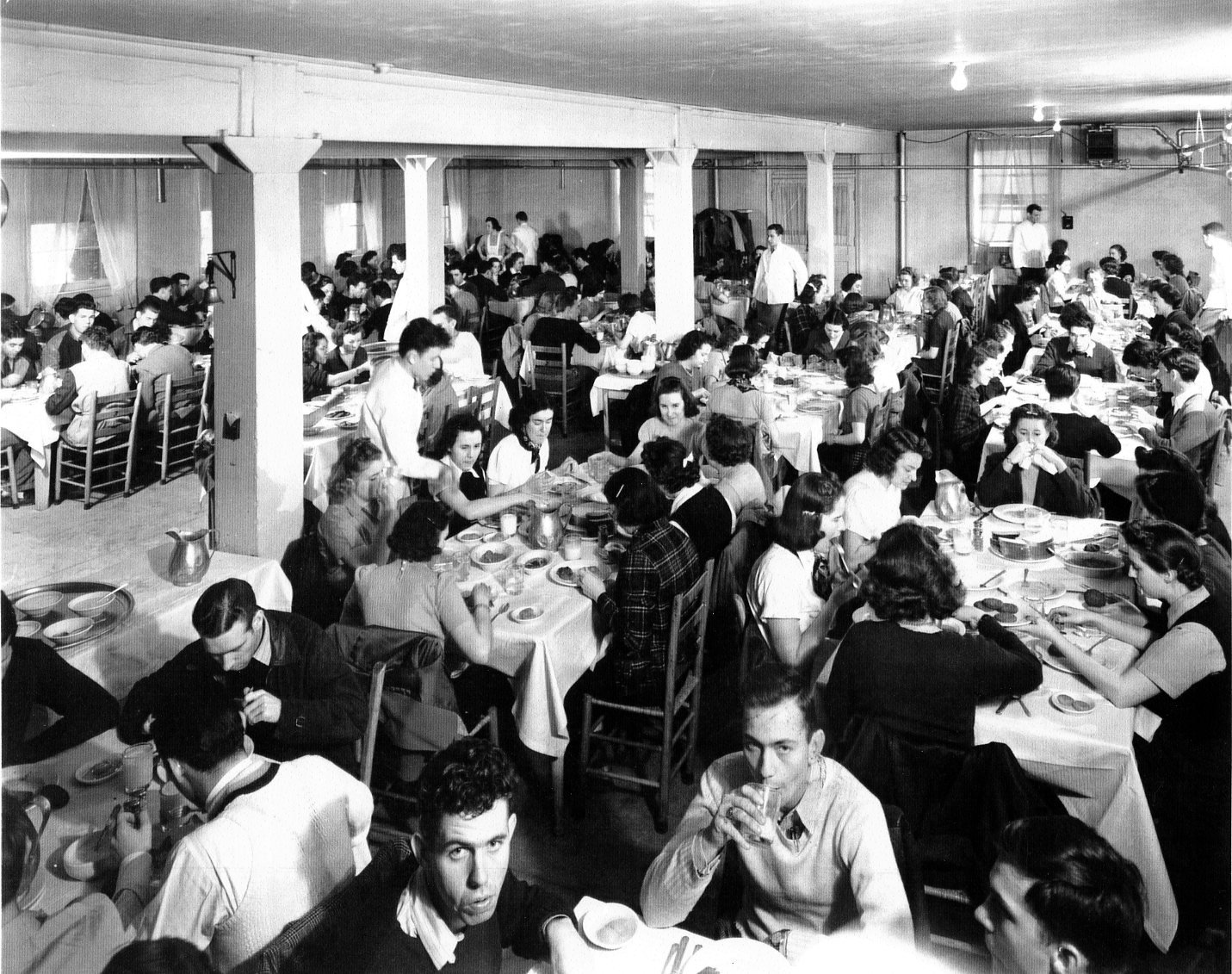 Students socializing in Virginia Hall.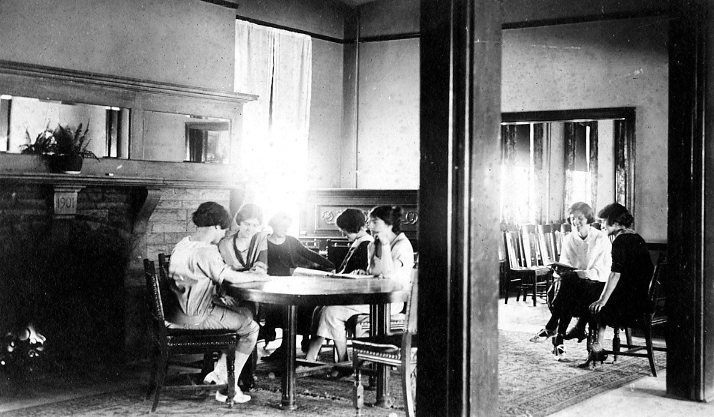 Backstory and Context
By the early 1900s, Tusculum had an influx of women students and few places to house them. It was decided by then President Samuel A. Coile, that a new building would be constructed strictly for women. With the help of $10,000 from Mrs. Nettie Fowler McCormick, the building was announced in March of 1901. Virginia Hall was named in honor of the McCormick's youngest daughter, Mary Virginia McCormick.
The building and its construction were designed by Louis H. Sullivan, a dear friend of the McCormick's who often did work for them. Virginia Hall was Tusculum's first "modern" building, featuring the addition of baths, furnace heat and fire escapes. The building even included some of the first flush toilets in the area.1 Mrs. McCormick was very influential in the design of the interior of the building. "No details were too small for her interest and concern; no practice of contractor or superintendent escaped her attention".1 When the time came to furnish the building, Mrs. McCormick chose pieces that fit her sense of value and taste. She went as far as to write to Tusculum's President, asking that that a piece of varnished woodwork be mailed to her so that she might better choose bureaus and washstands that would "harmonize" with the surrounding furniture and rooms.1
The addition of Virginia Hall marked an overall change in campus life and curriculum. The McCormick's donated an additional $6,000 in 1902 that built a heating and power plant not just for Virginia, but also Craig and McCormick Halls.1 Virginia also ushered in a new and significant innovation in curriculum. Tusculum not only used this building for women's dormitories, but also for the newly established program of "domestic sciences".1 Mrs. McCormick thought this study was indispensable for the many young "mountain girls" that attended the College. She would even paid the salary of the instructor purchased all supplies and equipment needed.
The course of study, which was not part of a college degree program, taught enrolled women how to cook and sew garments. President Coile was able to report on the success of the programs first year, "Our young girls are now cooks as well as experienced matrons, and are cutting fitting, and making their own garments."1 The program's ultimate success can been seen in President Coile's last year, 1906-07, when 99 women were enrolled in the program.

Sources
1. Fuhrmann, Joseph T. The Life and Times of Tusculum College. Greeneville, TN. Tusculum College, 1986.

2. Tusculum University Archives