Former Residence of Djuna Barnes
Introduction
This Greenwich Village apartment was home to Djuna Barnes who was one of the first major novelists to make the lives and issue of lesbianism a major focus of her work. Published in 1936, Barnes' novel Nighthawk appears today as a landmark work and is based on Barnes's own relationship with another woman, Thelma Wood. Though she spent a number of years as an expat in Paris, Barnes returned to New York City in 1940 and lived at Patchin Place until her death in 1982.
Images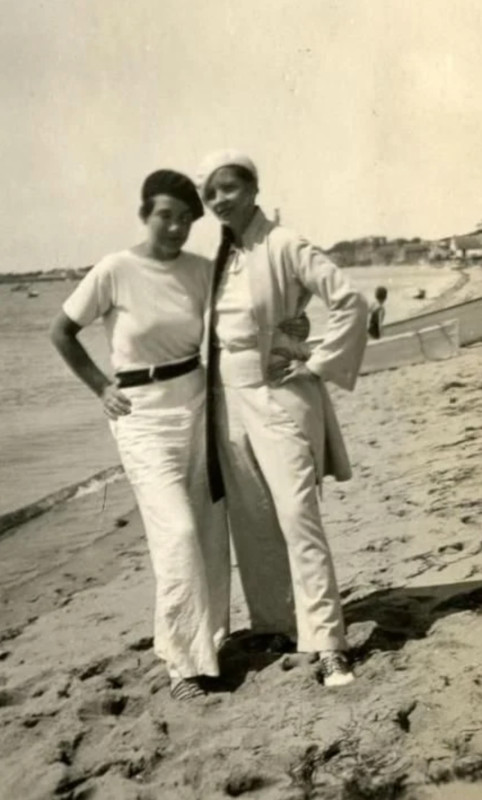 Barnes outside the gate to Patchin Place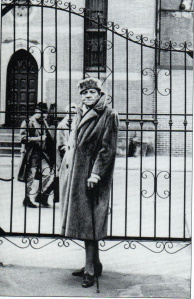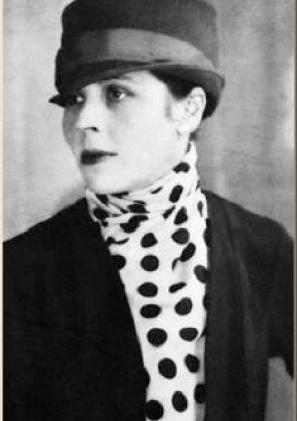 Backstory and Context
Djuna Barnes was born in 1892 in upstate New York. She grew up in an intellectually sophisticated but abusive home in which her father moved his mistress into the home along with Djuna, her seven siblings, and her mother. As a sixteen-year-old, Barnes was raped, possibly by a family friend or possibly by her father. Shortly thereafter, she was forced into a marriage with the brother of her father's mistress. These traumatic experiences would figure in some of her later writing.
Barnes left home at a young age and moved to New York City. She moved to Greenwich Village and thrived in the vibrant, bohemian atmosphere of lower Manhattan in the early twentieth century. She got work as a journalist, often putting herself risky, precarious situations for the sake of the story. Her determination to be a part of the story included allowing herself to be rescued from a skyscraper by a fireman. In addition to newspaper articles, Barnes also wrote poetry and short stories during this period, including her first book, a chapbook titled The Book of Repulsive Women: 8 Rhythms and 5 Drawings. She also tried her hand at playwriting; three of her one-act plays were produced by Eugene O'Neill and the Provincetown Players.
In the early 1920s, Barnes joined a number of American writers and artists who moved to Paris during the interwar years. The city was home to a large number of expats, and Barnes soon became part of the city's literary and artistic scene, befriending such luminaries as James Joyce and Gertrude Stein. It was in Paris that Barnes's writing career took off and it was also there that she became involved with Thelma Wood, in what would be the defining relationship of her life. Barnes rejected labels, but was a part of the lesbian community centered on the Left Bank. She apparently did not identify as either a lesbian or bisexual, once famously saying, "I'm not a lesbian, I just loved Thelma." It was a passionate and tumultuous relationship, but was ultimately destroyed by Wood's drinking and infidelity.
Her heartbreak over the failed relationship with Wood inspired Barnes's only major novel, Nightwood. Published in 1936, Nightwood focuses on the lives of an eccentric group of characters in Paris, and is widely believed to be autobiographical. Believing her portrayal in the book to be unfairly harsh, Wood never spoke to Barnes again after its publication.
Though the book was a critical success, the years following its publication were difficult ones for Barnes. She began drinking heavily, becoming so ill at one point that when her friend Peggy Guggenheim intervened to get her out Europe before the outbreak of World War II, it was doubtful that she would survive the transatlantic journey. She had already attempted suicide while in London, and after her return to New York, her family placed her in a sanitorium.
Barnes eventually severed ties with her family, whose abuse would feature prominently in her play The Antiphon, which she began in 1950. She stopped drinking and moved into 5 Patchin Place, a one-room apartment where she lived as a virtual recluse for the next forty-two years. She became increasingly suspicious of anyone she didn't know well and rejected many attempts by admirers of her work (including Carson McCullers, who camped out on her doorstep) to meet their muse. The years at Patchin Place involved very little writing. Barnes even refused to allow her earlier works to be reprinted, which may explain why she is not as well-remembered as some of her contemporaries.
Barnes died on June 18, 1982, at the age of 90.
Sources
Djuna Barnes , The Legacy Project . Accessed October 15th 2020. https://legacyprojectchicago.org/person/djuana-barnes.
Kahn, Emily . Djuna Barnes Residence , NYC LGBT Sites . Accessed October 15th 2020. https://www.nyclgbtsites.org/site/djuna-barnes-residence/.
Norris , Sian . Women of 1920s Paris: Djuna Barnes , The Heroine Collective . March 18th 2016. Accessed October 15th 2020. http://www.theheroinecollective.com/djuna-barnes/.
Additional Information