John Bathan Vashon's City Baths
Introduction
Prominent Black abolitionist John Bathan Vashon opened Pittsburgh's first public bathhouse near this location in 1834. Until Vashon's death nearly twenty years later, the "City Baths" catered to prominent white and Black Pittsburghers alike. The business's basement played a role in its owner's political activities as well, serving as an Underground Railroad location for refugees from slavery traveling north through the area. This location is not only remarkable as the city of Pittsburgh's first public bathhouse and as an Underground Railroad stop, it is also noteworthy for its connection to the area's most prominent abolitionist and wealthiest Black businessmen in the mid-nineteenth century. Nothing remains of Vashon's bathhouse today, but the location can nonetheless be visited at any time of day.
Images
John Bathan Vashon, Early Black Leader in Pittsburgh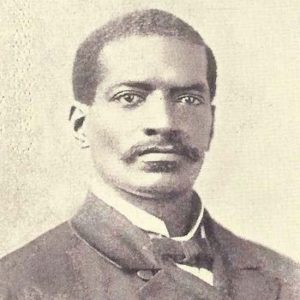 John Bathan Vashon in Naval Combat during the War of 1812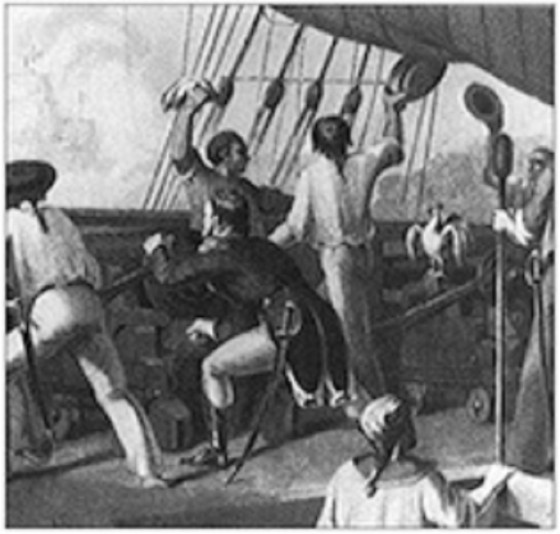 George Boyer Vashon, son of John Bathan Vashon.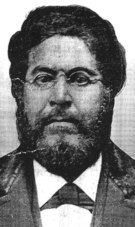 Backstory and Context
John Bathan Vashon was born on April 26, 1792 in Norfolk, Virginia to a free Black woman named Fanny Vashon and her former enslaver's son George Vashon. Because John B. Vashon named his son after his father and was intimately familiar with Vashon family lore, historians believe that his relationship with his father may have been relatively affectionate. Scholars also suggest that, because federal censuses listed Fanny Vashon as the head of her own household and as a slaveholder, George Vashon may have been providing his son's mother with financial support even during his absences from Virginia over the course of his life. It was during one of these paternal absences that John Vashon enlisted as a common seaman in the United States Navy during the War of 1812, becoming one of many Black soldiers and sailors to fight against Britain during that conflict. On March 12, 1812, George Vashon enlisted as a first lieutenant with the 10th United States Infantry. Shortly thereafter, John Vashon joined the crew of the U.S.S. Revenge. During his service on the Revenge, Vashon was captured in action against the British off the coast of Brazil and spent two years as a prisoner of war before being exchanged.
After his release from captivity, Vashon moved to Fredericksburg, Virginia and then northeast to Leesburg, Virginia soon after. He spent over a decade in Leesburg, volunteering for military service to defend the Potomac River from potential British naval attacks and meeting and marrying his wife Anne Smith. In 1822, the Vashons welcomed their first child into the world, later abolitionist and editorialist Mary Frances Vashon. They moved to Carlisle, Pennsylvania the same year to escape the growing legal restrictions placed on free African Americans in the state of Virginia. Vashon quickly rose to prominence in Carlisle after his family's arrival there, opening a saloon and livery stable that catered to the students of nearby Dickinson College and founded a charitable organization known as the "Lay Benevolent Society" along with local resident John Peck. In 1824, Anne Vashon gave birth to her second child, future abolitionist and judge George Boyer Vashon, the first Black man approved to practice law by the bar association of the state of New York.
The Vashons remained in Carlisle for seven years before moving to the city of Pittsburgh. As he had in Carlisle, John B. Vashon continued to rise in prominence in his new home. He opened a barber shop soon after the family's arrival in Pittsburgh, a career path that white Americans considered beneath their social status and thus offered Black entrepreneurs opportunities for considerable economic advancement. The Vashons lived next door to John's barber shop during this time and opened their doors to any Black travelers visiting the area, a practice so common among Black barbers during the era that the striped red and white pole outside barber shops came to symbolize safe haven for African Americans. One such visitor to which the Vashons played host was one Martin R. Delany, a prominent Black nationalist, physician, and Union Army officer who considered John Vashon his personal mentor and became close friends with his son George. John Vashon indulged his penchant for hospitality further with the opening of the City Baths on Third Street between Market and Ferry Streets in 1834, the first public baths in the city. Prominent residents of the town both white and Black patronized the establishment, with men being served on the first floor, women on the second, and refugees from slavery living in the basement at night on their way north along the Underground Railroad.
The City Baths enabled John Vashon's abolitionism further by helping him to establish relationships with prominent Pittsburghers. Those relationships not only allowed him to serve as a mediator between the white and Black halves of the city but to expand his connections to influential personages outside the city as well. Among those of influence with whom Vashon established a connection were famed abolitionists Frederick Douglass and William Lloyd Garrison. Vashon served as the latter's literary agent in Pittsburgh when he published his book Thoughts on African Colonization in 1832 and would later visit him in the Leverett Street Jail after he was placed in protective custody when a mob attacked him for his anti-slavery work in 1835. Vashon was also an important abolitionist in his own right, organizing western Pennsylvania's first abolitionist group, the Pittsburgh Anti-Slavery Society, in 1833. He was also known for purchasing the freedom of refugees from slavery and for convincing the President of the University of Western Pennsylvania (now the University of Pittsburgh) Robert Bruce to support universal emancipation. Perhaps his most vital contribution to the Black community of Pittsburgh was the establishment of the Pittsburgh African Education Society, which operated a school for Black youth in the basement of Little Bethel Church on Wylie Street under the tutelage of the Reverend Lewis Woodson starting in 1832.
John Vashon was perhaps the most prominent Black man in Pittsburgh at the time of his death on December 29, 1853 on his way to a War of 1812 veterans' reunion in Philadelphia. Not only did he open and operate the city's first public baths near this location, he was a wealthy and influential abolitionist who left a lasting legacy of Black education in his chosen home in an era when few African Americans could legally learn to read and write. His life experiences are a telling example of the challenges free African Americans faced in antebellum society both north and south of the Mason Dixon Line and the prosperity they might be able to enjoy if they avoided those challenges successfully. Those nothing remains of John Bathan Vashon's City Baths at this location on Market Street, his legacy endures in the form of Pittsburgh's long history of Black entrepreneurship and activism.
Sources
Hanchett, Catherine M. "George Boyer Vashon, 1824-1878: Black Educator, Poet, Fighter for Equal Rights, Part One." The Western Pennsylvania Historical Magazine, vol. 68, no. 3. 205 - 219. Published July 1st 1985.
Hill, Robert. "The Remarkable Story of John Vashon." The Pittsburgh Post-Gazette January 22nd 2017. .
"John Bathan Vashon, Seaman and Abolitionist," African American Registry. Accessed August 4th 2021. https://aaregistry.org/story/john-bathan-vashon-seaman-and-abolitionist/.
Nell, William C.. The Colored Patriots of the American Revolution. Boston. Robert E. Wallcut, 1855.
Image Sources
African American Registry

BlackThen.com

Wikipedia

Additional Information