Architectural Variety on New Hampshire Avenue
Introduction
New Hampshire Avenue forms the eastern border of the Historic District. Going up (north) New Hampshire Avenue, there are three groups of five row houses each built between 1885 and 1890. These colorful groups present a variety of architectural features including decorated cornices, bay windows, brickwork designs, arches, and landscaped front yard areas. The Arc Hotel in the middle of the block, built in 1960, breaks the link of historic row houses.
Images
Lower New Hampshire Ave. seen from the 7th floor of Potomac Plaza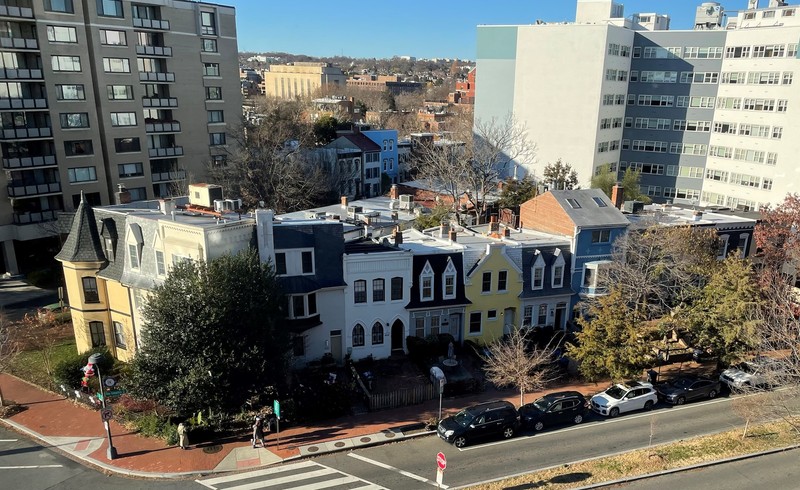 Lower New Hampshire Ave. with roses in bloom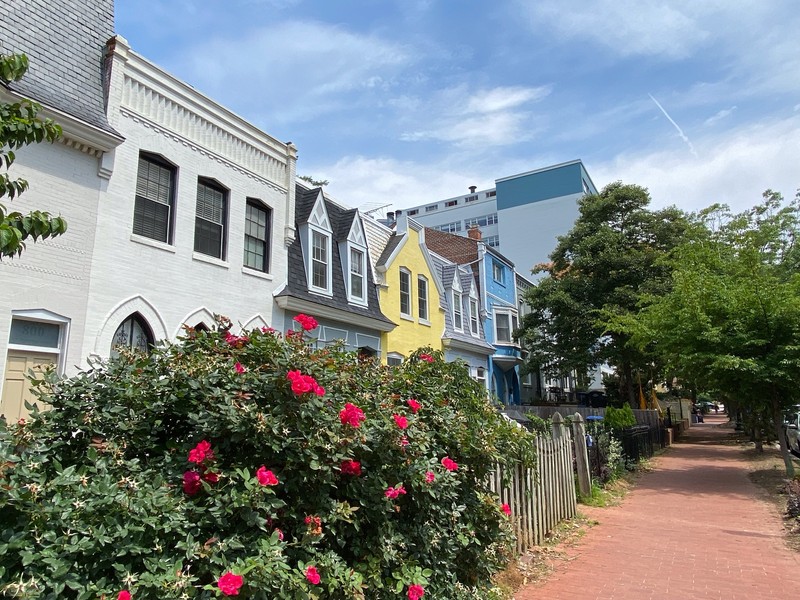 Lower New Hampshire Ave. - mixed styles of windows and roofs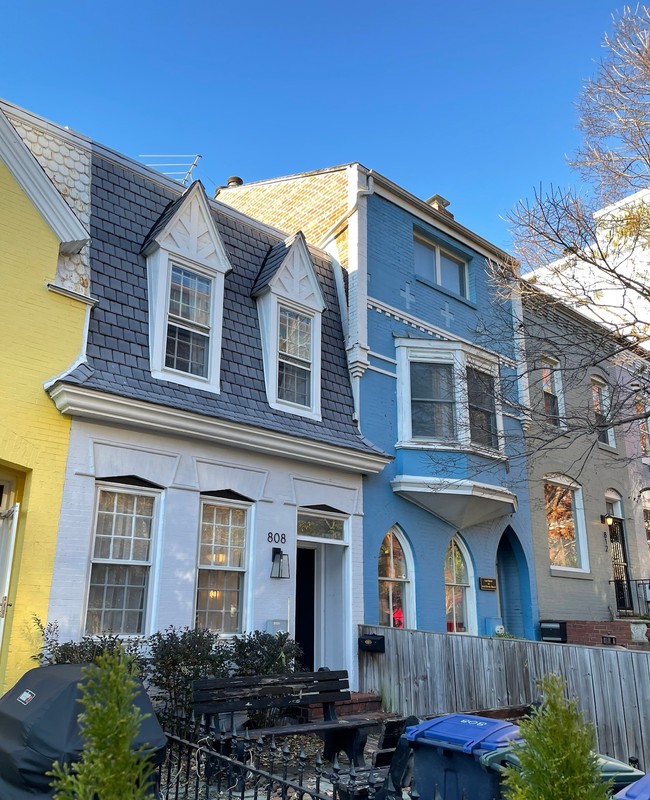 Middle New Hampshire Ave. with window arches and cornice detail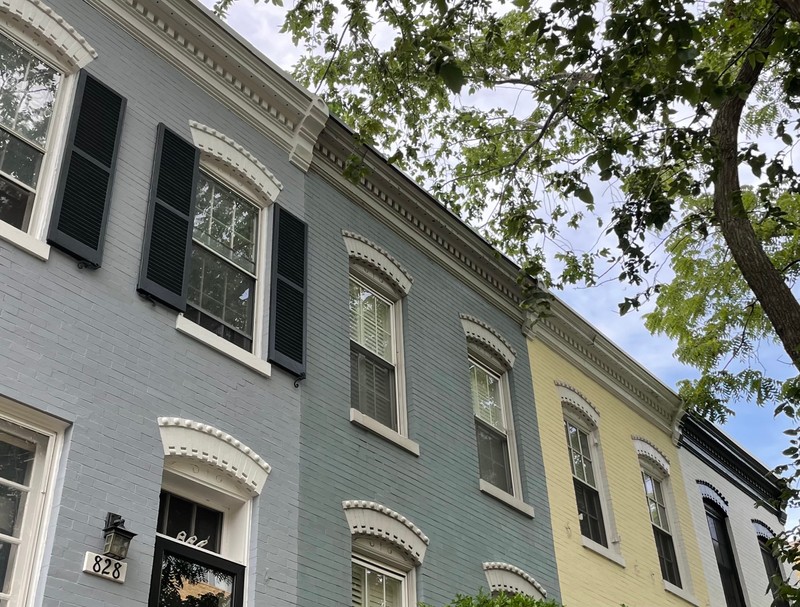 The Channel House Beauty Salon, 1960s (now the location of the Arc Hotel)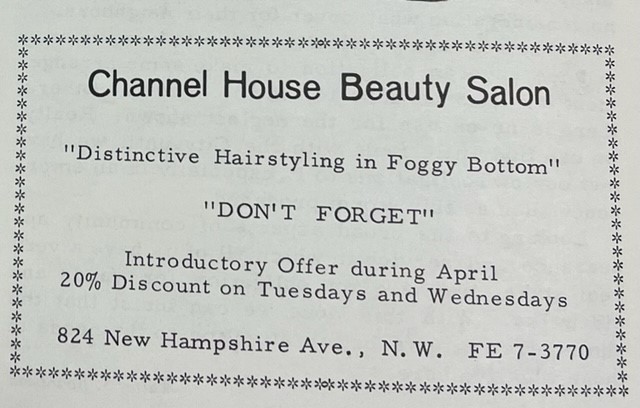 Fitzgerald House with upper balcony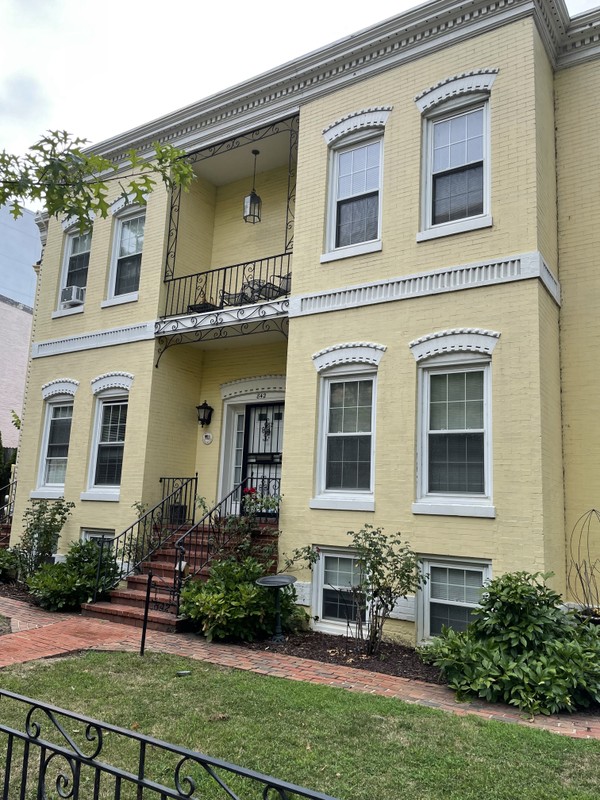 New Arc sculpture, hotel front garden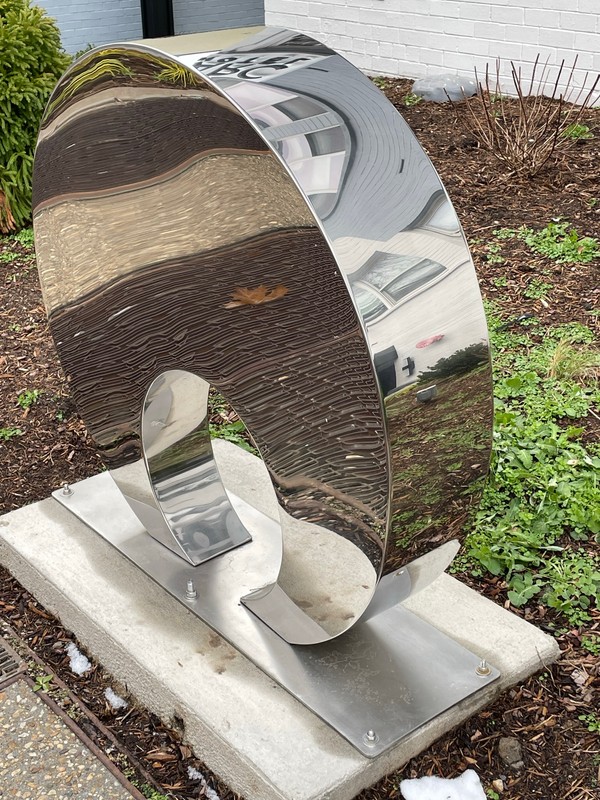 Backstory and Context
The house at 800 New Hampshire Ave., built in 1890, wraps around the corner, and has been expanded to incorporate the house to its left. In 1914, it housed one of two dressmakers who operated businesses from their houses on this block.
The next group of houses, 800 to 810 New Hampshire Ave., were all built in 1890 by Frank N. Carver, designed by Chas. E. Burden, and owned by Chas. Early and J.P. Jones. (The same team responsible for the 25th St. story book and turreted houses.) They were built "on speculation" - that is for a builder, who would then sell them to the public. The brick facades use brick and iron cornices, mansard and flat roofs, and slate and tin to create a variety of picturesque buildings.
No. 802 has a first story with pointed arch windows and doors. The second story uses rectangular windows with peaked lintels. The cornice is articulated in projecting vertical rows of brick. Nos. 804 and 808 feature mansard roofs with two gabled dormer windows. The first floors have recessed doorways and peaked lintels. No. 806, the bright yellow house, has a corbelled gable, with a pseudo-chimney, set into a mansard roof. The first floor has a small window set between the door and a normal window. No. 810 reflects the massing of No. 802. It has what the Historic District nomination describes as "a romantic castle motif. Its painted-blue flat façade is broken at the second story by an oriel window, with a crenellated cornice. Note the cross motif created in recessed brick."
812-818 New Hampshire Ave. were built in 1885 for R.A. Beuchler. The two-story, two-bay houses feature brick molded arches above the windows and doors, and decorated cornices.
The Arc Hotel, 824 New Hampshire Ave. (back entrance at 825 25th St.), opened in 2016 and was recently renovated. It was built in 1960 and opened in 1962 at the Channel House Apartments and Hotel. It housed the Intrigue Restaurant and the Channel House Beauty Salon. It later converted to a hotel, known as The Inn at Foggy Bottom. GWU owned the building from 1994 to 2016 and operated it as The George Washington University Inn. The curved metal sculpture was installed in 2021.
828-838 and 842-44 New Hampshire Ave. (as well as 2400-2416 I St.) were designed and built in 1886 by James H. Grant, for speculator Samuel Norments. The houses are two bays wide and two stories high and feature decorated cornices and segmental arches over the windows and doors. As noted in the the Historic District Nomination, "they are simple buildings, but pleasant in scale and proportion."
Sources
Boyd's City Directory of the District of Columbia,1914
DC Historic Preservation Office, Foggy Bottom Historic District Nomination (see link below)
DC Historic Preservation Office, HistoryQuest (see link below)
"Foggy Bottom Neighbors Protest Service of Liquor at Channel House," The Washington Post, Dec 31, 1964, p. A3
Personal Communications with Arc Hotel management, January, 2022
Image Sources
Vogt/Leone, 2021

Vogt/Leone, 2021

Vogt/Leone, 2021

Leone/Vogt, 2021

Foggy Bottom News, 1960s

Leone/Vogt, 2021

Vogt/Leone, 2022

Additional Information