KayCee Studio
Introduction
In November 1921 while still employed at Kansas City Film Ad Service, Walt Disney opened KayCee Studio as a private cartooning studio on the second level of the building that once stood at this location. With his Film Ad co-worker Fred Harman, Disney sought after teenage interns who were interested in learning cartooning and employed several other men who would later become influential to the Golden Age of Animation. Here they started their first full-story cartoon short, Little Red Riding Hood. KayCee Studio changed locations several times before Walt quit the Film Ad Company in the spring of 1922 and closed when he incorporated Laugh-O-gram Films that May. The building once located here was demolished by the city in the early 1990s.
Images
Walt Disney (left) uses a movie camera to experiment making live-action cartoons.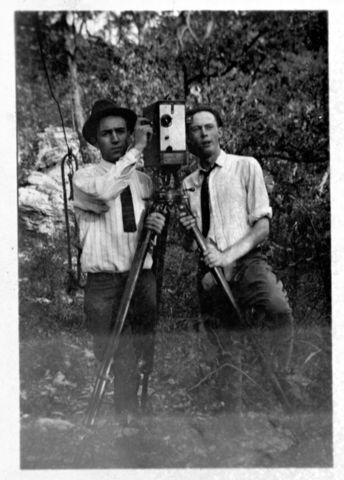 The cover for Little Red Riding Hood, that was started at KayCee Studios and produced later by Laugh-O-gram Films Inc.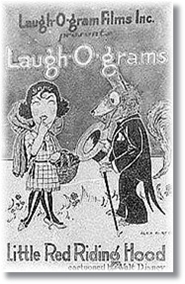 Walt Disney (upper left) and Fred Harman (lower left) working at their desks at the Kansas City Film Ad Company c. 1920.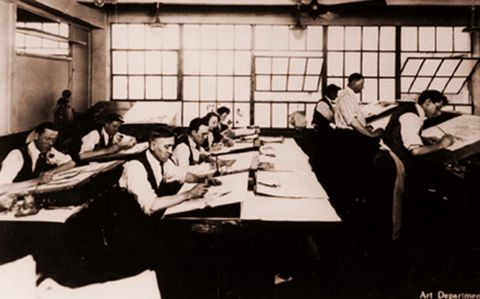 Pictured from left to right is Ub Iwerks, Walt Disney, and Fred Harman c. 1922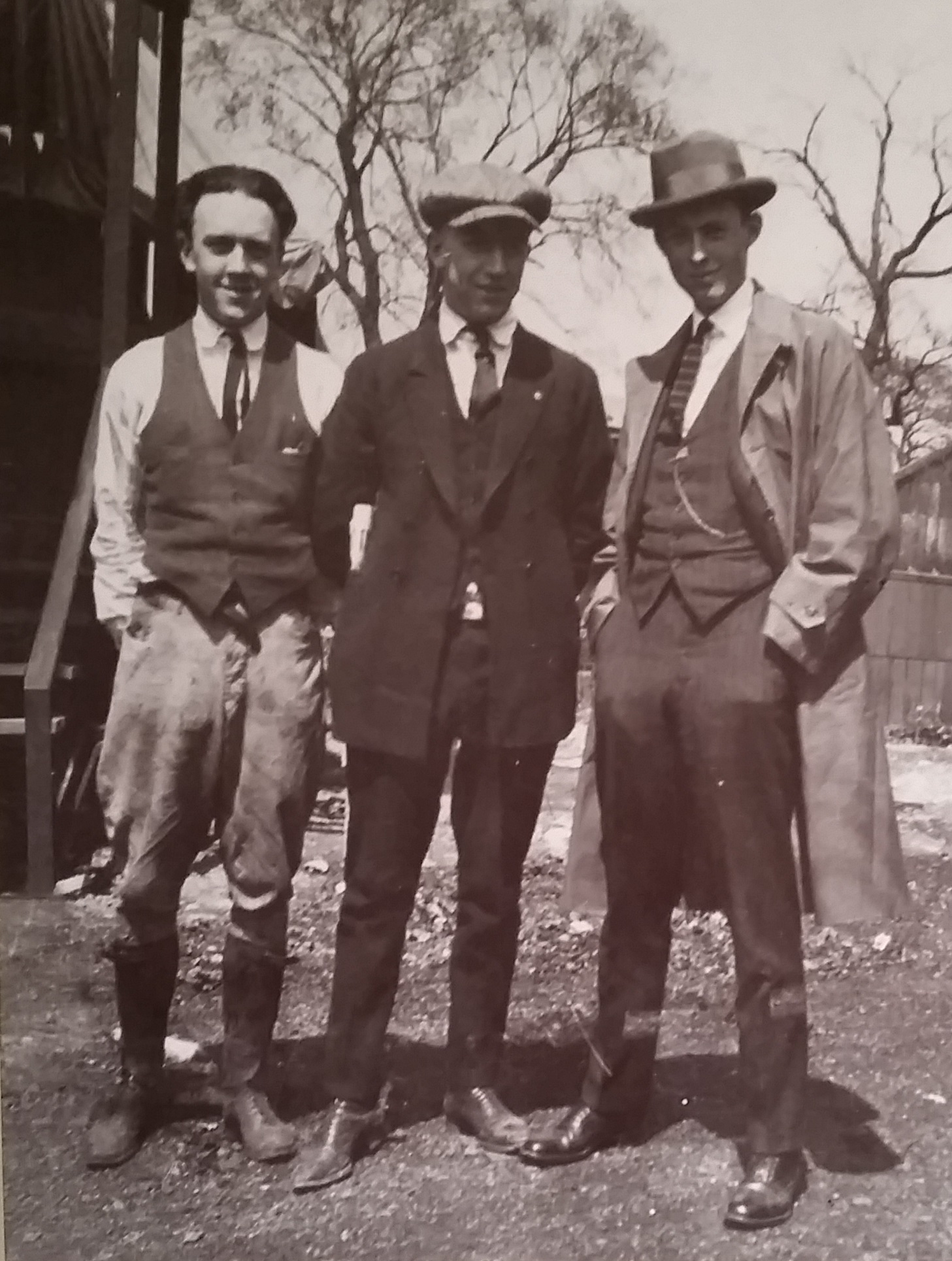 Backstory and Context
In the fall of 1921, Walt's father Elias had returned to Kansas City from a stay in Chicago. Meanwhile, Walt had been experimenting with a motion picture camera borrowed from his boss A.V. Cauger at Kansas City Film Ad Service, in a make-shift studio in the garage behind his family home. Elias was not impressed by Walt's work or the garage studio, and was not supportive of Walt's desired career in animation. His older brother Herbert had moved to Oregon and invited their parents with prosperity in mind and in November, Elias sold the Bellefontaine house.
For a short time, Walt had been cartooning on the side with Film Ad co-worker Fred Harman in a space on the second level above the KC Streetcar barn at 30th and Holmes Road. By the time they moved to this location, at 3241 Troost above the Standard Phonograph Company (later Peiser's Restaurant), they had purchased their own Universal movie camera and were calling their operation KayCee Studio. They recruited teenagers as interns to help with cartooning and worked nights and weekends to create film shorts to pitch to the local papers, experimented with live-action, and took on side jobs for extra money. With little success, Fred left KayCee and Walt returned to cartooning. In the meantime, Walt brought on Film Ad co-worker Red Lyon and an aspiring artist, Rudy Ising, who responded to a help wanted ad Walt placed in the Kansas City Times, while other Film Ad co-workers Ub Iwerks and Hugh Harman, Fred's little brother, also stopped into the studio to help.
By the spring of 1922, Walt was creating satirical fairy tale cartoons. Inspired by the humorous film shorts he had produced at KC Film Ad for Newman Theatre, called Newman Laugh-O-grams, he called these new fairy tales Laugh-O-grams. He also started his first full-story cartoon short, Little Red Riding Hood, though it wouldn't be completed for some time later. Disney had gained much local success through Newman Laugh-O-grams and became confident in his new version of Laugh-O-grams. So, in the spring, Walt quit Kansas City Film Ad Service to establish a new studio. KayCee Studio stopped operating and Laugh-O-gram Films was incorporated on May 23, 1922.
The building that housed KayCee Studio at 32nd and Troost was demolished by the city in the early 1990s, most likely due to its deterioration.
Sources
Green, Ron. The Roots of Animation in Kansas City. JCJH Journal, no. Summer 2014, p. 15 - 19.
Butler, R. W., Viets, D., Burnes, B. (2002). Walt Disney's Missouri: The Roots of a Creative Genius. Kansas City, Missouri: Kansas City Star Books.
Susanin, Timothy S. (2011). Walt Before Mickey: Disney's Early Years, 1919-1928. Edition Illustrated. Univ. Press of Mississippi.
Image Sources
https://www.waltdisney.org/blog/making-things-move-walt-disney-enters-animation

https://www.imdb.com/title/tt0013323/

https://www.waltdisney.org/blog/making-things-move-walt-disney-enters-animation

https://www.reddit.com/r/OldSchoolCool/comments/77821x/ub_iwerks_walt_disney_and_fred_harman_1922/

Additional Information