Muse of the Missouri
Introduction
Author-Uploaded Audio
Also known as the David Woods Kemper Memorial, the Muse of the Missouri sculpture and fountain was dedicated in 1962 to the memory of David Woods Kemper, who was killed in action during World War II in Italy. It was a gift to the city by his parents Mr. and Mrs. James Kemper. Artist Wheeler Williams created the sculpture and designed the fountains. The sculpture depicts a muse, a Greek goddess of arts and sciences, with a fishing net from which fish fall to the the pool below. The water fountain consists of three pools that are filled by two hundred water spouts.
Images
The Muse of the Missouri was dedicated in 1962.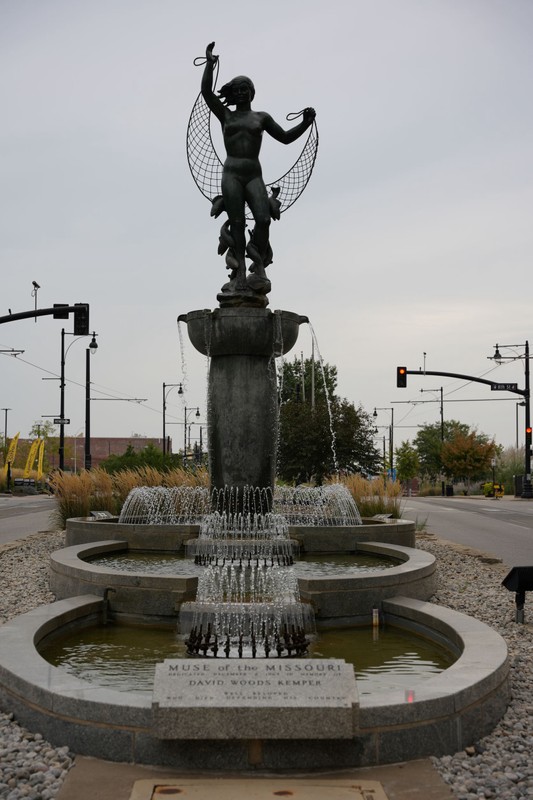 The fountain was dedicated in honor of David Woods Kemper.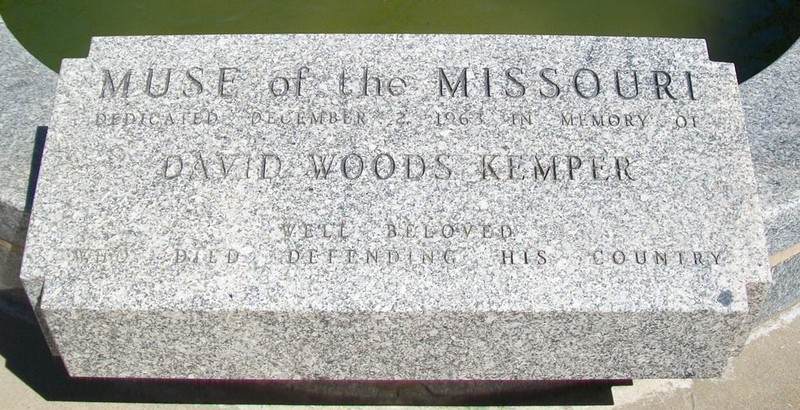 David Woods Kemper served as a platoon leader in Italy during World War II and was killed by a sniper while accepting a surrendering soldier in April 1945.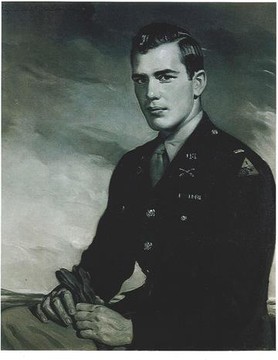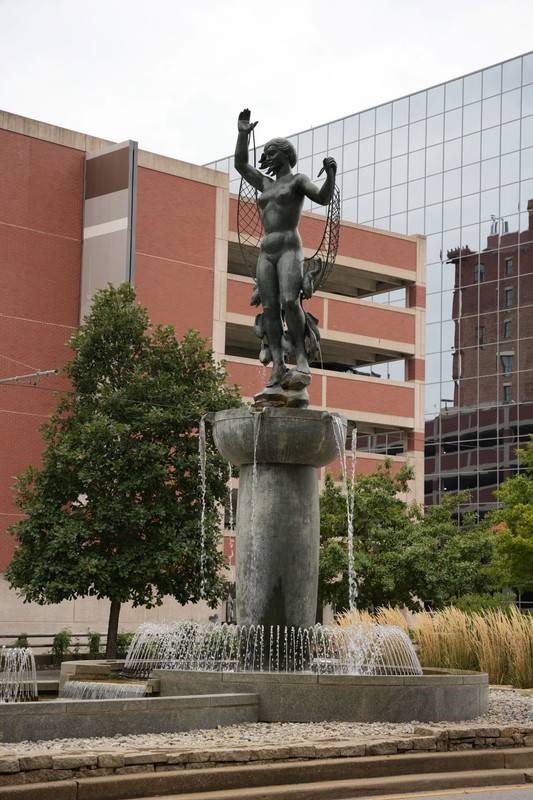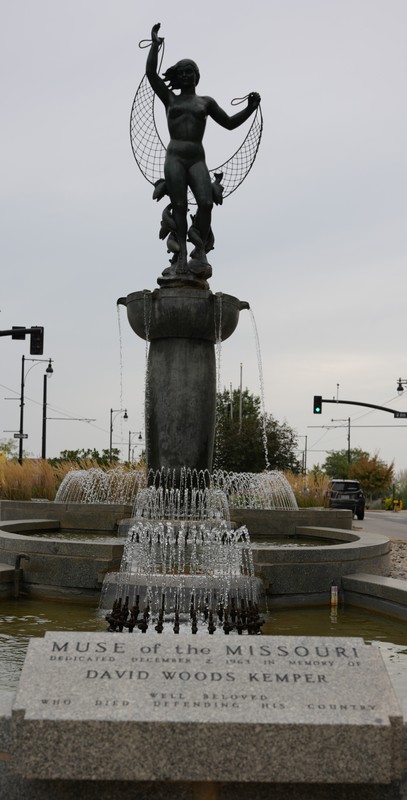 Backstory and Context
Author-Uploaded Audio
David Woods Kemper was born in 1919 to James Sr. and Gladys Woods Kemper. The Kempers were a very prominent and influential banking family in the Kansas City and St. Louis area; for decades they have led Commerce Bancshares Inc. and its subsidiary Commerce Bank of Kansas City. Today they are still active in both the banking industry and philanthropy. David attended school at both Harvard and Stanford before enlisting in the Army in 1942. He was sent overseas to Italy where he eventually became a platoon leader with the rank of lieutenant. David was killed on April 25, 1945 just days before the end of the Second World War in Europe. In 1946 David's father James Kemper Sr. and his brother James Kemper Jr. founded the David Woods Kemper Memorial Foundation in his honor. It has awarded grants to many organizations and projects in Kansas City. In 2016 James Kemper Jr. established a second group, the David Woods Kemper Veterans Foundation, to provide financial support for veterans' organizations in Kansas and Missouri.
In 1962 David's family commissioned a sculpture and fountain in his honor. The David Woods Kemper Memorial Fountain, more commonly known as the Muse of Missouri, was designed and sculpted by artist Wheeler Williams. It is meant to depict a Greek goddess known as a muse guiding the Missouri River. In Greek mythology, a muse was a female deity that provided inspiration and presided over arts and sciences. The fountain consists of 200 water spouts; rising above it is a nude statue of the goddess wielding a fishing net and surrounded by fish. Williams originally wanted to incorporate native Missouri River fish into the sculpture, such as carp and catfish, but he found them to be too ugly. Instead he created a carp and bluefish hybrid for the sculpture.
The Muse of Missouri was dedicated and presented to the citizens of Kansas City on December 2, 1962. It is located on the median of 8th and 9th Street on Main Street. Maintenance of the fountain is handled by the City of Fountains Foundation, which holds an endowment for its upkeep. The Foundation is a non-profit group dedicated to conserving historic fountains and sculptures in Kansas City. The fountain and sculpture underwent an extensive restoration in 2005.
Sources
"David Woods Kemper (1919-1945)." David Woods Kemper Veterans Foundation. Accessed May 17, 2018. http://www.davidwoodskemperveteransfoundation.org/our-work.html
"David Woods Kemper Memorial Fountain." Kansas City Parks. Accessed May 17, 2018. http://kcparks.org/places/kemper-david-woods-memorial-fountain/
"Muse of the Missouri." The City of Fountains Foundation. July 7, 2016. Accessed May 17, 2018. http://www.kcfountains.com/single-post/2016/07/07/Muse-of-Missouri
"Muse of the Missouri." The Historical Marker Database. Accessed May 17, 2018. https://www.hmdb.org/marker.asp?MarkerID=88184
Images 1 & 2: https://www.hmdb.org/marker.asp?MarkerID=88184
Image 3: https://www.findagrave.com/memorial/88052159/david-woods-kemper
Image Sources
Photo by David Trowbridge

David Woods Kemper Foundation, http://www.davidwoodskemperveteransfoundation.org/our-work.html

Photo by David Trowbridge

Photo by David Trowbridge

Additional Information